ハヤテのごとく!/Hayate no Gotoku Manga
Hayate the Combat Butler Chapter 445 Review
SPOILER Summary/Synopsis: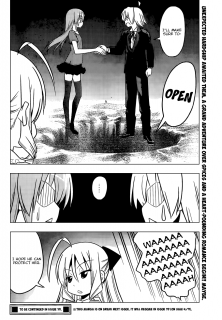 Hina is not happy with how Hayate is treating her as Hayate sends the exhausted Kotestsu packing with a train ticket home as thanks. After the first day of sales, they have only about ¥200,000, which is only a fraction of what they need to win the bet. As such, it is decided that they need something really special to draw in the customers.
Ah-tan suggests making curry, mainly because she wants it. Nagi's suggestion of "black curry" is rejected due to it using illegal drugs. Ah-tan says they need special spices to make the curry revolutionary, but there happens to be a nearby island with the spices they'll need. Hina volunteers to held out into the night to help acquire said spices since she can handle any thugs they might encounter. Ayumu offers to assist as well, but Ah-tan rejects that.Hayate scores a swan boat as Chiharu teases Hina on her opportunity to be with Hina. Hina takes this differently, thanking Chiharu for reminding her that she needs to pay back Hayate for being mean to her.On Higan Island, Hina remarks on the atmosphere of the place, leading Ah-tan to tell a horror story of a village of murdered folks who used to live on the island, but are now ghosts. Hina is not amused and freaks out when a spirit orb drifts past. A series of screams are attributed by Ah-tan to the murder looking for new victims (said murderer having committed suicide). However, overcoming these obstacles is what will make the curry awesome.Taking Hina's hand, Hayate starts to promise to protect her when the ground opens beneath them, causing them to fall in. As they fall, Ah-tan hopes Hayate can protect Hina.
Thoughts/Review:
Har! Hata-sensei loves to do things unexpected as well as the expected.
Among the expected things, Hayate gets the restaurant up and running, but sales aren't enough. That wasn't difficult to see coming.
While Ah-tan doing something was expected as well, what she ultimately did was unexpected.
I think that since Ah-tan needed Hina living at Yukari-chan House, she wanted Hina going on this island excursion with Hayate. The fact that Hayate's recent attitude only helped. I think that had Hina not volunteered, Ah-tan would have manipulated things to get her to go. As it was, Ah-tan got what she wanted, so she kept her mouth shut about the ghosts on the island.
If I'm right about Ah-tan wanting Hina and Hayate on the island, I wonder how this will play into her ultimate plans to return to power and form. Since Athena and Hayate had been boyfriend/girlfriend, and Hina and Athena had been friends, one wonders how this will make things play out. I still believe Hayate has a torch for Athena, which would further add to the mix. Could Athena being trying to cause a massive explosion of negative emotion in Hina?
It is a shame that we won't learn anything for a couple of weeks.
Finally, I smell the lovely scent of a young lady in the air. I think we can expect Isumi popping in for this adventure before all is said and done. ^_^