Bunny Drop Manga Volume 09 Review
Usagi Drop/うさぎドロップ Manga Volume 09
–> PURCHASE FROM RAKUTEN.COM (formerly BUY.COM)
–> PURCHASE FROM BARNES & NOBLE
–> PURCHASE FROM RIGHTSTUF!
***SPOILERS***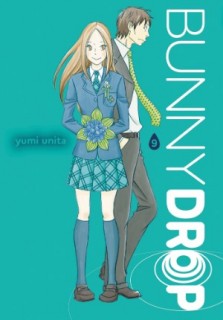 And so we come to the final volume of Bunny Drop's main story (the final volume is just omake side stories). *heavy sigh*
Unita-sensei, having pushed the incestuous angle for Rin being attracted to the man who raised her from childhood (Daikichi), and whom was also the daughter of Daikichi's grandfather, chickens out at the last moment and pulls a rabbit out of her hat, saying, "Oh, Rin wasn't actually the daughter of Daikichi's grandfather." Not only that, but apparently Daikichi knew it all along. Yeah, right.
Don't get me wrong, I'm glad that in the end, there's not a true incestuous element here (within the bounds of a work of fiction). That being said, coming out at the last moment and saying, "You know all that stuff you believed all along because everyone allowed you to believe a lie? Well, here's the REAL truth" is terrible fiction writing in my opinion. It comes off as cheap and in this case, a way to avoid the icky incest angle.
So, Rin's mom spills the beans on the truth after poor Kouki spills the beans to Daikichi to clue him in on Rin's feelings.  Under normal conditions, seeing two awkward people working out their feelings would be fine, but here, the whole nature of everything is just wrong. I just can't imagine adopting a six year old girl (give or take a few weeks), then ten years later, entertain a serious discussion on her feelings for me. Not only that, I can't imagine that two years afterward, you go ahead and decide that its OK to marry her. I just cannot fathom this to save my life.
Anyway, it really is difficult for me to write about this volume. I just keep thinking back to how much I enjoyed the first four volumes of the manga when it was about a single man in his 30s deciding to adopt a little girl who was cruelly shunned and unwanted by the man's family. It was so much fun back then, making it so much more depressing to see where everything went.
On the Yen Press side of things, the standard Japanese honorifics are included in the adaptation. There's a color page at the start, some translator notes, and a note from Unita-sensei. There are some Yen Press ads, including a two page deal for the awesomeness that is Yotsuba&!
So, to the folks who warned me, "Don't read the second half of Bunny Drop," I appreciate the warning. This was one of those things that I had to experience myself. This volume fails as a happy romance ending due to the incestuous overtones, even though Daikichi and Rin end up not being blood related. I will go ahead and read the final volume, just to complete the series.