Here are some SPOILER images and information for the upcoming UQ Holder chapter 45, courtesy of Manga Kansou. No summary or translation of what's being said there, but likely there will be later on today.  I'll keep my eyes open for such. (My review of UQ Holder chapter 45 should come out Wednesday.)
UQ HOLDER CHAPTER 45 SPOILERS
The UQ Holder chapter 45 goodness begins.^_^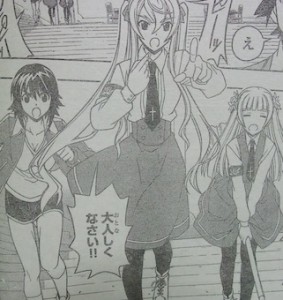 The new Emily/Ayaka character?  *lol*
Update: ChaosProphet has nifty info. ^_^
(one note here, hooded uses "ore 俺" to refer to itself which is mostly used by males, so will refer to it as a male for now).

Everyone is surprised with a second class student beating a first class. Seems like hooded boy also was watching. The academy vigilance committee members appear (girls on spoiler pic) and everyone run away. What happened end up in the newspaper, Karin complains to Touta about standing out.

Everyone focus on the murder investigation. They go to the place where the 2 murders happened this time (first was 4 days ago) and using AR glasses see the recording of security cameras on the time of death. First one looks like a suicide (jumping to death) but on the situation doesn't seems like it was possible for the person to jump. The second one seems like the person was fused with the bathroom wall. Many similar events happened intermittently since about 80 years ago.

Kurou and Touta head back to the dorms. Hooded boy is watching through various surveillance cameras:

Looks at Touta & Kurou: "Those two looks like small fries, will ignore them"
Looks at Ikkuu who is friendly talking with girls "Yeah, die. Even if can't die, die. This one is definitely an enemy"
Looks at Karin "This one, it's the incompetent woman I turned away last time. Seems like she didn't learn her lesson and is trying to catch me again. Who would want to join UQH?"

He is typing in the computer while using the "internet assimilation (電網同化)" ability. Seems like he knows where UQH base is and extract their date from there. His age seems to be the same as Ikkuu's who as born in 2001. And for a strange reason Touta is listed as having been born 4 years ago (2082). Hooded boy "Well then, lets chase them away once more". Kurou and Touta happen to be at the same room as hooded boy. They greet him. Hooded boy is caught really by surprise.
Hmmmm…interesting stuff there.
Unfortunately, I can't comment more now (barely had time to get this in for you guys), but I'll join in the discussions later. ^_^