FAIRY TAIL ZERØ ch 01 review
フェアリーテイル ゼロ 01
Fairy Tail Zero chapter 01
SPOILER Summary/Synopsis: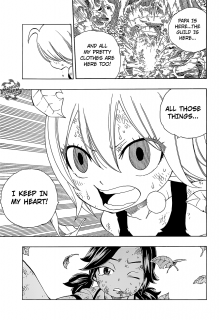 A dirty, six year old Mavis Vermillion sits on the bar of the Red Lizard Guild, reading a book called Fairy Quest, when their master, Jeself, takes the book from her, destroys it, then orders her to clean the outside of the guild. He also forces her to give up her shoes, but when he tries to give them to his spoiled daughter, Zeira, she rejects them because they are dirty and had belonged to Mavis.
As an orphan who's parents apparently owed Red Lizard Guild, Mavis works as a slave, but though she's forced to sleep in the stable and is only allowed to eat scraps, she decides not to cry in order to meet fairies.
One day, the Blue Skull guild attacks and is wiping out Red Lizard. Mavis finds Zeira in the rubble and pulls her out. Mavis runs with Zeira into the woods. Zeira is surprised that Mavis is helping her after how mean she'd always been to Mavis. Since Mavis doesn't care about that, Zeira says they could have been friends, pleasing Mavis, but then Zeira collapses and dies, causing Mavis to cry. Sometime later, Mavis returned to the town and the guild on Tenrou Island, but everyone had been slain.
Seven years later, treasure hunters Warrod Sequen, Precht Gaebolg, and Yuriy Dreyar arrive on Tenrou Island to find the Tenrou Jade.
Thoughts/Review:
You know, I bet when Mashima-sensei first introduced Mavis, he never thought she'd take off like she did. And yet, so strong is her draw that Mashima-sensei does a prequel Fairy Tail manga featuring her forming Fairy Tail. Hey, I'm not complaining, though I do wonder how Mashima-sensei can do both a weekly and monthly manga title.
Man, Mashima-sensei laid it on pretty thick when he showed Mavis's horrible life as an abused little orphan slave girl in a mage guild. Then he lays it on even thicker by having Zeira die. Egad man! Could you depress me even more?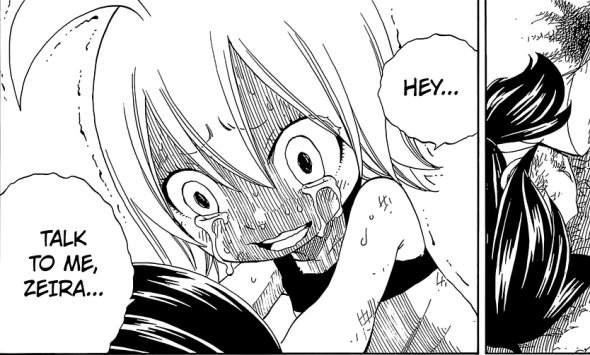 Interesting that this took place on Tenrou Island. It has been ages since I last read the events of Tenrou Island, so I can't remember if there were ruins on that island or not. Knowing Mashima-sensei, he retconned this in to show why Tenrou Island is so special to Mavis and Fairy Tail.
Still, I am very interested in learning how Fairy Tail came to be formed as a guild and how Mavis became the first master of that guild.  As such, I'll blog the series on a chapter basis.