ハヤテのごとく!/Hayate no Gotoku Manga
Hayate the Combat Butler Chapter 468 Review
SPOILER Summary/Synopsis: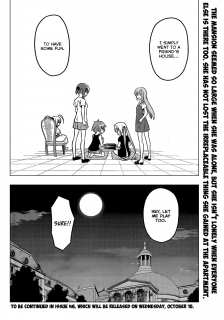 Nagi is still reflecting on the change of her lifestyle when Hayate and Maria return. She's a little disappointed when Hayate doesn't need help and suggests she watch TV. Nagi seeks out Maria, who's cleaning. Maria doesn't trust Nagi, based on her past experience with Nagi's failed attempt clean.
Nagi is not pleased, but does go to watch TV. She recalls her time at the apartment when Hayate announces dinner. She wants him to eat with her, but he declines, citing the need to make dessert. While she finds Hayate's cooking excellent, she's sad just the same.
Hayate arrives with dessert and notes her sadness. Nagi confesses that some things are worth more than money can buy despite the negative aspects of them. Before she can finish her thought, Chiharu arrives and steals a strawberry from Nagi's dessert. Nagi is stunned by her arrival as well as the arrival of Ayumu, Hima, Kayura, and Ah-tan. Kayura, who's never been to the mansion, is the most impressed.
Nagi appears reluctant to have them over, but has Hayate make food and plays games with the others. Maria thanks Chiharu for coming over, but Chiharu dismisses the thanks, saying she went to a friend's house to have fun.
Thoughts/Review:
Well, I was wrong about Ah-tan disappearing for a while. I still think she'll exit the manga before too long and not return until near the end of the manga.
Nagi continues to get worked on as a character, which is a nice touch. She may pretend that she's not that interested in others when others are around, but based on the other pages from this chapter, we know the truth.
And it was nice that the others came to see her. Yeah, Maria may have gotten the ball rolling, but with Kayura making her first trip to the mansion, combined with the other girls having their reactions, it was all very sweet.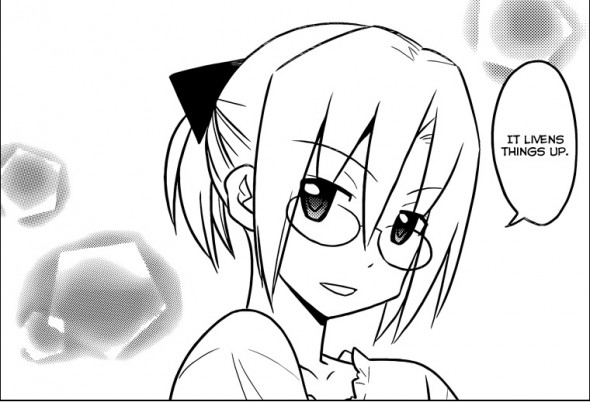 I'm hoping that we get some clarification on living arrangements. Were it not for CTMEOY, I'd want Nagi to invite the girls in to live with her at the mansion. As it is, I'm hoping we get to see Yukari-chan House and Nagi paying a visit there, even spending the night.
And let's not forget Klaus.
Otherwise, not a lot to talk about. It is a sweet chapter, and nice for what it is.