Here is a SPOILER image and a bit of information for the upcoming UQ Holder chapter 64, courtesy of MK. (My review of UQ Holder chapter 64 should come out Wednesday…or Tuesday, as it happened.)
UQ HOLDER CHAPTER 64 SPOILERS
The UQ Holder chapter 64 goodness begins.^_^
First up, the image.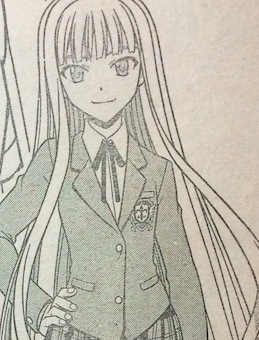 I had speculated that Eva might be the headmaster at Mahora. I'm not sure if she is (my Japanese sucks), but she's certainly involved with the school. And yes, she shows up in Eva form (Touta asks if she's cosplaying *lol*), not in Yukihime form.
Mana is in this chapter, which is to be expected. So it looks like I get my wish to see Mana and Eva together.
I think that Ku Fei and Yue are seen on screen as past tournament participants, but don't quote me on that (they are apparently seen in the chapter in a video).
Oh, and Fate may be in this as well.
Hopefully, ChaosProphet (or someone) will have spoiler text for us soon.
Update #1: Info from ChaosProphet.
A summary of the spoilers. Between [] are my comments.

Mana explains about the Mahora Martial Arts Tournament. It will be held on summer of next year [that should be 8 months to an year from now]. It will be a national scale one and the first one where all kinds of battle techniques are permitted (magic, ki, etc). It will have all kinds of categories (1-on-1, 2-on-2, team battles, etc). Preliminaries are on the ground. The actual tournament happens as they go up the tower [not 100% sure on this one] with the finals held on the orbital elevator at the top.

Touta says it sounds incredible but wonders whether it's okay for the likes of them to participate as the immortals lives hidden from the world. Mana says it's okay as long he don't let people know he is immortal, it's against the rules to kill the opponent after all. Mana shows him a video of the tournament from long ago. As it's the first since the magic ban was lifted, they should expect all kinds of opponents, even demi-humans from "inverse-mars (magical world)" so it won't be easy even for being like them.

While only happening next year, entry submission are already being accepted as the tournament will be very big. Mana says a few days ago an entry was submitted with the name "Negi Springfield". It may be just someone using his name, but the entry request letter fingertips, DNA and magic traces all match Negi (who whereabouts are currently unknown), so he must have at least touched that letter. Touta and Kuroumaru (?) decide to participate.

Later Karin is annoyed that he entered on it without asking for Eva's permission. At that moment Eva in Mahora's uniform appears and says he can participate. She had come to check on them after their report that a large incident happened. Eva says she is interested on the signature on the letter from Negi and asks Touta to show her. Fate appears and says he also is interested on it.