ユーキューホルダー! Manga Review
UQ Holder Chapter 69
SPOILER Summary/Synopsis: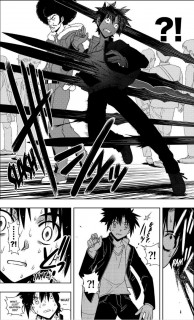 As Afro shows Touta some of the higher ranked fighters in the tournament, Touta senses a smaller figure in rags that seemingly attacks him with some kind of blades, only nothing happened. Afro noticed nothing, but Gravity Blade did sense blood lust.
Afro takes him to his junk shop and his partner Ray Chikage. Afro's real name is apparently Laszlo. Laszlo wants to show off his apps on Touta, but Touta splits his afro. Touta agrees to go easy on him so Laszlo can show off the stuff, but it isn't enough to overcome Touta. Laszlo's plan is to juice Touta's considerable skills with magic apps.
Touta doesn't have a mana phone, so they use a prepaid phone to install the magic apps and mana gloves to perform the install. However, the gloves react to Touta and explode. Ray is having a hard time believing that Touta cannot use a magic app. Touta said that Yukihime told him magic apps were stupid, so he never bothered. Ray looked it up and discovers Touta is one of those rare people who can't use apps.
Touta is out on a pile of junk, expressing his disappointment to Gravity Blade. The sword thinks the apps are nothing as all Touta has to do is master his chi (ki) and would not need an app. Gravity Blade thinks there's a secret to Touta and his bloodline, so the sword says he'll tell Touta what it is so that he can move forward.
Thoughts/Review:
Hmmmm…I'm not sure what to think about this chapter.
Will Touta actually get to the real tournament, or will the preliminaries be it?
I ask because mystery rag boy (for lack of a better term) has targeted Touta. He could be a shadow user (the "sword of darkness" being those dark blades), but those might be something else.  If only Touta and Gravity Blade sensed this attack, and Touta suffered no damage, was it a real attack, an illusionary attack, or what?
My secret desire — let this be Zecht. 😉  After all, the indications are that whomever this is might be more powerful than Fate.
I really don't care about Laszlo/Afro, and I can't say I care about Ray either, wheelchair not withstanding. Laszlo could still be looking to score a quick buck, assuming they hang around for long. However, in this chapter, Laszlo was used to show off tougher opponents in the preliminaries and Ray was used to confirm what we already knew — Touta can't use magic apps (and we got to see a bit on how those are installed) and that he's not normal.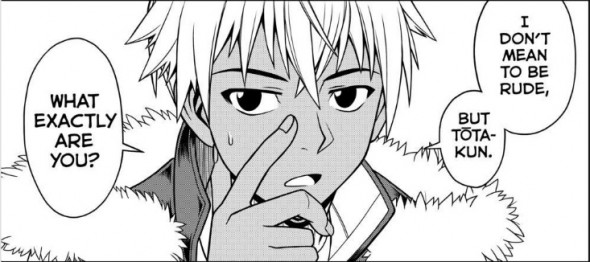 Well, I did get a chuckle out of Laszlo's afro getting jacked up. Those afro jokes seem to be coming right out of Keroro Gunsou. I miss reading that manga.
Finally, there's Gravity Blade promising information about Touta to Touta. Frankly, I don't trust Akamatsu-sensei to actually follow through on this, at least not very much. It is "magically delicious" that Gravity Blade is able to produce said answers regarding our Special-K Touta. If Trix are for kids, then Touta is a box of Lucky Charms for sure.  After all, after convenient level up time, it is now time for convenient plot exposition.
(OK, I'm craving a nice big bowl of cereal with extra sugar, icy cold milk. 😛 )
I'm just not feeling it. I'm just not jazzed about what I've read. I could be just tired and missing my main PC (which will happen this weekend at the latest). Seeing Morborgran doesn't jazz me. The new dragon babe and cat babe don't do anything for me, nor do any of the other characters introduced.
Well, don't mind me. I am curious to hear what you guys think, good or bad.