Here is some SPOILER info for the upcoming UQ Holder chapter 78, courtesy of 2ch. (My review of UQ Holder chapter 78 should come out Friday.)
UQ HOLDER CHAPTER 78 SPOILERS
The UQ Holder chapter 78 goodness begins.^_^
This looks to be chapter 78's spoilers.
狭間の魔女と雪姫

ちびエヴァは刀太など気にもせず、ダーナの寝首を掻こうと襲いかかる
だが、ダーナはそれをあっさりあしらうと刀太に気づく
とたんに城中を鐘の音がうるさく響き渡る

音が止み、刀太が辺りを見回すと
ダーナはさっきの寝間着姿ではなく、ショッピングモールでの恰好
刀太を刺殺したのも伊達ではなく、右目の視力を戻すための血抜き
弟子にしてください!!と刀太が土下座すると
ダーナは頭を蹴飛ばそうとする
そして「男が軽々しく土下座なんかするもんじゃないよ!!」と刀太に言うが
雪姫の教えだと言われて困る

ダーナは占いで予言していた
刀太は雪姫に愛を教えられるただ一人のオトコだ、と
ダーナ「ほれほれ認めちまいな好きなんだろ?好きなんだろ?んんんん?」
刀太「ああーッわかったわかったよ!!
それでいいから早いとこ修行つけてくれよ!」
恥ずかしい思いをした刀太は、三太たちに見られてないのだけが救い……

救いはなかった!!!!!
辺りを見回してたあたりからずっと
ダーナのお招きに預かっていたラズロ・九郎丸・キリヱ・三太に見られてた

■狭間の魔女・ダーナ!何か思惑がありそうだが…!
Well, we'll have to wait for ChaosProphet or someone else to provide us the goodies to what is going on. The journey into the phantasmagoria (or whatever place Touta has been sent to) continues and Dana appears to be there, but not dressed in the outlandish clothing she was in the mall. There is a reference to Laszlo (Afro), Kuroumaru, Kirie, and Santa regarding an invitation of Dana. I don't know what that means or if I'm seeing that right. Maybe she's invited them to be where Touta is or something else.
Update #1: From MK.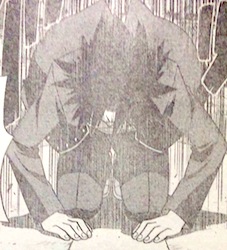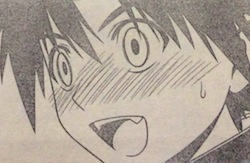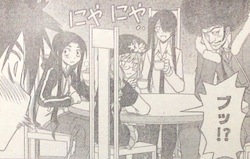 So, Kuroumaru and company are there, assuming this is really them. Well, if Dana could send Touta into a phantasmagoria, it would be a sinch for her to do so for the others.
Update #2: More info, courtesy of rikutan!
The Witch of the Rift and Yukihime

Chibi-Eva does not mind Touta, and instead goes for Dana's throat.

But, Dana easily avoids her attack and notices Touta.

Suddenly, the bells in the castle start to ring loudly throughout the castle

The sound stops, and Touta looks around, and

Dana is no longer in her pajamas she was until now, and is back in the outfit from the mall.

She has the power to kill him with one finger, so returns vision to his right eye.

Touta begs her and does dogeza, "Make me your disciple".

Dana tries to kick away his head.

"Men should not so easily do dogeza!!"

but Touta replies that's what Yukihime taught him, and Dana is troubled.

Dana was fortune-telling.

Touta is the only man that can teach Yukihime about love, and

(Dana pushes Touta to confess that he likes Yukihime)

(OK OK OK yes I like her just train me already -Touta)

Touta is embarrassed, but is relieved that he hasn't been seen by Santa & co….

lol jk

Touta looks around

Lazlo, Kuroumaru, Kirie, and Santa, who've been invited by Dana, have already seen him in his embarrassing situation.

Witch of the Rift, Dana, seems like she has some ulterior motive…!
Har! So Chibi-Eva is gone in a flash. Thanks a ton to rikutan for the translation!