Fate/stay night: Unlimited Blade Works – 21 review
フェイト/ステイナイト [Unlimited Blade Works] – 21
SPOILER Summary/Synopsis: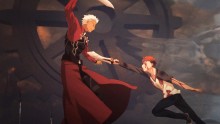 Shiro and Archer continue to battle as Saber considers her own actions of the past that lead her to where she is now. Shiro defeats Archer due to Archer becoming sentimental after recalling his promise as Shiro to Kiritsugu to take on the role of Hero of Justice. As Rin arrives to where Archer, Shirou, and Saber are outside of UBW, Gilgamesh attacks the "fake" Archer, hitting him with three blades. Saber is stunned to see Gilgamesh, the Archer from the previous Holy Grail War who should not be alive. Gilgamesh explains that the Holy Grail's contents that spilled after Saber destroyed it, which caused the fire that nearly took young Shirou's life, transformed him into human form and gave him insight on the Grail's purpose.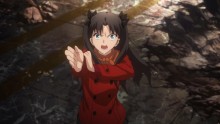 As he talks, Rin suddenly understands that the Grail could never be used by Servants, only Masters as mages. Saber is shocked to hear this, as Gilgamesh continues to explain that he has no desire for the Grail itself, which has become corrupted, but in what it can do. He intends to use it as a weapon and purge humanity. Anyone who survives the pure will then be worthy of being ruled by Gilgamesh. Gilgamesh readies another attack, but Archer takes the hit, pushing Shirou aside, and telling him he has to defeat Archer. Archer gone, Gilgamesh readies another attack, but the soot from the fires in the castle make him decide to call it a day. Outside, he meets the angry and injured Shinji. Upon learning Kirei is dead and receiving an insult from Shinji, Gilgamesh stuffs Ilya's Grail heart into Shinji to force him to become the Grail vessel.
Thoughts/Review:
Ugh. At the end there, that was so nasty. For a moment, I thought I was watching Akira. 😉 However, unlike the emotion I felt when Gilgamesh killed Ilya, I couldn't really feel sorry for Shinji. I would say, "Well, maybe Saber can kill him quick," but it is already too late for that.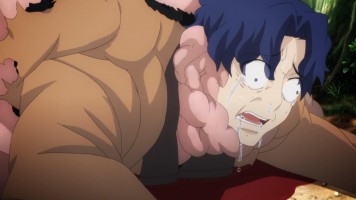 Despite the fact that I am looking forward to Gilgamesh getting his comeuppance, I gotta say that his smugness in this episode kept making me chuckle. He pushed all of their buttons, then ended it by leaving because he was getting soot on them, telling them, "This means your lives are worth less to me than soot." 😆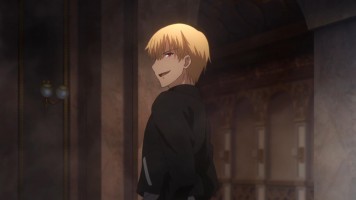 I have to say that I liked Saber's reaction to seeing Gilgamesh and the fact that she addressed him as Archer. There was no reaction from Rin and Shirou on this. Back when they first learned of the 8th Servant, I would have thought that Rin would have made a bigger deal of this  than she did. Then when it is revealed that Gilgamesh is a Servant from the previous war, still no reaction other than, "here's another enemy we have to fight."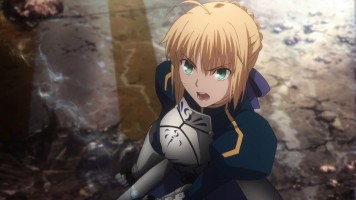 Gilgamesh pretty much stole the show here. I presume that when Archer took everyone into UBW, Gilgamesh was there somehow. I'm not sure how that is since I don't think Gilgamesh can become invisible.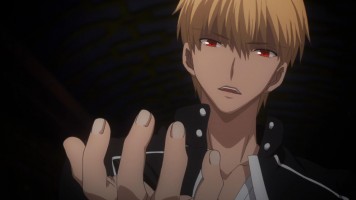 Why does Archer think that Shiro can defeat Gilgamesh? It has to be something related to Gilgamesh having that massive treasure room of weapons, and Shiro's ability to replicate weapons. I can't figure out how Shiro is supposed to defeat Gilgamesh, not that he has the mana at the moment to do so…not yet at least.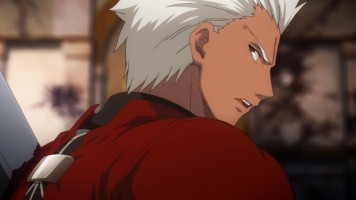 Knockin' Boots
We'll see how many folks know that old school reference. 😉
Regardless, in the Fate route, Saber was in desperate need of a mana refill, and because the source Fate/stay night material is a hentai visual novel (pretty mild by today's standards, from what I'm told), Shirou having sex with Saber was a way to recharge her, thus giving a plot reason (even if laughable) for Shirou to boink Saber and give her the protein she so desperately needs. 😉
Having seen a lot of Fate/stay night images, including some hentai ones (I don't think there are a lot of those), I know Shiro has sex with Rin. Based on the preview section at the end of this episode, I'm guessing that next episode is where Shiro and Rin will knock the boots. It appears that the justification will be so that Rin can charge Shiro's mana banks. Of course, I'm not sure how Shiro shooting a load into Rin causes him to juice up, but that's part of the glorious world of hentai logic. If your are bored, you can read the 2009 piece I rescued from the old Usenet. 😉
[collapse]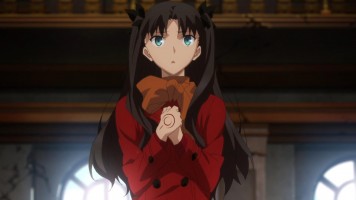 OK, that out of the way, I will now address Shiro's and Archer's overshadowed fight. (Darn Gilgamesh.) I liked that it ended because Archer recalled being a young Shiro and promising that he'd become the Hero of Justice that Kiritsugu could not. Shiro kept that promise, but became Archer in the process. So in the end, Archer concedes, and true to form, is actually a Hero of Justice until the end.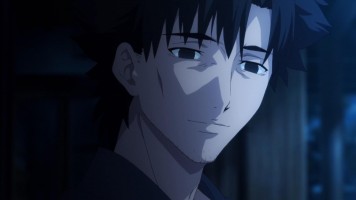 Of more interest was Saber's reaction to this. My memory may be playing tricks with me, but it seems like Saber is getting a better resolution here in coming to terms with her past than she did in the Fate route, which was her route. Either way, I loved it.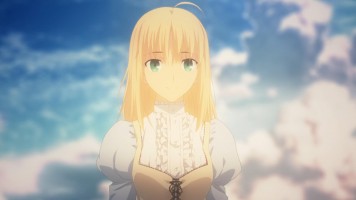 Well, I'm sure there's more I could say, but I'm already WAY behind thanks to having my workload doubled (my colleague got laid off), my being sick the whole weekend, and the hours I wasn't in bed being in front of the screen playing Fallout: New Vegas for the first time.  So I'll end things here by saying that this was a great episode, even if it did get a bit nasty at the end.