ハヤテのごとく!/Hayate no Gotoku Manga
Hayate the Combat Butler Chapter 493 Review
SPOILER Summary/Synopsis: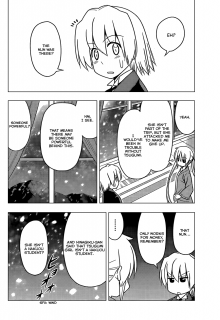 The participants of the orientation return, starting with Hina, then Nagi, and ending with Hayate. Hayate is relieved that Nagi wasn't kidnapped by Ruri, but this irritates Nagi since Ruri saved her. However, she doesn't know what happened to Ruri.
Hina wins a ¥10 million cash card that's only good for the trip. Nagi gets a ¥2 million cash card. Hayate, coming in last, gets no cash card, but he can gets a card that allows him to get a loan, which charges 50% interest every 10 days.
Hina wonders what she could spend her money on, so a man in black reveals the price chart for lodging, starting at ¥1 million for a suite and ending at ¥10,000 for a room with no amenities or breakfast. Hina learns about the free room and is going to opt for that, but Risa shows up and says the free rooms are hell. Hina is going to take the single room for ¥80,000, but Risa orders the suite for her instead as well as two expensive meals. Hayate has no money, so Nagi pays ¥100,000 for the double, and another ¥100,000 to make it a twin occupancy, thus giving Hayate a place to stay.
In their room, Nagi briefs Hayate on what happened to her. Hayate says someone powerful must be behind this since Sister Sonia only does things for money. Hayate tells Nagi that Ruri isn't a Hakuou student.
The next afternoon, Hayate finds himself in hot, humid jungle.
Thoughts/Review:
Since Risa forced Hina into the expensive suite, I thought we might get to see some comedy thing about her in this luxurious room. Considering that the chapter ends with Hayate in a jungle, I'm guessing that we won't see anything like this.
Now that there are cash cards in use, I'm guessing that this will come into further plot/comedic play when only Hina and Nagi have any money to pay for the stuff everyone needs. We'll see though.
As to the plot, there's still nothing to even theorize on what the purpose of this trip is. It seems to make little sense to train people to ski and then send them to a jungle. Of course, this may just be part of the weeding out process to get us down to Hina, Hayate, Nagi, and maybe a few others in the core character group.
The whole "unequal society" thing may come into play later, especially if Kananiwa turns out to be Dolly from the Can't Take My Eyes Off You anime.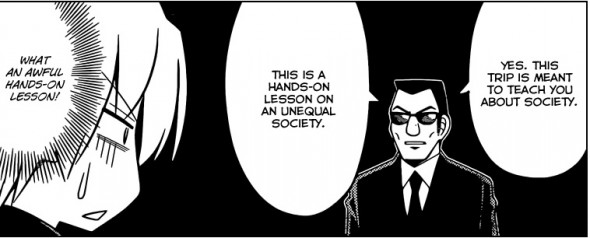 I still think that we'll see Shin in this manga arc as I believe things will be crafted in a way to parallel the Can't Take My Eyes Off You anime plot.
Otherwise, I'm just not finding anything I want to talk about. While the chapter was enjoyable for what it was, there was no plot advancement and the comedy stuff was just "meh" to me — nothing bad, but nothing that made me laugh or even chuckle (even Risa's jab at Hayate about being a freeloader). I liked the chapter, but apparently not enough to find things to discuss.