Fate/stay night: Unlimited Blade Works – 25 review
フェイト/ステイナイト [Unlimited Blade Works] – 25
SPOILER Summary/Synopsis: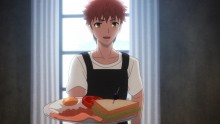 Two years after the Holy Grail War, Shirou and Rin live together in London, where both attend classes at the Mages Association's Clock Tower location. After Shirou makes breakfast, the two are in the hall of the school and chatting when classmate and fellow resident of their apartment building, Luvia, comes up. Rin is highly displeased with Luvia fawning for her man, so Rin decides that their next class will be a defense class. She and Luvia battle in the school's area for this. After the fight, a bandaged Rin lays on Shirou's lap in the library and demands to know how Shirou met Luvia in the first place. During their chat, Rin asks Shirou what his decision is regarding the official invitation he received to join the Mages Association, which he hasn't made yet.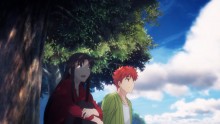 The following day, Rin takes Shirou on a bus trip to Glastonbury, so Shirou can say goodbye to Saber at the grave of King Arthur. After Shirou says his words, he and Rin have a picnic on the grounds and chat about things, including the Holy Grail War and Saber. That evening on the bus trip home, Rin sleeps with her head on Shirou's shoulder as he recalls the time at the end of his second year in high school when Rin let Issei know in her own special way that she and Shirou were a couple, irritating Issei. Shirou recalls talking with Rin, where they made their plans to come to London and the Mages Association's school at Clock Tower. Back in the present, Shirou thanks the sleeping Rin for bringing him here.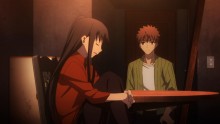 Shirou has his appointment with the Mages Association about joining. After leaving, he is stopped by Lord El-Melloi II, who asks him about his reasons for coming to Clock Tower after participating in the Holy Grail War. Shirou comes home to find Rin waiting for him. She asks if he accepted the invitation to join the Mages Association, but as she expected, he turned them down. Shirou is surprised that she doesn't get angry by this and says that he's probably on Archer's path. Rin agrees, but says that this time, he might go further down that path. Either way, Rin will be coming with Shirou after their three years at school are up and they will have their own "happily ever after" ending.
Thoughts/Review:
I wanted an aftermath episode, but instead, what I got was a tease for a series I'd LOVE to see created as a sequel. 😉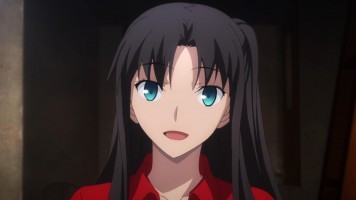 I was surprised that the epilogue episode jumped ahead two years in time, but I have to say, I loved it. I loved how Shirou and Rin are living together in a small, London apartment and attending college together. Apparently, they are a happy couple.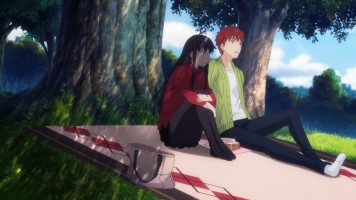 With that in mind, is it any wonder that Rin stole this episode? For once, she was not tsundere at all, but instead acted like a normal girl who loves her man dearly, enough to follow him all over the world.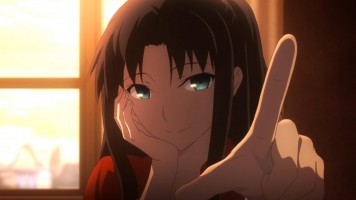 Seriously, while Saber has always been my favorite girl of the franchise, Rin, whom I've always like, really made me sit up and go, "Well, you know, she's really is a pretty darn good choice once she drops the tsundere thing." She really really shined in this episode.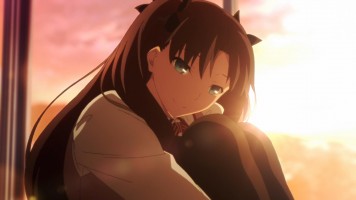 The only odd thing about their relationship is that they still address each other by their family names…well, mostly. Shirou always addressed Rin as "Tohsaka" and Rin mostly addressed Shirou as "Emiya-kun," though on their picnic to Glastonbury, she did call him Shirou.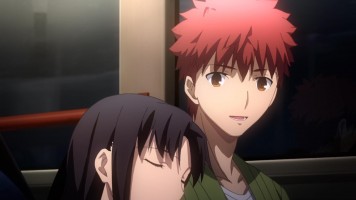 I hate to say it, but when Rin took Shirou to Glastonbury, I was kinda hoping that Saber would show up, even if just in a form only Shirou could see.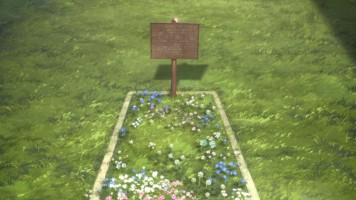 Anyway, during the flashback to where we could see Rin and Shirou a month after the Holy Grail War, I laughed at how Rin let Issei know that she and Shirou were dating. Again, she dropped the tsundere thing, and was just open with her affections for Shirou, while at the same time, driving Issei nuts since he doesn't like Rin.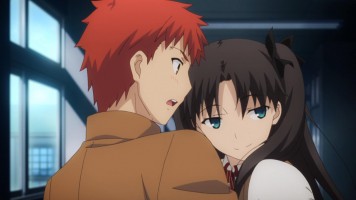 Also in the flashback, we got to see Sakura visiting that bastard, Shinji. Yes, he's her brother, but man. I did like that dirty look she gave him when he initially gave her attitude about being fed cutely cut apple pieces.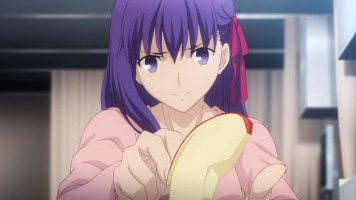 We got an extended cameo from Lord El-Melloi II, otherwise known as Waver Velvet. I wouldn't have known him as Lord El-Melloi II except that he has a small role in the Fate/kaleid liner Prisma Illya (and the connection to Waver was explained to me).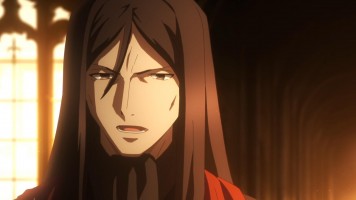 Speaking of Fate/kaleid liner Prisma Illya, ufotable seemed to be giving a shout out to the series by introducing Luvia to the mix in this episode. Her appearance was completely unexpected, but totally welcome. In fact, I may have made an audible noise when she showed up and Rin attempted to punch her.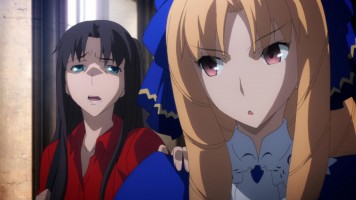 Luvia looked MUCH better in this episode than in the Fate/kaleid liner Prisma Illya franchise. There, she has more of a cliched, haughty, ojousama look. Here, she has her ojousama look, down to the blonde cone curled hair and speech patterns, but she didn't have the same cliched look to her, which makes her more attractive to me.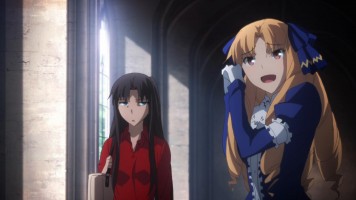 And then there was the battle between Luvia and Rin. Those exercise outfits! 😀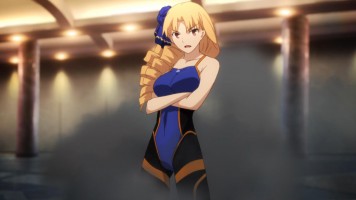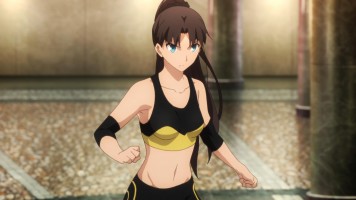 We got to see some of their fight animated, showing how impressive both girls are. However, when the fight went off screen, hearing Luvia insult Rin as "Miss Gorilla" made me laugh out loud. Their rivalry in Fate/kaleid liner Prisma Illya is mostly fun (sometimes it was tedious), but here, the rivalry was just deliciously awesome.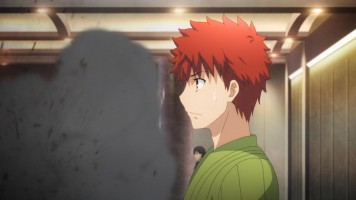 Because of all this, I really wish ufotable would work with Nasu-sensei to develop a sequel to the UBW route, where we get to see Rin and Shirou at school, at home, at play, and of course, Rin vs. Luvia. Also in that mix, you could have some magic-related thing that needs solving, where we could see Rin and Shirou work as a team in battle. I really think this needs to happen.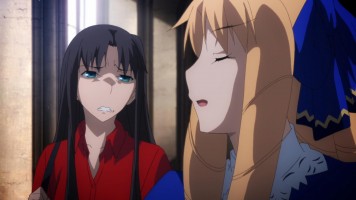 I'll see if I can find some time to write a "final thoughts" review of the series. In the meantime, this episode was an excellent way to end the Fate/stay night: Unlimited Blade Works series. I'm looking forward to seeing the Fate/stay night: Heaven's Feel movie (I hope that's "movies" so that it is better adapted), whenever that gets released.