ハヤテのごとく!/Hayate no Gotoku Manga
Hayate the Combat Butler Chapter 495 Review
SPOILER Summary/Synopsis: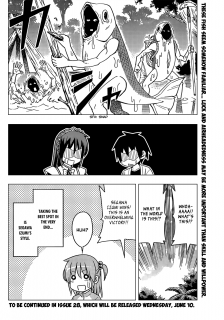 Izumi, not worried about the situation, takes a nap in the shack cabin. Her fellow classmates choose cameras and set out. Hina, Risa, and Aika wonder where Izumi is as they team up. Using Hina's money, they've hired locals to assist, then capture a photo of Hina in a sports bikini, in the water, as a pink dolphin leaps over her. Yukiji, still in a mask, gets a photo taken of her snagging a massive pirarucu fish with only a branch and ivy.
Kotetsu has picked a camera with a GPS map, so he, Hayate and Nagi head out, where Kotetsu captures a photo of Hayate punching a caiman. However, when Isumi summons a large number of animals to her group, Kayura snaps a photo of Chiharu getting bit by a jaguar.
Izumi wakes up and discovers she's been left. She kinda laments not being good at anything. However, she takes a regular camera and decides to snap a photo of some cute fish in the water. When she snaps her picture, she gets a photo of a fish-men tribe in action, allowing her to win the ¥10 million single handed.
Thoughts/Review:
Hoo!hoo! I should have figured that Izumi would win. 😛
One of the great things about Hata-sensei is that he will bring back some old gag right when you least expect it. Here, that was the fish-men tribe that Izumi stumbled upon. Of course Izumi accidentally created a fish-man in chapter 447 for a video contest. 😆  I still say these fish-men are like the fish-men in Slayers (slightly different with the face in the mouth, but otherwise very similar).
Isumi was pretty much MIA for the first orientation (she wasn't part of the skiing stuff, at least not that I noticed), but she does show back up here for a funny gag involving animals. I couldn't help but immediately think of the old 80s fantasy movie, The Beastmaster. 😆 Sad thing is, she probably accidentally set them on Chiharu and Kayura. 😉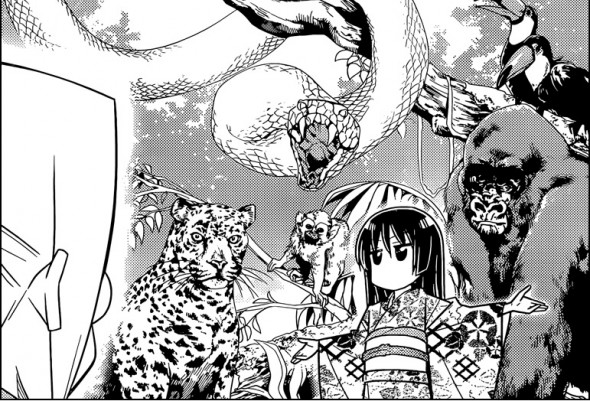 And then there was Hina and her sexy-cute photo. 😉
So, with Izumi winning solo, which of the three main groups lost? If I had to bet, it would be Hayate's group. Nagi still should have some money, so that would be OK for her and Hayate. Izumi might cover Kotetsu's sleeping expenses since he's her brother and butler. There's still Yukari, though we don't know whom she's teamed with. We'll see how things pan out.
Hata-sensei finally shows us what Risa's job is going to be, now that she's out of the competition — commentator. Well, it is a good job for her. 😀
In the end, a pretty fun chapter. I figure we'll go to the next day's events in the next chapter.