ユーキューホルダー! Manga Review
UQ Holder Chapter 84
SPOILER Summary/Synopsis: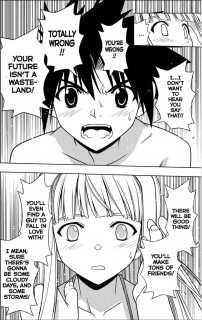 Touta defends Kitty (Eva) from Dana, somehow sending seeming to obliterate her. Kitty is impressed by this, though Touta doesn't know how he did it. Kitty wants to have him try it again, so she uses her ice magic on him, but he's encased in ice. After he gets out, she apologizes, then asks about what he said earlier. Touta annoys Kitty by blowing off his love confession, so she puts him on ice again.
After he gets out again, Touta says he wants to help her. She tells him that if he wants to help her, he should kill her and end her from her life of hell. Touta rejects her notion of not having anything to look forward to, telling her she'll make lots of friends and even fall in love. He vows to make that come true, so she asks if he's the guy she's supposed to fall in love with. Touta says it is someone with red hair who's more impressive than him.
An enraged and enlarged Dana Dana literally bursts through dimension walls, remarking on Touta's hit on her. Kitty warns that a Noble could easily wipe out an entire town. Kitty says they'll have to work together to defeat Dana, but Touta figures hey are dead. Roaring, Dana stops short and hands Touta a diploma, meaning he's finished with the beginner work. She returns to her standard size, again remarking about how powerful a hit Touta had landed on her. She then turns to address Kitty.
Thoughts/Review:
Whether I like it or not, this chapter follows form, whereby Touta again is able to instinctively use a technique that even causes damage to a Noble vampire. Based on the pose Touta had, no doubt, this is partially something inherited from being a homunculus of Negi.
I presume that Touta sent Dana to another dimension, instinctively using what he saw Dana do to the giant dragonfly to send her away.
I got a chuckle out of Eva's eagerness to see Touta obliterate something for a second time.

It was sad to hear Eva want to be killed even though it made sense to me. Since it seems that Touta influences Eva's life, I'm hoping we'll get to see how she came to make a pactio with Chachazero and how Chachazero became ensouled. I say this because her time with Touta lets her know she need not be alone, and since we saw she already had a "relationship" of sorts with Chachazero, that's how the doll becomes the bloodthirsty entity we knew and loved from Negima.
Oh, I guess we know where Eva got her "last boss" remarks from — not from playing video games, but from Touta using the term.
On the enraged Dana, other than having us see how she could easily destroy Eva and Touta combined, I can't help but wonder if maybe, just maybe, there's a long term plan to have her show up for some big battle as the manga ends. I'm probably thinking too much.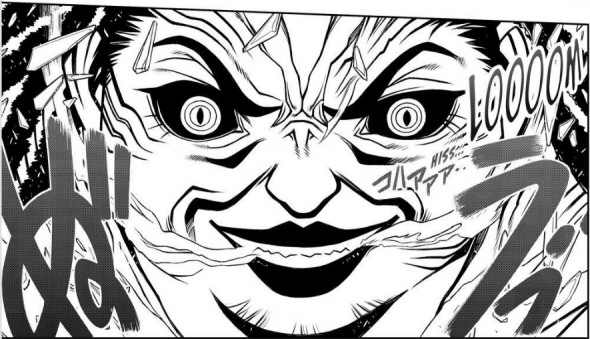 So the next question is, "What does Dana do with Eva?" I can kinda see Dana allowing Eva to stay because of how she's helped Touta, thus she could help the others as well. I can also see Dana letting her go. We'll see which way Akamatsu-sensei goes.
In the end, there were things I liked about this chapter while being resigned to the things that are related to Super Touta.