Fate/kaleid liner PRISMA☆ILLYA 2wei! Specials REVIEW
Fate/kaleid liner プリズマ☆イリヤ
Fate/kaleid liner Prisma Illya 2wei! Specials

SPOILER Summary/Synopsis:
For episode 01, Ilya notices that Kuro is wearing a bra, which leads to her inquiring about this. Kuro states that girls need to wear a bra to properly grow, though Ilya is not sure about this, thinking Kuro doesn't need a bra. Ilya is curious about wearing a bra, but when Liz reveals she doesn't wear one, Ilya doesn't know who's right.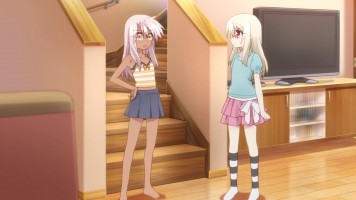 For episode 02, Ilya speaks to Miyu about bras, so Miyu consults with Rin and Luvia. Rin attempts to give practical advice on where to buy bras, but Luvia rejects this as being unfit for Miyu. Rin discovers Luvia only has a simple bra on, and Luvia is horrified to see Rin has a nice bra on. Luvia trumps Rin by showing off her elegant underwear stuff. Miyu reports back that Luvia provided her bra and panties, and Ilya later discovers they are matching and colored.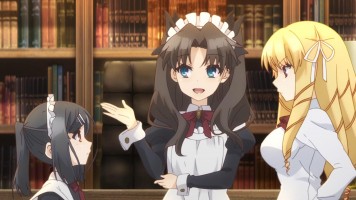 For episode 03, Liz mistakes Kuro's need for a mana injection for illness. Kaleidostick Ruby feels that Kuro may be sick, but that was likely from lack of mana. However, since Sella is out and Liz is in charge, Liz is determined to care for Kuro without assistance from Ilya, lest Ilya catch Kuro's cold. Later, Liz returns to find Ilya and Kuro kissing (mana transfer). Since Kuro's fever is gone and Ilya is flushed, Liz assumes Ilya took the illness into herself via the kiss and attempts to do the same. She's caught by Sella, who's not amused.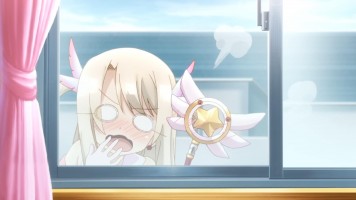 For episode 04 Suzuka, drafts Ilya, Kuro, Miyu, Mimi, and Nanaki to draw in customers to pay for Tatsuko's failed attempt to eat a giant nikumon (meat bun) with the required time. Wearing Chinese dresses, the girls work to get ¥10,000 worth of customers in, though it is Ilya who manages to do it just by being herself. Having earned the money, the girls get a free, regular nikumon, but they forget about Tatsuko. When they remember and return, she's about to make her second attempt at the giant nikumon.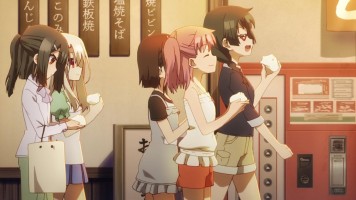 For episode 05, Ruby wants to relieve stress by going into simulation mode and seeing how other women would behave as magic girls without them knowing it. Sella is first, and uses Ruby for laundry. Liz uses Ruby to aide her lazy lifestyle; Taiga wants to use Ruby to wage war on criminal organizations; and Bazett does unknown horrors. Ruby comes home very shaken and grateful for Ilya as a Master.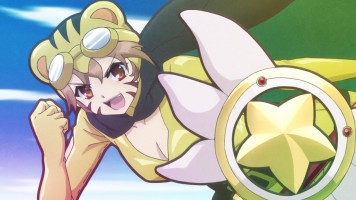 Thoughts/Review:
In order to get in the right frame of mind for the new Prisma Illya series that I will soon be blogging, I thought I'd finally watch the Fate/kaleid liner Prisma Illya 2wei! Specials OVA episodes that came out a while back.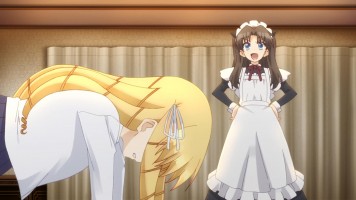 Note: I think these episodes were part of the original manga, but were not included in the main anime's storyline.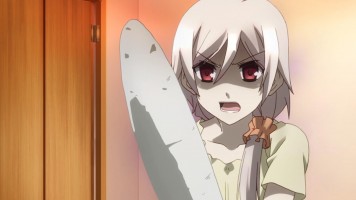 For the first episode, on one hand, it is just merely an excuse to show off bras and such — fanservice. That being said, Kuro's false information about bras amused me. It was also amusing that Kuro was pretty sure that she and Ilya would be OK chest-wise since their mother is well endowed.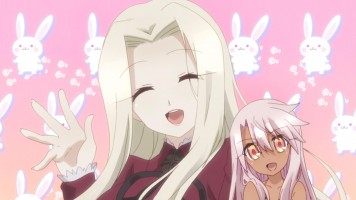 The biggest laugh came from Liz's revelation about not wearing a bra since she has "huge tracks of land" upstairs.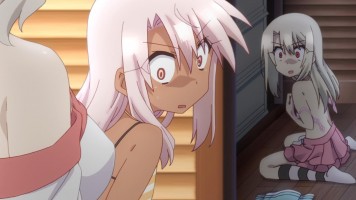 For the second episode, the whole bra thing continue. While also being a vehicle for the obvious fanservice, it was also a vehicle to allow Rin's and Luvia's rivalry to continue and have them duke it out. The episode lets you hear their fight, but not see it since the camera goes outside of Luvia's home. However, that makes it humorous to me.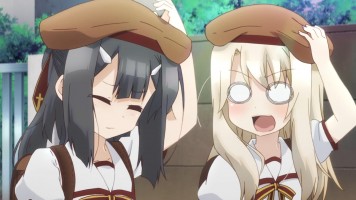 For the third episode, I laughed out loud several times since Liz starred in it. She's always pretty lazy, so it was funny to see her wanting to be an "oneechan" to Kuro and help nurse her.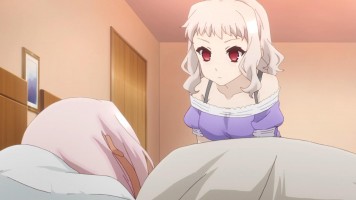 Plus when Liz decided to alleviate Kuro's embarrassment at being wiped down by removing her own clothing, I just couldn't help but laugh out loud.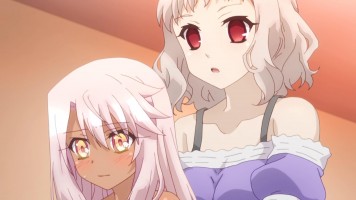 The whole "Kuro needs to snog someone in order to obtain mana" is just a stupid schtick to get loli girls to make out, but here, it was actually quite funny when Liz caught them, then attempted to do the same.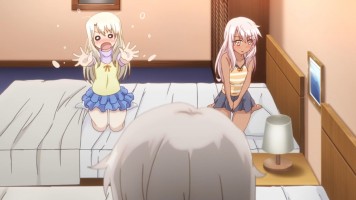 For the fourth episode, having Tatsuko in a food coma was funny enough. Having her come to and attempt to start a new eating attempt was even funnier to me, more so since she was so sure that this time, she'd succeed.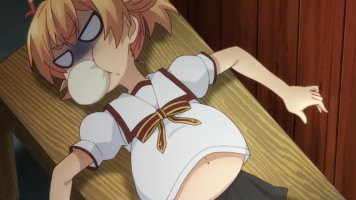 The other elements, revolving around the sexual nature of using the Chinese dresses to lure in customers really wasn't funny to me, though I was amused by Ilya going off at all of the whacky suggestions being made.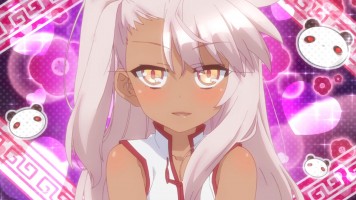 For the fifth episode, I think I got the biggest laughs of all the episodes. Seeing Sella use Ruby to activate the washing machine to save on electricity, then use Ruby to perfectly dry clothing on the line just made me laugh.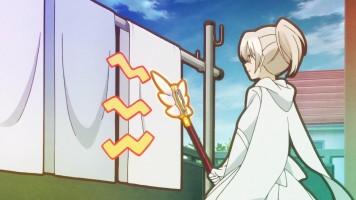 I totally expected Liz to use Ruby to be lazy. However, seeing Liz use Ruby as a TV remote and as an Cup Ramen heater just made me laugh.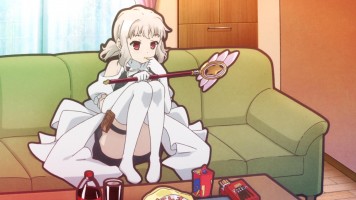 Taiga's stuff wasn't that funny to me, but seeing how Ruby was after Bazett got a hold of her had me laughing.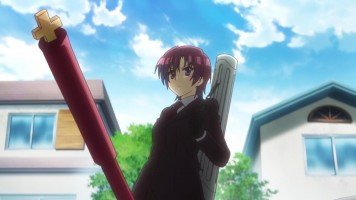 In the end, we got five pretty funny episodes that really put me in the mood for more Fate/kaleid liner Prisma Illya goodness.