ハヤテのごとく!/Hayate no Gotoku Manga
Hayate the Combat Butler Chapter 501 Review
SPOILER Summary/Synopsis: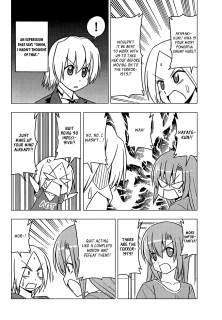 Katsura decides to enact her plan to remove powerful enemies by contacting the leader of the terrorist, guerrilla squad, calling him GINGA Banjou, and identifying herself as Hayate, and challenging Banjou to meet on the 15th floor. Despite knowing it is a trap, Banjou heads to the 15th floor anyway.
Meanwhile, Hayate and Hina are on whatever floor and come to the realization that the hotel is under terrorist attack.  They decide to head to the lobby as Katsura and Sister Sonia dispatch all of the guerrilla soldiers in the lobby. The students are happy that she saved them, but when she demands they press the button on their completer so she can win the ¥150 million, the students are not happy. Katsura gets angry, but takes a whack from Hina for her antics.
Katsura tells Hina that they should use this opportunity to reduce the number of participants in the competition. Hina rejects this, so Katsura seeks help from Hayate, who realizes Katsura has a point, but a death glare from Hina has him on her side. Sonia attacks Hina, who dodges the attack. Sonia explains she gets half the ¥150 million for helping Katsura as Katsura again attempts to win Hayate over to her side. Hina gives him an enraged look, so he backs off considering switching sides, leading Katsura to get angry.
Hina insults her sister and challenges her to defeat the terrorists. The two start arguing as Banjou returns with some men. The angry Katsura knocks Banjou out, causing the remaining soldiers to surrender.
The crisis over, Hayate joins Nagi outside with some other students. Hayate wonders if this trip will continue, considering what has just happened. Both Hayate and Nagi are surprised when Director Kananiwa shows up, saying that the trip will continue and that their final destination will be Las Vegas.
Thoughts/Review:
Har! While I hoped that this current arc would get us to Las Vegas, I wasn't sure that we'd actually go there. Now that we are, Hata-sensei just HAS to bring in Nagi's father into the manga's story. Will Ruka be worked into the story? I kinda hope she plays a similar, small roll like she played in the Can't Take My Eyes Off You anime.
I'm surprised that Director Kananiwa showed up. So far, there hasn't been a purpose to the trip other than to put characters through weird situations. One can ski outside Las Vegas, so that element could be brought in. What the jungle training would help with is more hazy.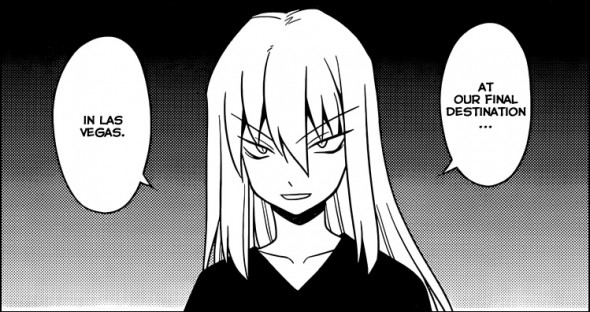 Katsura's antics were expected, but the humor came from Hayate being tempted twice to join Katsura's side, since he was earlier attempting to remove all competition just as Katsura was. Of course it is always amusing seeing Hina and Katsura battle.
Anyway, here's hoping for the Las Vegas leg of the trip being better than the anime version was.