境界のRINNE ep 13
Kyoukai no RINNE – 13

SPOILER Summary/Synopsis: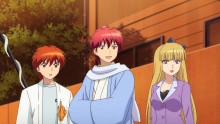 Sakura is being pursued by a large number of ghost, but she soon discovers these are actually Damashigami in disguise. Sabato's hot secretary arrives with a ¥1 million engagement ring for Sakura since she deems Sakura worthy. Sakura turns the ring down since she's only Rinne's classmate. With Rinne shocked and left with the bill for the ring, Ageha arrives to attack the Damashigami. To her shock, Sabato's secretary is Ageha's missing sister. Sabato shows up, allowing Ageha to finally put the pieces together that links her sister's boyfriend to the head of the Damashigami and thus Sabato's connection with Rinne. Sabato and his secretary flee, so Ageha gives pursuit, as does Rinne, Sakura, and Rokumon.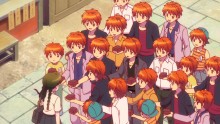 In the netherworld, Ageha is tricked and falls into a trap, so Rinne sends Sakura and Rokumon off to save her. She allows herself to get conned repeatedly, even going so far as to spend large sums of money, which frustrates Rinne. At the netherworld street market, the Damashigami continue to try to trick Sakura into taking an engagement ring, including a bunch of fake Rinne. Sakura doesn't fall for the tricks, so Rokumon asks her feelings for Rinne. She has no feeling, which Rokumon says is natural, considering how poor he is. The two take off as Rinne saves Ageha from a giant, water oni-type creature with a ¥1 million bounty. Ageha is relieved to be saved and embraces Rinne from behind as Sakura and Rokumon come up, whereby she again gets the wrong idea.
Thoughts/Review:
I still dislike Sabato greatly, but now that his introduction is over, Brain's Base is handling him fairly well.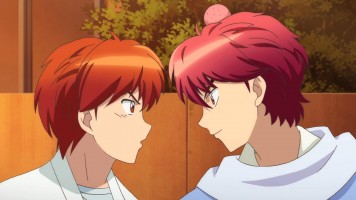 This episode continued the "verbal" stares, which just come off so humorous for some reason.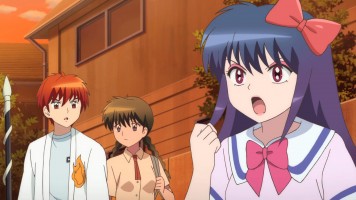 There were a few funny moments like that, but the one that made me laugh out loud was the look on Sakura's face when she found Ageha embracing Rinne from behind (and also doing the "verbal" stare).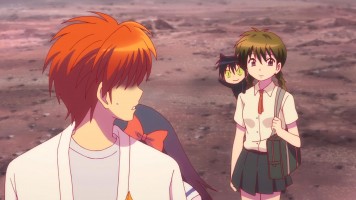 It was also humorous, in a sad kind of way, how the events of the day affected them. Rinne couldn't sleep because of Sakura getting the wrong idea.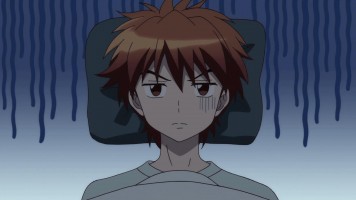 Ageha couldn't sleep because she's falling for Rinne.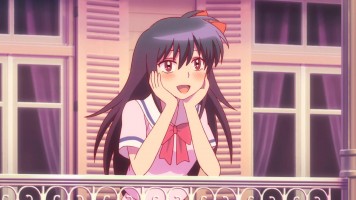 And Sakura COULD sleep, though she muttered "kudoi," the Japanese word for someone who talks too much.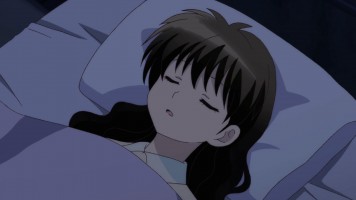 Which leads me to the choice of English words chosen in the adaptation. The term "naggy" never made sense in this episode because whenever Sakura said "kudoi," there was no nagging going on. In Japanese, kudoi means "verbose; importunate; wordy; repetitious; long-winded." Nagging means to be a source of constant complaining or scolding, leading to irritation on the part of the person receiving this. Sakura was never annoyed, and the others weren't complaining. They were being very verbose in whatever they were trying to say. Indeed, this paragraph could be called "kudoi" for going on and on, but it wouldn't be "naggy." Unfortunately, I don't know of a better word that would work, but naggy didn't work for me.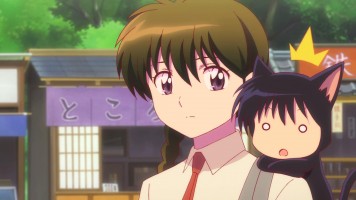 Anyway, now that Ageha is firmly established for the complicated love-square (Rinne-Sakura-Tsubasa-Ageha), it will be interesting to see how this is treated by Brain's Base.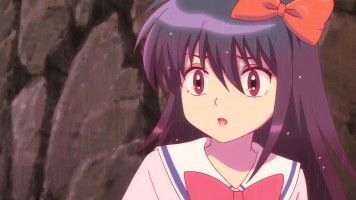 Finally, I don't remember if that water oni creature came from the manga or not. Having a ¥1 million bounty suddenly show up is very convenient, and normally, this would bother me. However, since I hate Sabato and I don't want Rinne saddled with more debt, I let it ride in my mind.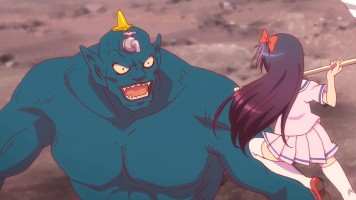 In the end, a pretty humorous episode that establishes a further complication in Rinne's love life.