Here is some SPOILER info for the upcoming UQ Holder Chapter 86, courtesy of 2ch. (My review of UQ Holder Chapter 86 should come out Tuesday or Wednesday.)
UQ HOLDER Chapter 86 SPOILERS
The UQ Holder Chapter 86 goodness begins.^_^
This looks to be Chapter 86's spoilers.
刀太がキティに会おうと早起きするが会えず
キティが残した書き置きには
287年後(刀太にとっては4年後)の朝、また会って欲しいと

Stage.86 縮まったり遠のいたり

ダーナは刀太たちを広場に集め、4つの秘伝書(?)を用意
・近衛刀太必殺技秘伝の書
・霊界通信 小夜子からのメッセージfor三太
・九郎丸ヒミツの書
・キリヱの恥ずかしいヒミツの書
まとめて箱詰めするとはるか彼方へとブン投げる
凶悪な魔物が徘徊する下界から、いち早く箱を見つけて帰るのが今回の修行

刀太は4日後までに戻りたいのだが
それには全力中の全力と奇跡に次ぐ奇跡の重ねがけが必須
だというのにキリヱに出鼻をくじかれる、そもそも刀太は方角わかってるのか?

■女の勘は鋭い! 33号は作者取材のため休載いたします。34号での再開をお楽しみに!!
As usual, we'll have to wait for some gracious person to come along and translate. 🙂 Seems like there's going to be a "time skip" of sorts, not in the outside world, but within the world of Dana. Eva leaves something for Touta. Touta wants to see Eva after four years (287 for her, apparently). Dana has slips of paper for the four of them that allow them certain abilities I guess. Santa's allows him to communicate with Sayoko? I'm not really sure what the others allow them to do. Kuroumaru may have the ability to create these, I'm not sure though.
Anyway, updates when we get translations, more info, and of course, spoiler images. 🙂 There's a chapter break in volume 33 of Weekly Shounen Magazine. I think that will be the next chapter.
Update #1: DerGilga provides some translations.
刀太がキティに会おうと早起きするが会えず
Touta stands up early to meet with Kitty, but he doesn't meet her.

キティが残した書き置きには
In a note Kitty left behind

287年後(刀太にとっては4年後)の朝、また会って欲しいと
'the morning of 287 years later (for Touta it is 4 years later), she wants him to meet (her) again'
// he/she probably meant 4 days later, see below

Stage.86 縮まったり遠のいたり
ステージ.86 becoming close and becoming far apart

ダーナは刀太たちを広場に集め、4つの秘伝書(?)を用意
Dana assembles Touta and the rest at a plaza and prepares 4 'books of secrets'(?)

・近衛刀太必殺技秘伝の書
・the book of 'Konoe Touta killer technique secret formula'

・霊界通信 小夜子からのメッセージfor三太
・a spiritual world transmission, a message 'for' Santa from Sayako
// english in a Japanese spoiler?

・九郎丸ヒミツの書
・the book of Kuromaru 'secret'

・キリヱの恥ずかしいヒミツの書
・the book of an embarrassing 'secret' of Kiri(w)e

まとめて箱詰めするとはるか彼方へとブン投げる
in one go, when she packes them in boxes, she throws them away with force to far away places

凶悪な魔物が徘徊する下界から、いち早く箱を見つけて帰るのが今回の修行
From the nether world, where atrocious demons roam, to quickly find the boxes and return them is the training this time.

刀太は4日後までに戻りたいのだが
Touta wants to recover it in 4 days, but

それには全力中の全力と奇跡に次ぐ奇跡の重ねがけが必須
for that the full force of all his power and miracles after miracles are required.

だというのにキリヱに出鼻をくじかれる、そもそも刀太は方角わかってるのか?
To that said, the departure is discouraged by Kiri(w)e, but did Touta understand the directions in the first place?

■女の勘は鋭い! 33号は作者取材のため休載いたします。34号での再開をお楽しみに!!
■ The intuition of a woman is sharp/keen! Because the author is collecting data there will be no chapter in Issue 33. Look forward to the continuation in Issue 34!!
Interesting. More updates with the spoiler images, or additional information comes forth.
Update #2: The spoiler images, courtesy of MK.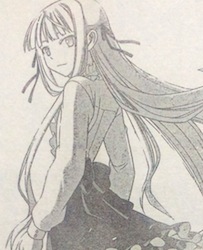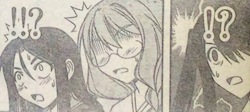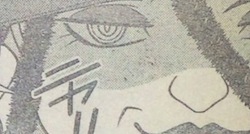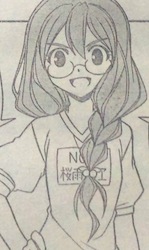 That's it for the spoilers. We'll see how the chapter goes.