ユーキューホルダー! Manga Review
UQ Holder Chapter 94
SPOILER Summary/Synopsis: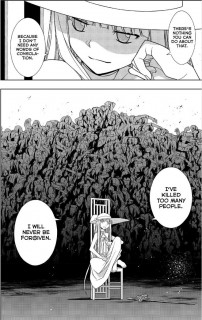 A depressed Touta speaks with the Kitty in his mind, lamenting he could say something to help her. She tells hi she needs no such words since she's killed too many people to be forgiven.
Dana reaches in pulls him out of the time twist that would have removed his existence. Dana says that this may have been his only chance to die and tells the others that if they get a chance to die, they should consider it unless they intend to go on living after humanity has been destroyed. She asks them to ponder than and takes off, announcing that until Touta recovers, there will be no further training.
Santa, Kirie, Kuroumaru, and Laszlo (Afro) are playing mahjong as Ray sits nearby. Santa wants to know what happens to them if the Earth explodes. Kuroumaru figures Kirie would have to live the last day of Earth over and over. Kirie freaks out, but Santa and Kuroumaru think they should discuss things. Santa points out how Sayoko nearly destroyed humanity and someone mentions that eventually, the sun will expand and destroy the Earth. Kirie is all panicked by this thought, so Santa says that he figures humanity can leave the solar system by then, giving her some hope.
After Laszlo says Dana gave them good advice, they start pondering things. Kuroumaru's immortality isn't that powerful, so Kuroumaru figures not to be around when humanity comes to an end. Santa figures he'll have been exorcised by then. Kirie is not happy with those answers and decides she doesn't want to discuss how she's going to die. She vows to defend humanity and keep the species going, especially since that's the mission of UQ Holder. With that, she slaps down a mahjong tile as 'riichi', meaning she's one away from winning. Santa uses her discarded piece to make 'ron' and win the game.
After Kirie is teased about being a good girlfriend for Touta, based on what she just said, the discussion turns to Touta, who's been asleep for five days. Kuroumaru says there's no physical reason for him to be out, so Kuroumaru speculates that Touta has a mental condition. Laszlo wants to know if this Kitty person is Touta's girlfriend. Kuroumaru gets flustered and starts explaining that this is likely a one-sided thing, but then Touta appears behind Kuroumaru.
Touta thanks them all, then eats an apple slice. Touta asks Kuroumaru for a favor, so the two start training together, even during breaks from Dana's training. Dana notes this and smirks. One day, Touta and Kuroumaru announce they are going over the side of the castle to train more and get tips from Ruin Ishkur. Kirie protests as the go over and Santa decides to join them.
Thoughts/Review:
I think Touta jumping through the time window and messing with time is what may be the out Akamatsu-sensei has for Eva not knowing or remembering Touta in the present, assuming Eva (Yukihime) has no memories of him, as she appeared not to have from the start of the manga.
It is hard to say whether or not the Eva in Touta's mind will continue or not. When Dana saved Touta, it was as if he was pulled away from her. If Touta did mess up time to make it so that Eva never really met him in the past (as I'm speculating), then it would make sense that the fragment of herself would no longer be in his mind. However, since the events happened and he remembers them, then it may be that she's still there.
To be honest, I think it could be interesting and amusing to have the "Kitty" version of Eva in Touta's mind, popping in on occasion to give him tips or the like.
Since this is supposed to be the end of the training arc, I'll be interested in seeing how Touta behaves around Eva's Yukihime form.
It was also interesting for these immortals to have a discussion on how things would be for them if the world came to an end. Kirie's reaction to this could suggest that her immortality isn't just tied to her being able to reset. She may not age either. However, this is all just speculation.
Finally, we'll see if Touta has actually matured more from this incident or not. He seems somewhat different after his experiences and now has focus, rather than just being adrift.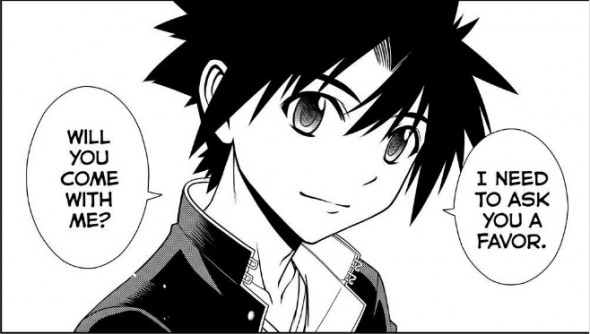 Well, we'll see what kind of fun the next chapter has in store for us, since the training arc is supposedly over.