A Look at Takaya-sensei's "Fruits Basket another"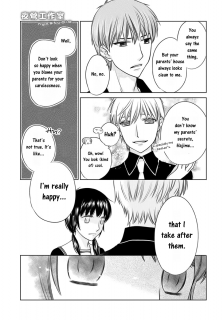 Just prior to learning that Yen Press was bringing Fruits Basket back to print in the U.S., I was shocked to discover that Takaya-sensei had created a sequel to her very popular Fruits Basket manga, entitled Fruits Basket another.  As such, I thought I'd give it a gander.
Through the first five and a half chapters, the story takes place in the same school as Fruits Basket.The lead character is MITOMA Sawa, a timid, clumsy, unpopular girl who's made it a point to avoid others to keep from being  a bother to them. As such, she apologizes all the time whenever she feels she's been a bother. After SOHMA Mutsuki meets her, he elects her to be the first year representative on the student council. With both Mutsuiki and his cousin SOHMA Hajime having taken an interest in Sawa, she suddenly finds herself receiving all kinds of attention she'd attempted to avoid.
I found Fruits Basket fairly easy to get into because the main character Tohru was such a likable, cheerful character,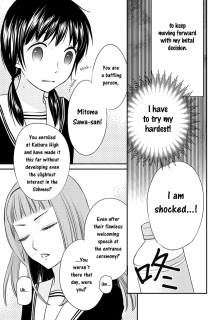 even if it was faked. She may have had a hard time with her life, but she cheerfully pushed forward, aided and protected by her two best friends, one of whom was a former yankee thug and one of whom had psychic powers. The story took its time before the angst stuff came in, allowing me to care a great deal about the characters so that the angst stuff didn't bother me.
With Fruits Basket another, the character of Sawa is a pitiable character who has great angst from the start. She's always been shunned and verbally abused so that she's withdrawn. Add to this is the fact that her mother apparently is never home. So naturally, their female landlord blames Sawa for not paying the rent and not supporting her mother by getting a job (I guess that's a Japanese thing). Add to that Sawa's on internal thoughts of self loathing and her complete discomfort, and for me, it made for uncomfortable reading. I pitied Sawa, but the angst was so heavy, it was just hard to deal with.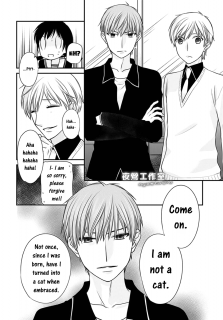 Takaya-sensei capitalizes on her limited character designs by reusing Yuki's and Kyo's character designs. As such, it is clear that Mutsuki is Yuki's son (in addition to being the student council vice president) and Hajime is Kyo's son (and the student council president). And if that weren't clear to old Fruits Basket readers, Hajime makes a comment about how he can be hugged by a member of the opposite sex and not turn into a cat. The two cousins get along quite well, but they otherwise have very similar personalities to their fathers. What their connection to Sawa is remains to be seen, but it seems she might be family and not know it. (I could be wrong though.)
There's a third Sohma who's been introduced so far — Riku, who appears to be Hatsuhara's son.
The connections to Fruits Basket continue beyond the Sohma family as KAGEYAMA Ruriko, the fanatical president of the Sohma Fanclub, is apparently the daughter of MINAGAWA Motoko, the president of the Yuki Fanclub during her high school days. Ruriko's main function, aside from insulting Sawa for not knowing anything about the Sohma family, is to educate the audience who've not read Fruits Basket as to the important plot elements regarding the Sohma family, sans their animal connections.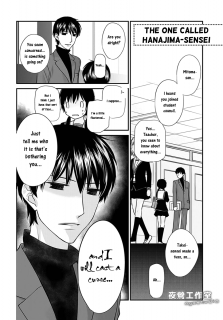 So far, only two characters actually from Fruits Basket have shown up. First is the bombastic, former student council president MAKOTO Takei is now a teacher at the school, still just as bombastic as ever. Second is HANAJIMA Megumi, who's Sawa's homeroom teacher.
So far, there's not a lot to base a large opinion on, but it is rather heavy on the angst because of Sawa. I will admit to some curiosity as to Sawa's connection to the Sohma's, and there's a part of me curious to know about the children of the characters I came to love in Fruits Basket.
Takaya-sensei's character designs still have that sharpness in some of the faces, but she seems to have improved from when Fruits Basket ended. They aren't anywhere near as good as volume 8 of Fruits Basket, where I feel that Takaya-sensei reached her peak. Still, I felt the characters had more personality here, even if they are borrowing a lot from their ties to Fruits Basket.
I'm lead to understand that there will only be three volumes in this series, and that Tohru, Yuki, Kyo, and the other main and major supporting characters from Fruits Basket will not appear in Fruits Basket another.
So while the manga is a little too heavy on the angst, I'll likely keep reading it. I'm not sure I'll do a chapter review, but if there's a lot of interest, I may. Let me know. 🙂