ハヤテのごとく!/Hayate no Gotoku Manga
Hayate the Combat Butler Chapter 513 Review
SPOILER Summary/Synopsis: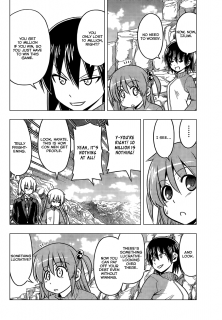 Hayate and Nagi are in the Grand Canyon with the map from Kananiwa, when they find one of the contraptions she apparently set up. For a ¥10 million deposit, they will be able to cross a bridge to where the gold worth ¥10 million is. Hayate and Nagi discuss the notion of such a large deposit and if they'd get the money back. Conveniently, there's an ATM machine there as well, complete with the instant loan cards.
Izumi, Miki, and Risa show up here too, and as the discussion of what to do continues, Hayate and Nagi realize this is a psychological game on the part of Kananiwa. No one has ¥10 million on them, so Izumi decides she'll use the card to borrow the money since she'll get her deposit back. Hayate is about to stop her, but Nagi stops him. Hayate is worried, but Nagi feels it will give Izumi a lesson on the frightening financial system. The five of them cross the bridge, but when Izumi looks to get her deposit back, the kiosk on the other side explodes, destroying the bridge as well.
It is then then that Izumi sees the sign that if the bridge is destroyed, the deposit won't be returned. As Izumi laments the loss of the money, Nagi says that this is the trap of the financial system and that a deal too good to be true usually is, so borrowing money must be done with caution. Risa tells Izumi that should she win the ¥10 million, all's well. Izumi is cheered by this and then becomes excited when Risa discovers another outdoor kiosk where they have a chance to double their money, and that if they play 10 times, they can get through the door to the gold. There's another ATM with the option to borrow more money, but Izumi loses it all, though the door to the gold opens.
Izumi laments having lost ¥20 million, but Risa spots a 100x Leverage Roulette game. Risa thinks it is awesome since ¥100,000 could net them ¥10 million. Nagi explains that because of the leverage factor, if you lose the ¥100,000, you owe the ¥10 million. Hayate encourages them to move forward since this game has nothing to do with the gold. However, Izumi starts doing the payoff calculations based on the rules of Roulette. As she ponders a bet of ¥10 million paying off, Maria suddenly shows up to confirm what Izumi was about to say — Izumi's ¥10 million dollar bet has a 50% chance of winning ¥2 trillion.
Maria is asked why she is there, and her answer is that she's the final boss.
Thoughts/Review:
So we get this chapter in the Grand Canyon where a not so subtle lesson on financial terms like deposit and leverage is given as well as gambling and borrowing money.
The chapter itself is rather silly. However, I was happy to see that Hata-sensei brought in Izumi, Risa, and Miki to play the comic foils this time, whereupon Izumi loses all the money. I keep expecting something terrible to happen to Hayate so that he's the one burdened with debt again. Not that I don't feel a bit bad for Izumi, who's the nice girl of the trio of friends (Miki and Risa living to stir up trouble), but the debt is at least covered by her family's wealth (even if her father may go nuts and make Izumi be a maid again to pay off the debt).
Maria showing up at the end was unexpected. It is amusing for her to be like a pit boss and a Roulette croupier (though they are called dealers in gambling establishments, even though they aren't dealing anything). Her calling herself the final boss is Hata-sensei of saying he knows that there are fan theories out there that state that Maria may be the final boss of the manga. It is tempting to try to read more into that (and in the end, there might be more to it), but for now, I'm passing on that. We'll see where Hata-sensei goes with Maria being in this chapter.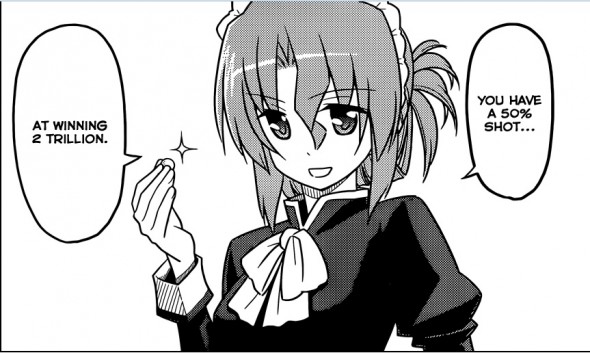 Otherwise, not a lot to say. The chapter was silly, but it was still enjoyable for what it was.