ハヤテのごとく!/Hayate no Gotoku Manga
Hayate the Combat Butler Chapter 516 Review
SPOILER Summary/Synopsis: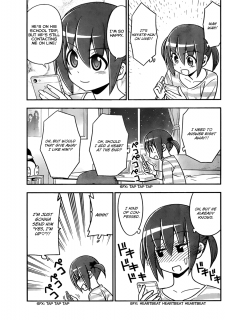 Ayumu gets up, eats breakfast with her family, goes to school, and attends class, taking copious notes. After school, Souya inquires if Ayumu is in any clubs. She's not, nor is she interested in being a club manager. She does observe the baseball club practice for a while before heading to work.
At Cafe Donguri (where she works), it is quite, so she studies the menu. She sees an entry for Guatemala, so she asks her boss about it since she doesn't know if this is a type of coffee bean or just naming the region the coffee is from. He cracks a joke that it is a new mobile suit.
Returning home in the evening, she eats her dinner. She then takes a bath, watches TV, plays with her smartphone, but does not do her homework or study her notes. She gets a text from Hayate, which pleases her since he's on a school trip in Las Vegas. He ends up asking her if she wants sand or toilet paper as a souvenir. She opts for the toilet paper.
Thoughts/Review:
You know, with a chapter like this, I suddenly found myself going, "Man, Ayumu deserves a massive, big break."
I've long been a Hayate x Athena shipper, but seeing Ayumu's normal life and how much pleasure she got from a simple text from Hayate, I began to waver. I mean, with such an ordinary girl, how can one dislike her? As such, there's a part of me that thinks that maybe, just maybe, Ayumu should end up with Hayate. I mean, she deserves happiness, and had things not gone the way they did (Hayate ending up working for Nagi), maybe Hayate and Ayumu would have been a couple.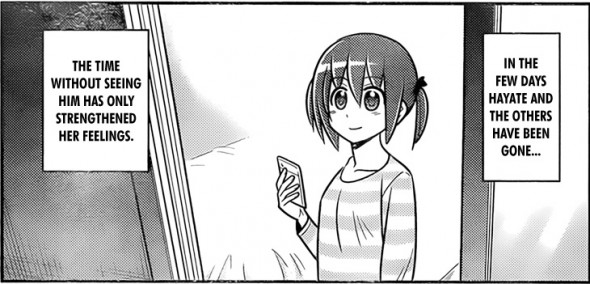 Further, Ayumu has been the bravest of all the girls in that she's the only one to confess to Hayate. And of all the girls, while she'd be disappointed if Hayate didn't choose her, she'd be happy for Hayate and his choice.
So from that aspect, I want something good to happen to Ayumu. I'd be OK with that good thing being her hooking up with Hayate.
I did enjoy how the chapter made a point of how Ayumu does not fall into the various anime/manga tropes such as the character that oversleeps and has to rush around, or the character that runs into another student, etc.
In the end, this was a sweet chapter where Ayumu gets to be the star. I loved it!