ユーキューホルダー! Manga Review
UQ Holder Chapter 110
SPOILER Summary/Synopsis: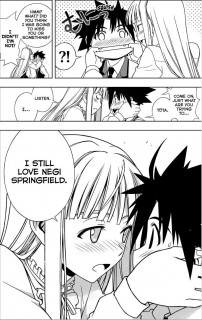 Karin and Kirie are in the outdoor onsen bath and feeling the effects Touta has had on them when Mizore pulls Touta in, uses a technique to strip him, and tosses him into the bath, where he lands on the two girls. He takes a beating as a result.
Later, Touta is teased about his popularity with the girls when Basago shows up and makes Touta take out all the trash by himself. Touta does this and upon finishing the job, he notices Yukihime, in her Eva form, on the dock. She summons him over, so he goes over to join her. Since her true identity is not a secret, it isn't a problem that she appears this way.
Eva explains that she did not take Touta in out of obligation to his grandfather, Negi. She apologizes for grounding him to the island as she was being overprotective since people are after Touta and she worries about him. However, she goes ahead and grants him permission to now leave the island and enter the Mahora Tournament.
Touta asks if she's still in love with his grandfather. After teasing him a bit, she says she is still in love with Negi. With her worst enemy, the Mage of the Beginning, holding Negi captive as the price for saving the world, Eva is not able to move forward until that is resolved, even with Touta. She kisses him on the lips, then encourages him to find another girl. He's all flustered by this and is apparently ignorant of the effect he's having on the women around him.
Thoughts/Review:
There are a number of interesting things here, but none regarding the Keitaro accidental groping breasts action that Touta did.
I think we'll continue to see Kirie and Karin dealing with their feelings for Touta. (Kuroumaru as well.) I'd love to see the team in action working quite well together. In that way, we'd get a true battle harem.
Mizore continues to be around a lot of the action at the inn. With Touta remarking on her strength, it wouldn't surprise me if we continue to see her outside of inn.  I can't help but like Mizore and I love the fact that she never gets jealous.
Basago gets a cameo after a lengthy return. I was amused to think how much it must grate him to have to address Touta with the "sama" honorific.
Now that the small stuff is out of the way, let's get to the really good stuff in the chapter — Eva. Eva's conversation with Touta works only because she's in her true form. After all, Touta never fell in love with Eva as Yukihime, but rather he fell for Eva as Kitty. So this is the perfect form for her to be in.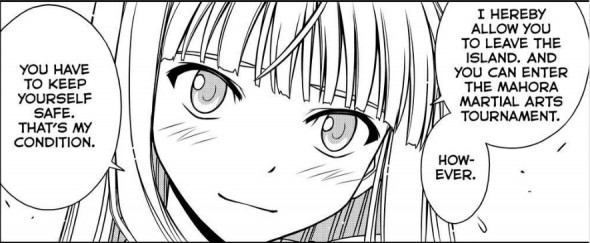 (As an aside, this does raise the issue of why Eva feels the need to maintain this Yukihime form since everyone knows that Yukihime is Eva. Obviously, from time to time, she feels the need to shed her illusionary form and just be whom she is.)
In many ways, this chapter mostly resolves the Eva x Touta thread. I know some folks will object to that, but while Eva is obviously fond of Touta, she's still in love with Negi. Her kissing him and encouraging him to move on with one of the girls in his harem, combined with her setting him free from the island is her way of closing the book, at least for now.
I was happy to finally get confirmation that Eva is still in love with Negi.  She had obviously moved on from Touta when she fell for Nagi. We knew she loved Nagi from her Negima. We never knew for sure if she loved Negi or not, but I felt pretty sure she did. I felt that was her main motivation for continuing to help train Negi and help the class. Then once her curse was lifted, she goes around helping him as an active member of Ala Alba. To me, that all strongly suggested she loved Negi.
We now know that rescuing Negi is Eva's primary focus. It is a shame that the series is slaved to have 100% of things revolve around Touta as it would be cool if we could follow Eva following up on leads for Negi while Touta and his battle babes do their thing. And then on occasion, the two paths cross.
In the end, I enjoyed this chapter a lot as things appear resolved between Eva and Touta for now. When we return in two weeks, I'm thinking Shinobu may get more focus with the Neo Olympics. I hope so.