Here is some SPOILER info for the upcoming UQ Holder Chapter 126, courtesy of 2ch.  (My review of UQ Holder Chapter 126 should come out late Tuesday night or Wednesday, U.S. time, depending on when Crunchyroll publishes the chapter.)
UQ HOLDER Chapter 126 SPOILERS
The UQ Holder Chapter 126 goodness begins. This looks to be the chapter's spoilers. ^_^
すべては始まり

ネギが召喚した無数の瘴気が、一瞬でキリヱを怯えさせる
その規模、三太が見ても小夜子の何万倍にも及ぶ
雪姫を助けようと身を乗り出した夏凛も震えで動きを止め
みぞれ&しのぶに至っては失禁&失神

ネギの最初の一撃は…会場全体に及ぶ脱げくしゃみ
脱げてないのは刀太と三太だけ(真っ先に脱げたカトラスは着替えを取り出してる)
気の抜けた空気はさらなる従者たちの登場で再び凍る
のどか・遊映・アル・ラカンそろい踏み
ネギ「お久しぶりです 師匠(マスター) 僕は 始まりの魔法使いです」

■かつて世界を救った男の口から出た、"憑依している"ラスボスの名前――。
ついに動き出した刀太が戦うべき敵の正体!!次号さらに重大局面!!29号につづく!!
DerGilga's translation .
the beginning of everything

an unbelievable amount of miasma which was summoned by Negi, in an instant Kiriwe is frightened by it
its scale, even Santa sees it and compares it to 10000 times that of Sayako
even Karin, who wants to help Yukihime and was on her way, stopped moving and is trembling
Mizore and Shinobu reach a state of 'incontinence' and ' stupefaction'

Negi's first attack… a stripping sneeze which affects the entire venue/place
Not being affected by it are only Touta and Santa (Curtlass, who was stripped first, takes out some spare clothes)
the atmosphere, which turned flat, becomes chilling for a second time due the entry of even more followers/servants
a lineup of Nodoka, Yue, Al and Rakan
Negi "It's been a while, Master. I'm the mage of the beginning"

■ What came out ouf man's mouth who once saved the world, the name of the last boss who's possessing him—
Finally, the true enemy Touta* has to fight!! Next issue an even graver situation!! Continuing in issue 29!!
// * who starts moving
Thanks for this. Things are really moving along now.
And there are images from Astell&Kern.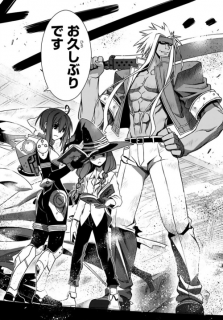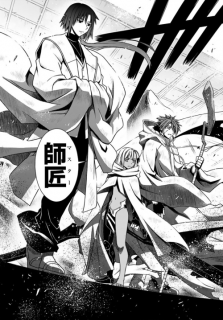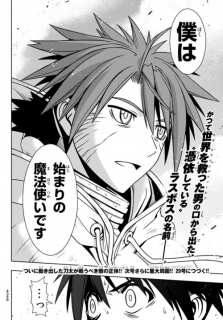 Well, Yue and company are with him. Interesting.
Update #1: Another image from the same source as above, originally sourced to Y神. NSFW! So I'll keep it smaller. (Not sure how that will look on a mobile browser.)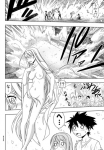 More updates as needed.
And thanks to everyone who's sharing this. This is the first UQH spoiler post that has traffic levels anywhere near the old Negima! levels. I guess Negi having a substantial role has something to do with it. (Either that, or it is naked Eva as Yukihime. 😉 )
Update #2: More images, now with both a Sayoko vibe and an old Negi vibe.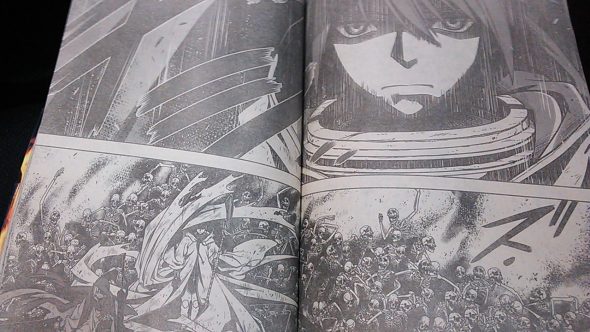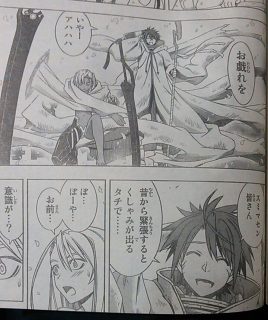 Well, it certainly looks interesting.