Macross Delta 10
Macross Δ 10
マクロスΔ 10
SPOILER Summary/Synopsis: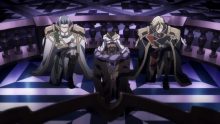 Windermere buys technology to enhance Heinz-sama's song to inflict Var on the rest of neighboring systems. Meanwhile on Ragna, Delta Squad and Walküre members Freyja, Makina, and Reina participate in the (Japanese styled) Jellyfish Festival. Hayate notes all of the couples, where he and Mirage are schooled in the romantic legend of the festival. Meanwhile, Messer says goodbye to Arad after watching Alpha Squad fly. Kaname runs into Messer. Hayate is drafted to get Messer to the festival, where he's then able to thank her for saving his life, after which he gives her his song bracelet.  The next day, Messer leaves in his fighter for his new assignment.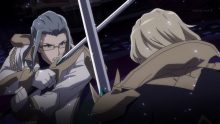 Roid confronts Keith and the Ariel Knights over his concern about Heinz's health. The two fight where Keith wins. Heinz shows up, telling them to stand down and promising Keith he'll sing to the death. Heinz starts singing, causing the Protoculture ruins to resonate and Var to breakout on Al Shahal. However, the song is being heard on other planets, whether they have Protoculture ruins or not. Walküre jump down from a transport to land at the ruins and have a concert. This clash causes Heinz to be thrown back and silenced, but it also takes Mikumo and Freyja to a dark place, leaving them unconscious in the sand.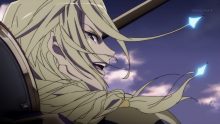 Ariel Knights attack, Keith liking for Messer while Bogue leads a group to slaughter Walküre. Messer shows up, having violated orders, and takes out some enemy fighters before sending Bogue running. After landing and making sure Kaname and the others are OK, he pleads with Kaname to sing for him. She agrees so Messer returns to the fight, where he and Keith engage in combat. Messer has a kill shot, but incredibly, an enemy fighter manages to provide the perfect shield for Keith, dying only when Keith gets his kill shot, after which he kills Messer as Mikumo and Freyja start recovering. Delta Squad and Walküre are shocked by this turn of events.
Thoughts/Review:
Well, Macross Delta is right on schedule. Macross titles notoriously have to have certain things — an MC with more power than he knows, a couple of babes to vie for his affections, and a likeable character has to die. Number 3 has now come to pass.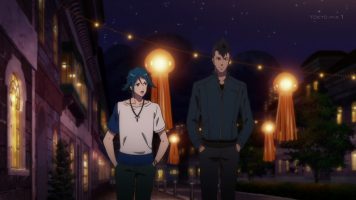 Sadly, when Messer was set up to transfer out, I didn't suspect he was about to get wasted. Instead, I got distracted by the hints of a Kaname x Messer romance. If Makina and Reina are to be believed, Messer is in love with Kaname, but Kaname is in love with Arad. Well, if that's the love triangle, I'm OK with it now that Messer is dead. I still think the writers will try to ramrod a Hayate x Mirage x Freyja triangle on us.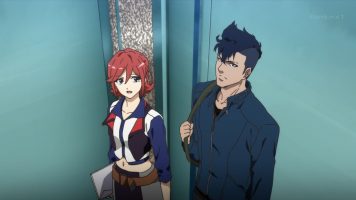 That aside, as soon as our magical idol girls were threatened with death ('cause why wouldn't they be when they are on the battlefield and NOT DEFENDED BY ANYONE) and Messer showed up, I thought, "You know, I bet he's going to die." I was hoping he'd take that smug Keith with him, but alas, Keith gets the kill, immediately shoots the biggest wad of his life, and then gets to be smug another day.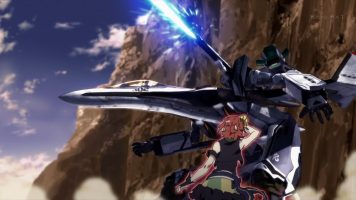 What irritated me even more is that Messer's kill shot gets blocked by an enemy aircraft, which manages to defy the laws of physics and more by insta-stopping, showing its top to Messer so that it can take all of the hits, and not falling to the ground until it explodes, at which point smug bishounen freak gets his kill shot. The Macross universe demands a lot from us on the believability scale, but this went off the charts for me.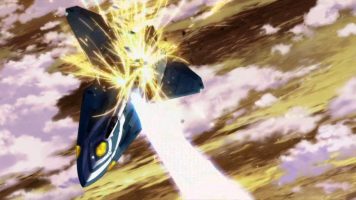 But now Messer is dead, which means Delta Squad has to "find its heart," allowing Hayate and Mirage to become leaders who can then fall in love. Yeah, that's the ticket. Melodrama at its finest.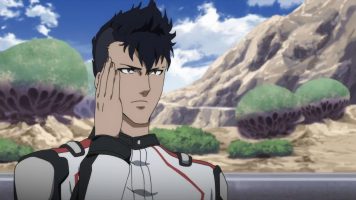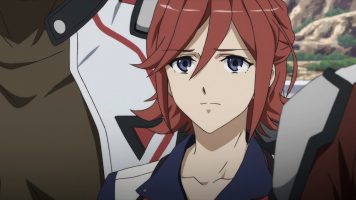 You know, I'm so sick of this "wind this" and "wind that" crap that keeps being spouted. "Oh, the wind has changed. I think there's a fart in it. Hey, the wind from Mikumo suggests she's a bitch in heat, which is why she needs to be nude so much of the time (and underwater as well) to cool off. And the wind from that Hayate arse will fumigate entire cities as he crop dusts himself in a failed attempt to nail someone else." 🙄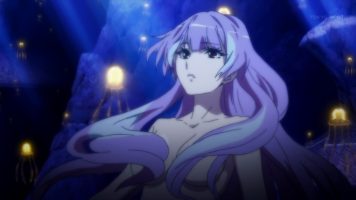 Finally, we get our mysterious whatever happening to Mikumo and Freyja that also smacks Heinz. I'm looking forward to the cliched moment Heinz (and Roid) ends up turning on his people because he sees the truth.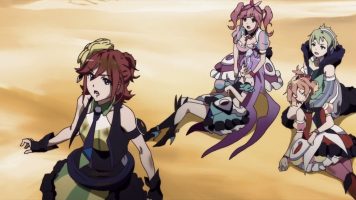 In the end, Macross Delta 10 tries to pull out all the stops to give us a melodramatic death of a liked character, but it comes off as too cliched and by the book, more so because I don't think most folks didn't see this coming at some point.