Macross Delta 11
Macross Δ 11
マクロスΔ 11

SPOILER Summary/Synopsis: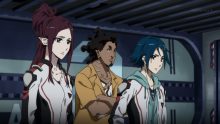 After the funeral for Messer, Makina and Reina run tests on Freyja after her and Mikumo's recent experience at the Protoculture ruins. Mikumo joins them, describing the even as a mental hack from the wind singer. Elsewhere, Hayate learns that the kill shot on Messer was right in his heart. On Windermere, the king decides to lead his forces after another Protoculture ruin is found. As Heinz recovers from his vision after clashing with Mikumo and Freyja, Roid and Keith discuss the current situation. Though Roid is with Keith, Keith finds his actions too slow. Meanwhile, Arad calls a meeting of Delta Squad to discuss their staff shortage while Walküre begin physical training in the rain.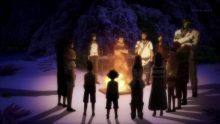 Ernest shows Arad the results of the Windermere song in the last battle, whereby they nearly have control over this entire region of space. Since Windermere needs Ragna and Al Ahahal, Ernest believes an attack is coming. On Windermere, the king presides over the launching of the restored, Protoculture ship, the massive Sigur Valens, who's first mission is to take down Al Shahal. That night, the group has a Ragna remembrance celebration of Messer's life, where his final squad evaluation is found and read. As Messer's model plan is put into the water, Mikumo wades out to sing. She's joined by the other Walküre members as Hayate tells Arad they don't need replacements as he'll do Messer's share of the work. Sometime later, Sigur Valens leads a Windermere fleet to attack the fleet at Al Shahal.
Thoughts/Review:
I may not care for Macross Delta that much, with its non-stop musical CD advertisements ('cause you NEED to be buying those expensive music CDs since MP3 downloads are for LOSERS), but I do appreciate a sendoff episode for Messer, even if it was over the top on melodrama at times.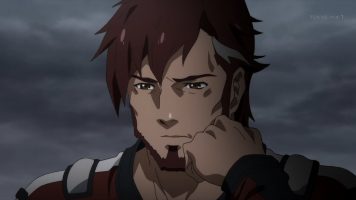 One thing this episode highlighted for me was the general poor writing of the series. Because so much time has to be wasted on pushing music CD sales, things get sacrificed. One such thing was a proper story for Messer and Kaname.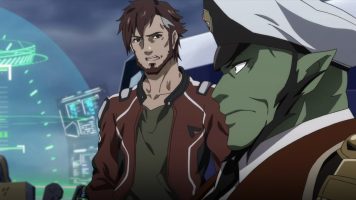 I think that from the start, there should have been something to let us know how special Kaname was to Messer. Transversely, it would have been nice for Kaname to know this, but have Messer keep her at a professional distance. Had this been set up from the start, the memorial for Messer would probably have had an actual impact on me. As it was, since the writers only established this just before Messer dies, everything comes off as just melodrama with no depth.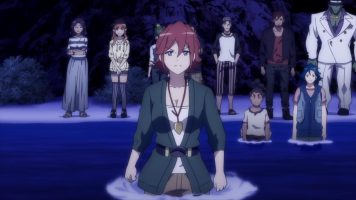 This episode gives us the cliched moment for Hayate to step up to the plate. Hayate is a step punk bastard who needs to have his arse kicked. But, he's the MC, and that means that he'll get to avenge Messer's death and ride to glory.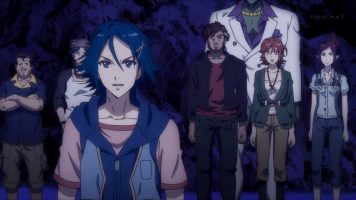 The person I want to see take the leadership role is Mirage. My desire isn't based in some hideous social justice warrior mentality that says, "oh, we must have a woman doing things 'cause reasons." Instead, I base this on the fact that she's established to be a good pilot and was already a leader. Now is the time for her to shine. If things flowed naturally, it would be her time to shine, not Hayate's.  (Though he's welcome to step up his game, starting by getting a bloody haircut.)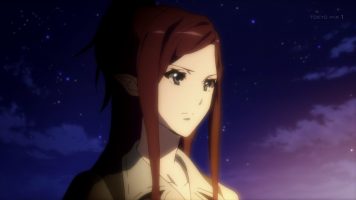 I liked that Walküre are going through physical training. If you are going to put your magical idol babes in harm's way, they need to have some training beyond their magical idol concerts in the middle of a blood soaked combat zone.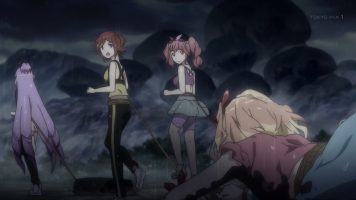 The introduction of the Sigur Valens is not only to sell toys and models, but also to set up a battle between Sigur Valens and Macross Elysion. Stay tuned, boys and girls.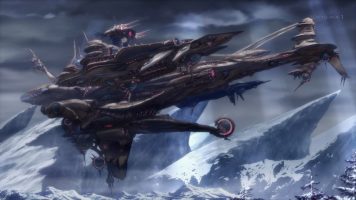 In the end, Macross Delta 11 didn't grate on my nerves as much with the sendoff of Messer and the lack of magical idol concerts, though magical idol singing happened just the same.