A Review of "Sailor Moon Crystal" Season 3
Since I had such a hard time watching the first two seasons of Sailor Moon Crystal, I decided I didn't want to go through the pain of episode blogging the series. As such, I'm opting for the season review. Boy did I make a good call.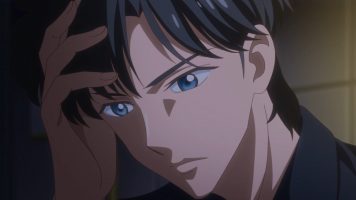 *MILD SPOILERS*
Sailor Moon Crystal season 3 continues the same pattern from the first two series. A new mega villain named Pharaoh 90. Like the mega villains before him, Pharaoh 90 is sealed/weakened. He recruits some humans on Earth to be his henchmen (Death Busters). Their goal is to free Pharaoh 90 and take over the Earth. Naturally, only Sailor Moon and her her Sailor Senshi crew can stop them.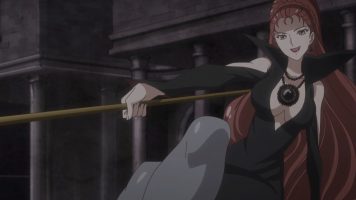 Pharaoh 90 tells Kaolinite, the Magus of Pharaoh 90, he needs more power to get free. Since the five Sailor Senshi stand in her way, Kaolinite summons the weakest member of her Witches 5 team. Said girl then battles the Sailor Senshi, but is ultimately killed. Pharaoh 90 tells Kaolinite he needs more power, so the cycle continues. Lather, rinse, repeat frequently.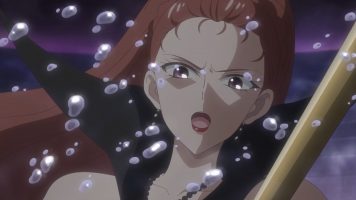 In a desperate attempt to not be a pure retread of what has come before, the story for season 3 has the introduction (and retconning in) of three new Sailor Senshi and the return of a deceased Sailor Senshi. However, because this might not be enough, we'll have two of these new Sailor Babes be implied lesbians. After all, what's better than a hot babe with legs that go all the way up than TWO babes with legs that go all the way up. 😉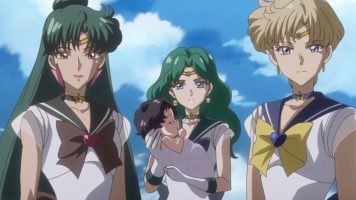 No matter how you slice it, Sailor Moon Crystal season 3 is simply a retread and there's no getting around that. Sailor Venus, Sailor Mars, Sailor Jupiter, and Sailor Mercury are all just as worthless as they've been before. That allows Sailor Uranus and Sailor Neptune to have a couple of deus ex machina moments and save the day.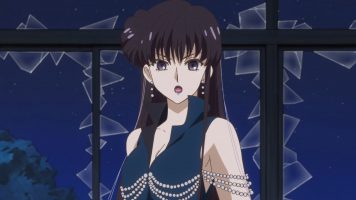 However, things are mostly geared so that Sailor Moon remains the ultimate dues ex machina force. This too follows the pattern of the previous seasons, only now, Sailor Moon becomes Super Sailor Moon for periods of time. And she even briefly takes on the look and appearance of Neo Queen Serenity, her future persona.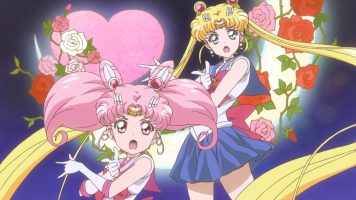 All of this is mostly laughably bad and boring. I really wonder how in the world Sailor Moon became so popular in such a wide fashion. I understand lonely otaku looking for hot, young waifu-types going for the series when it came out back in the day. Beyond that, I just don't see the appeal.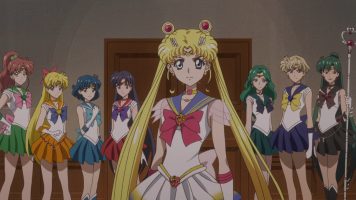 The only element of the story I found mildly of interest is that of Hotaru. It came as no surprise to me that she would be yet another Sailor Senshi character. It was more interesting that as Sailor Saturn, she was feared by Sailor Pluto, Sailor Uranus, and Sailor Neptune. Naturally, she can't be feared by Sailor Moon nor her four Sailor Guardians because retcon characters are retcon.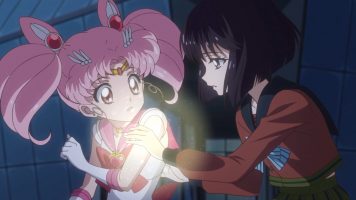 Sadly, Sailor Saturn is simply the ultimate deus ex machina member of the Sailor Senshi group. As Hotaru, she's a sympathetic character. As Sailor Saturn, she just has one task – kill Pharaoh 90. Well, I shouldn't complain too much about this. After all, I think Hotaru has more character development than the other Sailor Senshi.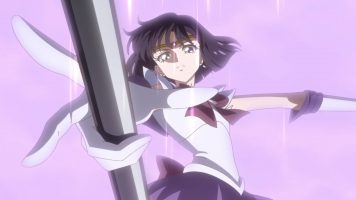 Finally, there's Sailor Pluto. Yeah, I get the whole reincarnation thing that is at the heart of Sailor Moon. However, Sailor Pluto is from the future. Further, based on the stuff in season 2, Sailor Pluto was not allowed to leave her post at the Time Gate. She did there and she died. That means that in the present time, Sailor Pluto should be still at the Time Gate, not running around on Earth.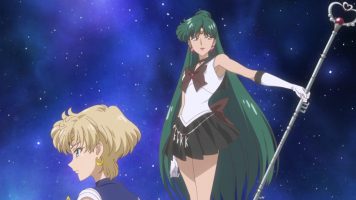 Don't get me wrong. I like Sailor Pluto's character. However, no matter how I look at it, Sailor Pluto has been retconned into the story because Takeuchi-sensei liked the character. In the process of doing so, I found Sailor Pluto less interesting this time around.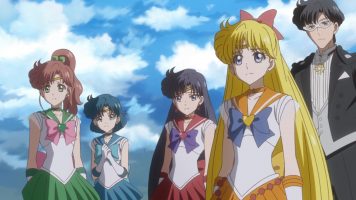 In the end, Sailor Moon Crystal season 3 is more of the same, boring storytelling from the first two seasons.