ハヤテのごとく!/Hayate no Gotoku Manga
Hayate the Combat Butler Chapter 535 Review
SPOILER Summary/Synopsis: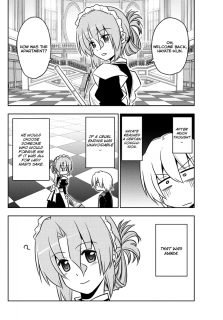 With Hayate having three of the five remaining King's Jewels, he wonders how he can open a pathway to the Royal Garden through an act of betrayal. After all, it was his parent's betrayal, along with the the King's Jewel that he was given that allowed him to open the path as a child. The only act of betrayal he can think of that can be controlled is love. As such, he plans to have someone fall for him, then be rejected by him.
At Yukari-chan House, Hayate encounters Ayumu, so he asks her if she's in love with anyone. Ayumu firmly reminds him that she is still in love with Hayate and wants to be his girlfriend. Ah-tan comes in, asking to move the melodrama outside. The moment ruined, Hayate thinks back to the times he's spent with Ayumu and decides he can't be that cruel to her.
Knowing the Hisui would do something this cruel, Hayate comes on a new plan when he sees Maria at the mansion later in the day. In Hayate's mind, Maria is the perfect choice since she would forgive him once she learned his actions were for Nagi. However, he doesn't know how to start a romantic relationship with Maria. Not only that, Maria knows how to throw him for a loop.
Thoughts/Review:
Interesting that Hata-sensei decides to do a four page recap here. For me, this is the marker for the push into the final phase of the manga.
I'm glad we got to see Ayumu again. I'm also VERY glad that Hayate decided to not to use her in his scheme. Ayumu may not be the ultimate winner, but she doesn't deserve getting used.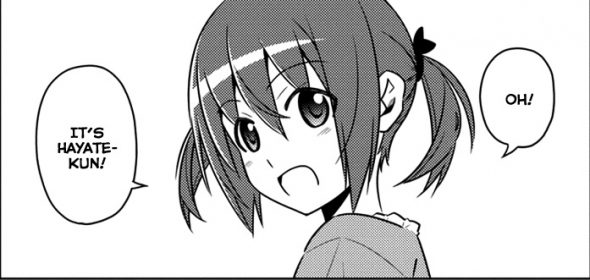 Also, Ah-tan got a cameo. At lease we know she's not been forgotten and is still living at Yukari-chan House.
Maria is the logical choice for Hayate's scheme. However, I don't see how Hayate can pull this off. Of course, he probably doesn't have to. Nagi could see Hayate with Maria, then learn from Maria that Hayate doesn't have any feelings for her. Thus, Nagi would have a broken heart, cry, and end up opening the pathway.
That reminds me — how did Yukariko open the path in the first place? If it takes some kind of shock and tragedy, then how'd she get there?
Beyond that, not a lot to say about Hayate the Combat Butler chapter 535. The chapter serves to catch folks up on things so far, then establishes Hayate's scheme. I'm interested to see where it goes.