ViVid Strike! 08
SPOILER Summary/Synopsis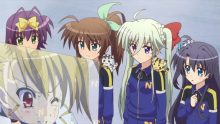 After one round, Vivio is ahead on points. Rinne tells Jill it will be OK and in the next round, she finally lands blows on Vivio, knocking her down. To Rinne's surprise, Vivio rises, then changes fighting styles, confusing Rinne. As such, Vivio is able to avoid Rinne's attacks and ultimately land a knockout of Rinne. Vivio wins, but is so injured, she won't be in the rest of the tournament. Jill is worried for her job as well as Rinne. Rinne flees to the bathroom, devastated by the loss since it means she's weak. Meanwhile, Fuuka's match is up next.
Thoughts/Review
The moment I saw this tournament situation set up, I became convinced that we'd have a situation setting up Rinne battling Fuuka in the final fight. That meant Vivio getting her arse kicked, which offended me highly. Thankfully, ViVid Strike! 08 didn't go the way I expected. Mostly.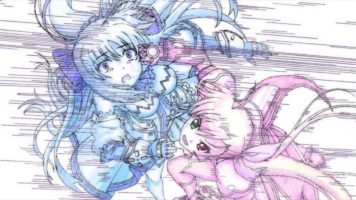 And So Vivio Wins. Mostly.
The writers of ViVid Strike! 08 really took their time to stretch out the faux drama of who would win the fight between Rinne and Vivio. Between the start of the fight in the previous episode and the first half of this episode, everything was set up so that Vivio would appear to be doing good, then take a beatdown. They even had Vivio think up her "I've been defeated, but I did the best I could" speech.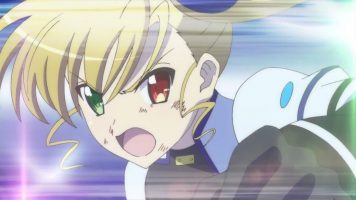 Then the writers proved me wrong. They had Vivio switch things up and give Rinne the beatdown. I admit, I was shocked by this. I'm not too proud to acknowledge that I was completely wrong about where this anime would go. I was just so sure that Vivio had to take the loss for Fuuka to be the star.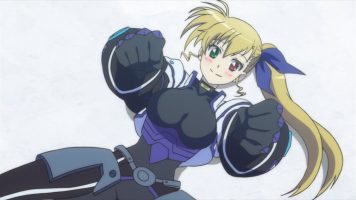 Still, I'm glad Vivio did win. We've seen her since Mahou Shoujo Lyrical Nanoha StrikerS. She has a lot of experience in fighting that Rinne does not have. Further, this is the adoptive daughter of Nanoha, one of the most powerful techno mages. So for me, there was no reason for Vivio to lose. She should be kicking bottom and taking names.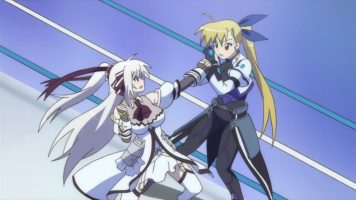 Sadly, the writers are having Vivio out of the tournament due to injuries. This is their cop out way of removing her without having her be destroyed as a character. I guess now we know why this tournament allows young girls to nearly beat each other to death.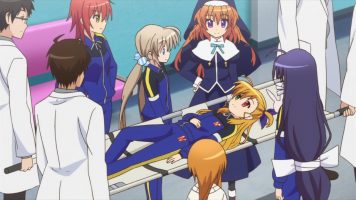 So What About Rinne?
With Rinne losing, she's devastated as is her coach, Jill. Based on the tragic backstory for Rinne, we are more than aware of why Rinne wants to be strong. So it makes sense that her second loss to Vivio would negatively affect her. Question is, what does Rinne do now?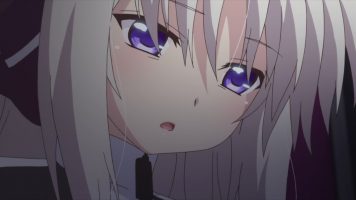 Rinne didn't understand Vivio's drive and determination. She didn't understand Vivio's determination to befriend her. As such, it is hard for me to say what Rinne will do. She might decide to hang out with Vivio's friends. She might decide to visit Vivio in the hospital. I guess I'll just have to wait to see where things go.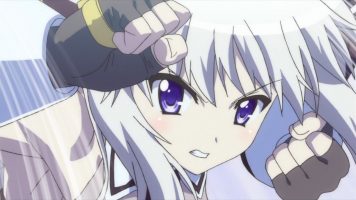 As for Jill, I don't understand her fear of being fired as Rinne's coach. Well, that's not totally true. I suppose from her perspective, she's failed her duty to get Rinne to the top and so deserves to be fired for her failure. I doubt Rinne lets her go though.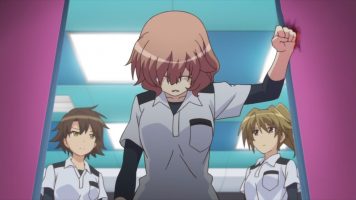 Final Thoughts and Conclusion
OK, not a lot else I want to talk about. Even if I did, there'd be time constraints.
I'm really not interested in Fuuka's fight. I just don't care if she wins or loses.
I'm really not interested in Einhart's fight, whenever it comes.
In fact, I'm not interested in the tournament at all. But then, I never was interested in the tournament.
How do Fuuka and Rinne resolve their spat now that they won't meet in the tournament? Granted, there's the promise to fight outside the tournament, but it doesn't seem the same.
I wish Nanoha had been seen with her girl. I still miss Nanoha.
OK, they give Nanoha and Vivio a crappy cameo of sorts. Not enough.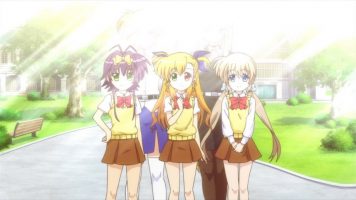 In the end, ViVid Strike! 08 is a surprising episode in that the writers allowed Vivio to win her match over Rinne.  We'll see how things are resolved between Rinne and Fuuka.