And so ten years have passed…
Hey everyone! Today marks the 10th anniversary of my blog. I find it hard to believe that it has been that long since I started. It has certainly been an interesting journey. Pardon me if I take a look back and take a trip down memory lane.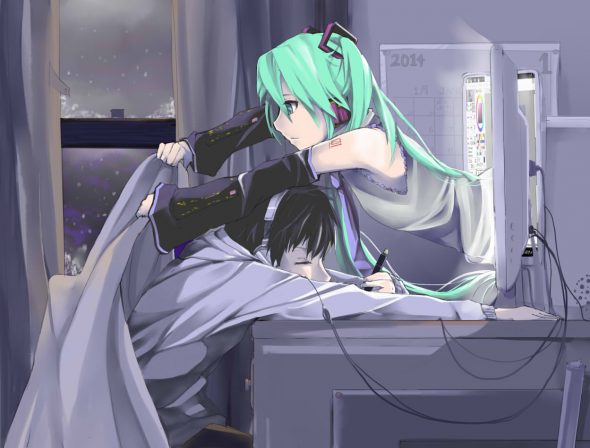 How it all began.
Back when I first got into anime, I mostly discussed my thoughts on other folks' blogs or in message forums. I had a notion of trying to be a writer for a then popular anime review site (Anime Academy, now defunct), but that didn't work out. Instead, I began writing for Community Anime Reviews (haven't updated my profile in ages there, so if you click the link, my "top ten" lists are out of date).
When I started watching current series in Japan as opposed to titles out on DVD or airing on Cartoon Network, I found that I really wanted to write pieces about the different episodes, complete with screen captures. That was something that I couldn't do on other people's blog, CAR, or message forums, even if they had posts about specific episodes.
Back in 2006, I was still working 12-hour night shifts. If there were no emergencies or urgent issues, there would be a lot of time to kill. My comrades and I usually played games, watched movies, or shared funny YouTube videos from Japan before that kind of thing became "evil" due to copyright fun. That said, the night after Christmas (after midnight on the 27th), I found the courage to pull the trigger and create a site on Blogger. The rest, as they say, is history.
My early blogging ideas.
When I first started blogging, I didn't do a ton of anime reviews. I started doing reviews of the Inuyasha manga, xxxHOLiC manga, and the Negima! manga, but I thought I'd do more rants, parody pieces, or random thought articles about anime/manga related topics. More on that in a bit.
I didn't start anime reviews until February 2007. Initially, to accommodate all of the anime I was watching at the time, I wrote a single piece that would cover episodes from several different series. I named this "What I'm Watching." Several posts later, I abandoned that approach in favor of pure episode reviews for a single episode of a single series. Only rarely have I departed from that model. I combined a few Keroro Gunsou episode reviews and I think maybe a few Urusei Yatsura episodes. That was because I found them boring and this was a way to help me to plow forward in those series.
Today, the blog is almost exclusively anime and manga reviews. From time to time, I do depart from that, such as I've done with this article. 😉
The Rants
My first proper blog post was a rant against the hype of The Melancholy of Haruhi Suzumiya. I immediately followed that up with a rant about what America had done with the awesome Japanese comedy series Takeshi's Castle. I've written some doozy rants during the ten years of this blog.
Then there's the pseudo-rants. These are the passionate blog posts where I don't rant per se. I think about my rebuttal to a former TokyoPop employee on TokyoPop getting hate no other company had ever received. Then there's the most "popular" commentary I ever wrote, which cost me a lot of blog readers. Well, sometimes my libertarianism gets the best of me. 😉 I try not to do that on the blog these days.
I still rant from time to time, but to be honest, a rant requires passion. These days I'm so busy, by the time I get some time to write a rant about something or other, whatever passion I had for the subject has mostly died. Funny how that works. 😉
The Parody
I didn't write the parody pieces I thought I'd do. I quickly discovered that parody requires more effort than I thought. Plus, there has to be inspiration. Most of the time, I just don't find that inspiration. I think that in the back of my mind, I know that most parody stuff is topical to a degree, which can give it a limited shelf life. Further, I'm not watching every piece of popular anime that comes down the pipe which further limits my parody writing.
I did write a parody piece blaming Inuyasha for 9-11. I wrote a piece parody piece for a long defunct anime site titled "OVA Tenchi Finally Chooses Girl!" That was pretty popular. The most popular post I ever wrote was "The Return and End of Inuyasha." That was due to so many Inuyasha fans constantly asking "how will Inuyasha end" starting years before the manga officially ended.
The Changes
When I got into anime in 2002, it was easy to watch all the anime I wanted. I used to marathon anime DVDs to write for CAR. From mid-2007 to mid-2009, I was able to blog a ton. That was the nature of my job at the time. I could watch anime or read manga, write a review, and still have plenty of time to watch other stuff AND still have time to play games on the PC. While I don't miss working at that company, I do miss getting paid to watch anime (and not sneaking it, but where management had no problems with it, providing we got our work done).
Things changed mid-2009. Over the years, it has become increasingly more difficult to find the time to blog. These days, my job makes blogging a VERY difficult prospect. I'm usually so tired, I don't have a proper mindset to blog. Sometimes, I consider stopping episode blogging anime series and just writing a series review. Somehow, I can never get myself to do that. I wonder why.
Recently, I did change up my writing style to help keep me focused. It doesn't always work, but it does help. Hopefully, it makes the blog easier to read.
So now what?
I can't say that I'll keep on trucking ten years from now. Assuming God allows me to live that long, one never knows what the future has in store. I was looking through my bookmark list of old anime sites I used to hang out at back in the day. Almost all of them are dead (whether 404 or haven't been updated in years), or have been hijacked by spam sites. That kinda depresses me, but life does go on.
Regardless, I want to thank everyone who comes by the blog for whatever reason. I really appreciate those of you who've made Amazon purchases via my site. You all have been great these last ten years!