ユーキューホルダー! 魔法先生 ネギま!2 Manga Review
UQ Holder! Mahou Sensei Negima 2
UQ Holder!: Magister Negi Magi! 2 Chapter 137
UQ Holder Chapter 137

SPOILER Summary/Synopsis: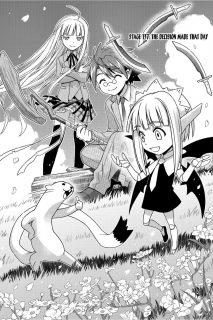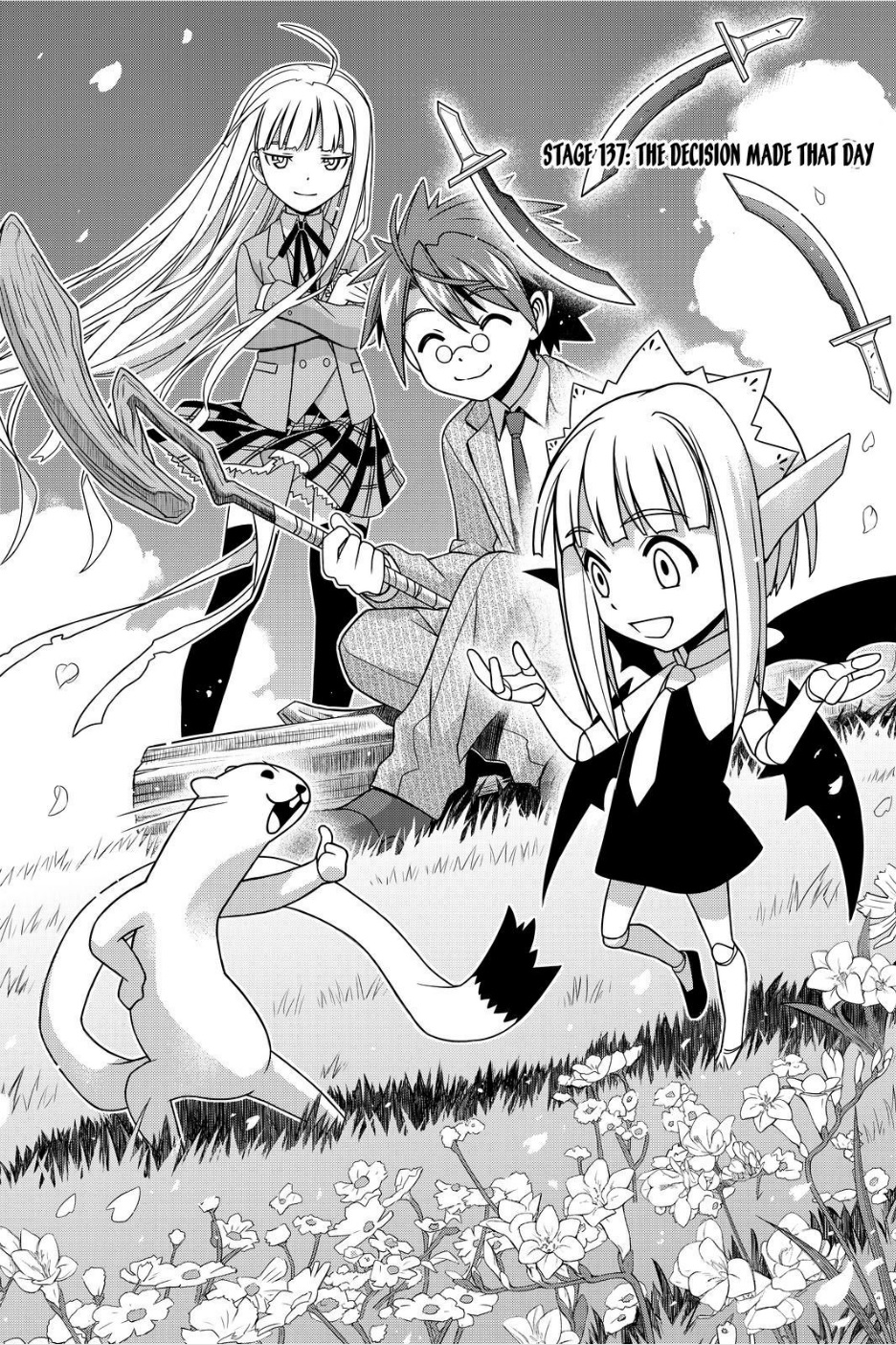 As Touta and Kirie attempt to learn who the old man butler who challenged them is, he strips Kirie of her panties. Kirie summons Kurobo for Touta, but the old man uses magic that easily knocks the two out. When they awake, they fine Santa, Kuroumaru, Karin, and Ikkuu with them in a massively secured cell. Ikkuu recounts how they were bested by the old man. As they chat, Touta discovers that in the next cell, Mizore, Shinobu, Isana, and Honoka are there.
Meanwhile, Karin decides to tease Kirie on how far she went with Touta. It is then that Kirie learns the other UQH members are there to spy. Kirie continues to deny things, but Touta doesn't help her.
The cell opens and the butler frees them, stating Yukihime vouched for them. He reveals himself as the elf ermine Chamo. Chamo lets them know that he was Negi's companion and that he knows of other secret workshops of Negi's. Since the UQH folks want to know about Negi, Chamo decides to let them see via Chachazero, Eva's old doll pactio partner. Chachazero is repaired, but can no longer move.
Dana bursts in, preempting whatever Chachazero had to show and presenting a video tape of her own. Chamo explains about the multiple timelines as Dana rams the tape into Chachazero. They are shown a look at the world of 2135 and told how Asuna woke after 130 years of sleep. However, thanks to CHAO Lingshen, Chao and Eva take this Asuna back to the time she left, thus creating a "happy end" timeline where Touta's creation wasn't needed. As such, Asuna had a normal life and at graduation, Yue and Nodoka confess to Negi. He has to turn them down as he likes someone else, then seeks out Chisame.
Thoughts/Review:
Heh! Akamatsu-sensei provided the last person anyone expected to show up to challenge Touta and Kirie at Nagi's former home in Kyoto. That said, I'm glad he did.
Chamo Returns
Albert Chamomile, aka the elf ermine Chamo, returns in UQ Holder chapter 137. When the spoilers came out, the butler's panty stealing ability certainly reminded one of Chamo in human form. For me, it was the tender moment he had with Chachazero. Even though Chachazero was a scene stealer in Negima, causing Akamatsu-sensei to bury her at times, he did show that Chamo and Chachazero became quite close. She carried him places (when the magic was strong enough to allow her to move) and even brought out booze to share with him. So when Chamo petted Chachazero's head, I felt a bit choked up.
One thing that I noticed is not that "Mack Daddy" Chamo's panty stealing skills are SSS rank, but that his magical abilities have are pretty good. He was able to easily toss Touta, then spring some kind of massive magic circle to knock him out, then knock out Kirie before she had a moment to react. So in a combat situation, it would seem that he can quite easily handle his own.
I'd often wondered if Chamo's ermine form was his true form or not. Although Akamatsu-sensei didn't make much of it, Chamo was referred to as an elf. Further, the ermine form was an indication of someone who was being punished. Negi was threatened with being turned into an ermine. And Chamo was a mischief maker, so I could see him being an elf turned ermine. However, even though he has a human appearance now, I would guess that ermine is his natural form.
Dana Returns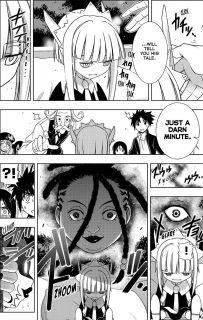 The massively unexpected character to return is Dana. I can't say that I've ever been that much of a fan of Dana's. She's kinda rammed into the series and she took over the role of a true shinso vampire, knocking Eva down to faux shinso vampire.
So Chamo and Dana are going to be the vehicles for exposition regarding Negi's past. My not caring for Dana aside, she is the right vehicle to fill in any gaps left by Chamo. However, will Akamatsu-sensei allow her (or Chamo for that matter) give us any meaningful information? In Negima, I got irritated when Negi needed information, some characters had the needed information, but they wouldn't give it to him 'cause reasons.
Frankly, I want some information on Isana and Honoka. And that's just for a start.
Negima Returns
I have to admit that the Negima fan in me loved the flashback when it moved into new story territory. It is nice seeing Chachamaru and Eva together, something that Akamatsu-sensei avoided letting us see when she returned in the current time and visited UQH HQ.  To that end, it was also nice seeing Kotaro in the flashback. I laughed when I saw how Chachamaru carried him and Fate off like animals. 😆
I liked seeing how Eva and Asuna cleared the way so that Yue and Nodoka could make their graduation confession. Having Nodoka and Yue decide that they would share Negi doesn't surprise me. After all, they joined Negi along with Al and Jack when Negi was possessed by the MotB.
Negi turning down them isn't surprising either, even though he cares for them both. However, this is where Akamatsu-sensei seems to be getting ready to set up what he had stated on Twitter (I think) — Negi was in love with Chisame. I never got that out of Negima. I felt that he like Chisame, but I always felt he was closer to Asuna or Eva rather than Chisame. Chisame was a confidant and a pactio partner, but just not an obvious choice.
Kirie is UQ Holder's Chisame. So it is possible that what we see with Negi x Chisame may get mirrored with Kirie x Touta.
Chachazero
Finally, there's the return of Chachazero. One thing I have "hated" Akamatsu-sensei for was his killing of Chachazero in the first chapter of UQ Holder. I know Chachazero is a massive scene stealer because the doll is awesome beyond belief. In the one flashback Negi had, we didn't get a good feel for Chachazero as a character. However, during the Kyoto arc when she single-handedly defeated Chigusa, Chachazero showed how awesome she truly is.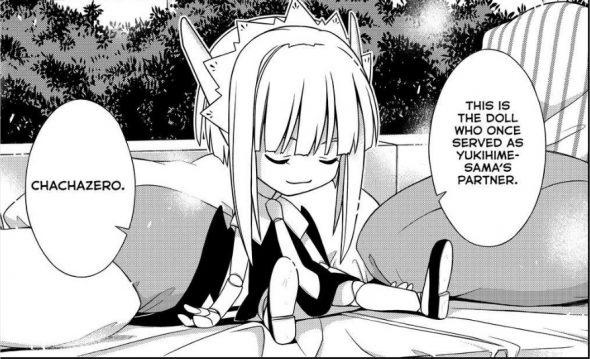 We were never told why Eva abandoned Chachazero. UQ Holder chapter 137 gives us a hint that it may have had something to do with the war 30 years ago. Chamo repaired her and cleaned her up, but as he stated, she will no longer move. The question is, "Why?" Is it because Chachazero was "killed?" I've theorized that Chachazero was ensouled, which is why she could talk and providing she was powered with magic, she could move. I'm hoping that Akamatsu-sensei gives us some answers, but I have zero confidence in that.
Touta not remembering Chachazero kinda annoys me. Or maybe he did recognize her since he was the one who mentioned the war 30 years ago. Touta did meet Chachazero via Dana's castle.
Anyway, here's hoping Chachazero can return to life, though I don't expect Akamatsu-sensei to go that route.
Final Thoughts and Conclusion
Well, it is massively late in my neck of the woods, and I have tons of work to do. So let me wrap this puppy up.
I chuckled when I noted that Chamo targeted Kuroumaru for his panty raid. Further proof that Kuroumaru is becoming a lovely girl. 😉
Even though there are a lot of characters, I'm glad Touta's UQH team is in Kyoto along with Mizore, Shinobu, Honoka, and Isana.
After all of the massive ecchi content of late, it seems weird not having any to speak of. Not that I'm complaining, mind you.
In the end, UQ Holder chapter 137 was one I found highly enjoyable. I like getting more Negima stuff we were denied, and I like seeing Chamo and Chachazero return, even if she's "dead." Looking forward to seeing the continuation of the Negima flashback.