Fate/Apocrypha 22
フェイト/アポクリファ episode 22
SPOILER Summary/Synopsis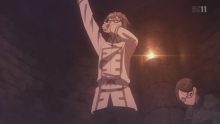 Red Archer transforms into a beast-like mode and viciously attacks Ruler. Meanwhile, Sieg has returned to himself, so Red Lancer waits and calls out Caules, who's hiding in the rubble. He requests Caules save the former Red Masters. Caules agrees, if Red Lancer will let them go if he cannot defeat Sieg as Black Saber. Red Lancer agrees, so Caules rescues the unconscious former Masters. Sieg gets Red Lancer to state that he will take down Ruler if he defeats Black Saber. Hearing this, Sieg transforms again to battle Red Lancer.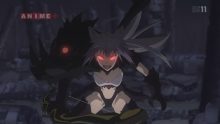 Ruler holds her own against Red Archer, but Red Archer's power keeps growing. Ruler is about to use her Noble Phantasm to defend against Red Archer's next onslaught when Red Rider comes in and defends Ruler. He sends Ruler on, telling her he'll handle Red Archer. Ruler leaves and Red Rider prevents Red Archer from following. Thus the two engage in combat. Ruler enters, where she's greeted by Red Assassin. Red Assassin seems content to allow Ruler pass through, knowing Ruler will have to face Red Caster.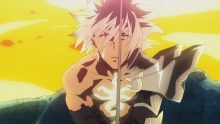 The battle between Red Lancer and Black Saber continues with fierce intensity. Sieg realizes he's acting as a limiter to Black Saber, so he uses a Command Spell to negate that. In a class of Noble Phantasms, Black Saber's isn't enough. However, Black Rider enters with Red Rider's shield. Using the Noble Phantasm power of the shield, Black Saber is able to defeat Red Lancer. Sieg returns and exchanges respect with Red Lancer, who warns Sieg that Red Caster will defeat Ruler.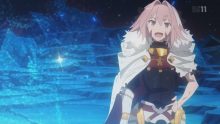 Sieg races off, so Black Rider pays his respects to Red Lancer before Red Lancer dies. Black Rider then rushes off to help Sieg. Meanwhile, Red Archer and Red Rider have a fierce clash. Red Rider manages to land a killing blow, but not before some final arrows of Red Archer fall into his back. Red Archer transforms back to normal, including her sanity. She knows what she did wouldn't help the children, but she had to do it anyway. Red Rider wanted to make sure she didn't fall to darkness. She dies in his arms and he dies shortly thereafter.
Thoughts/Review
Fate/Apocrypha 22 would have been a really good episode, except that A-1 appears to have run out of money, resulting in laughable art and animation sequences during key battle moments.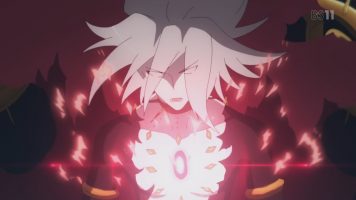 Black Saber vs Red Lancer
When Red Lancer first appeared, he didn't strike me as a very honorable person. I don't know anything about Karna, the person summoned as Red Lancer, so I had nothing to go on but what I saw in his first appearance. He seemed like a bloodthirsty Servant, keen only for battle. Yet in Fate/Apocrypha 22, he does show how honorable he is.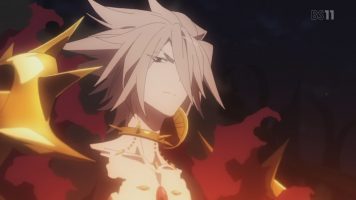 Once he became Shirou's Servant, there was no reason for him to really care about the former Red Masters. Yet he asks that Caules save them. So he acts with honor there, and because he's Shirou's Servant, he also acts with honor in not joining the Black Faction. I liked that.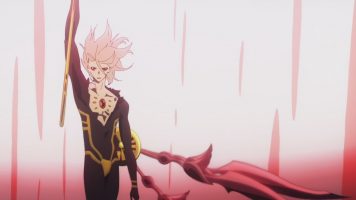 Not sure how Sieg will survive going forward, having transformed into Black Saber twice and having used a ton of power. Black Rider is still there, but dependent on Sieg's magical reserves. And Black Rider does have Red Rider's shield, unless that has disappeared when Red Rider died.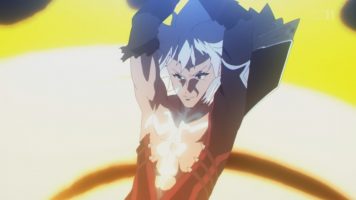 Red Rider vs Red Archer
I didn't see this fight coming in a million years. However, here too, we have Red Rider acting with great honor on two fronts. First, he respected Black Archer's request and did lend a Noble Phantasm to Black Rider.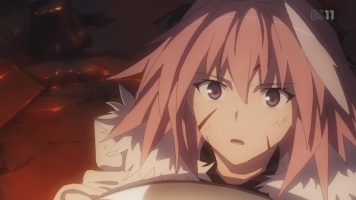 The second act of honor was him fighting Red Archer to keep her from falling into evil completely. I don't think I mentioned this, but Red Rider always addressed Red Archer as "ane-san." The word "ane" is another word for talking about one's sister, but the use of "ane-san" is not used from what I understand, save for yakuza. It is their way of showing respect for female yakuza members. As such, this is an interesting way for Achilles to show Atalanta great respect.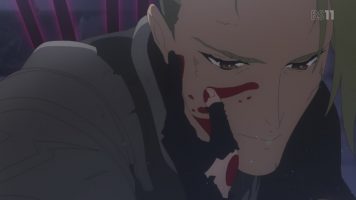 Red Archer and Red Rider always seemed somewhat closer to each other than to the other members of the Red Faction. However, after her sanity was restored from Red Rider's killing blow, I guess they not only respected each other, there was a hint of romantic love between them. The moment would have been rather touching, where the art/animation not so hideous.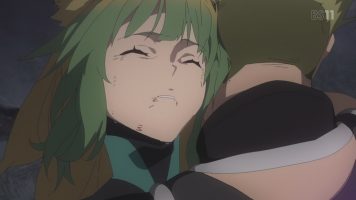 Ruler
So Ruler appears to be walking into a trap as the weak Red Caster is apparently able to defeat her. I know what Red Caster did to Black Berserker with his Noble Phantasm. I suppose that this will be what he uses to get Ruler distracted so he can get a cheap kill. However, I rather suspect that won't happen as Ruler is clearly set up to be an end-game character, but we'll see. I thought Black Lancer would be an end-game character as well.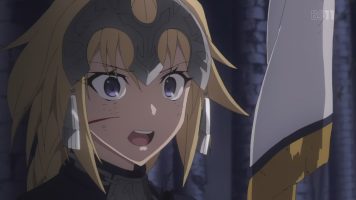 Final Thoughts and Conclusion
Time to wrap up my review of Fate/Apocrypha 22.
I've mentioned this before, but it bears mentioning again as about 75% of Fate/Apocrypha 22 was horrible to look at. The recap for Red Archer transforming immediately reminded me of some episodes in Yu Yu Hakusho, where for a few episodes, the artwork and animation became laughably bad. I hope this bad art/animation doesn't continue 'cause it ruined the fight between Red Lancer and Black Saber as well as the fight between Red Archer and Ruler, then Red Archer and Red Rider.
What the frack happened to Red Saber? She comes in for an attack at the end of the previous episode, causing Red Assassin to not kill Black Rider. In this episode, there's no Red Saber, and Red Assassin is just casually sitting her her throne room.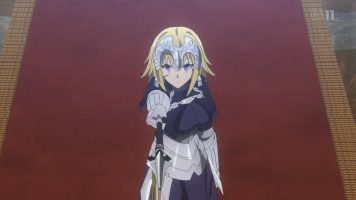 In the end, Fate/Apocrypha 22 turned out to be better from a story perspective, thanks to the honorable actions of Red Lancer and Red Rider. However, the horrendous art and animation throughout most of the episode is so laughably bad, it ruins everything good about the episode.