Fate/EXTRA Last Encore 03
SPOILER Summary/Synopsis: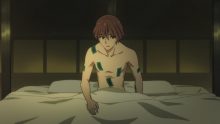 Rin rescues Saber-Nero and Hakuno on her flying speed motorcycle. Hakuno wakes in a luxury apartment with Code Cast bandages on his stab wounds. Rin introduces herself, though Hakuno remembers her. Saber reveals herself in the chair by Hakuno's bed. Rin explains she's leading the resistance and gives potions to her guest to help them recover. As Rin explains the situation, Saber demands to know what caused this. Rin tells them it is the Chakravartin, who's overwritten SE.RA.PH.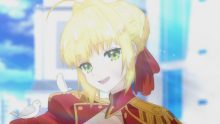 Their only way off the first floor is to battle Shinji, the only Master left with a Servant. As such, the next day, they plan their attack and carry it out. Rin keeps the three Berserker Servants occupied while Saber and Hakuno make their way inside. There, they find the halls of a school, where on the roof, Shinji waits for them. Nero challenges him, but he dismisses her, namely because he doesn't want the Holy Grail War resumed. Hakuno challenges him, causing Shinji to remember how he hated killing others.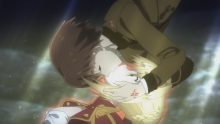 Shinji accepts while causing the city to be flooded. The waters reach Rin, who's just defeated the three Berserkers. Shinji's Servant, Rider-Drake, emerges on her Noble Phantasm ship and the battle is on. Rider's NP attack causes Saber to fall into the water, where she attempts to use her Imperial Privilege to raise a sunken ship for her purposes, by her mana is low. Hakuno dives in and kisses her to restore it. Saber rises to challenge Rider, using her sunken ship to ram Rider's ship.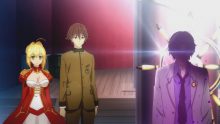 Rider runs out of ammo for her flinters, allowing Saber to defeat her. Shinji has a moment with Rider, mourning her passage. Shinji makes excuses, so Hakuno cuts him off. However, Hakuno no longer holds resentment of Shinji. Shinji is also beginning to dissolve as is Rider. She remarks that in the end, Shinji didn't hurt his friend. Shinji half-heatedly states that Hakuno is not his friend and then is no more. Rider asks Hakuno why he wants to ascend, but is gone before he can answer. With the city destroyed, Saber and Hakuno are taken to the next floor, Rin in hot pursuit on her bike.
Thoughts/Review:
Rider-Drake. How little we came to know you as you passed on in Fate/EXTRA Last Encore 03. Shame really, as I have her in Fate/Grand Order.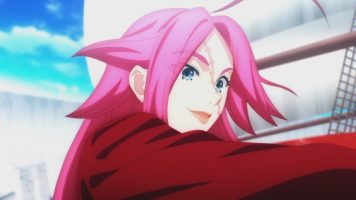 Rin: Dues Ex Machina
I'm not sure how close the Rin of Fate/EXTRA Last Encore is to her Fate/stay night version. (Or for that matter, the version of her in Fate/kaleid liner PRISMA☆ILLYA.) In personality, she's being used as an exposition spouter as she helps the main character out.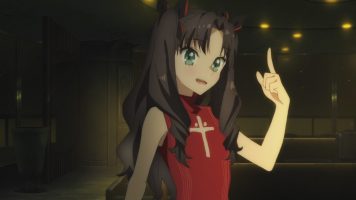 However, she seems to be the most powerful version of Rin I've ever seen. For starters, she defeated three Berserker class Servants by herself, which is no easy feat. Then, when the flood waters came in and swamped the city, it appeared that Rin would be dead. But then at the end, she shows up on her bike, unharmed. So that begs the question of what she is, exactly.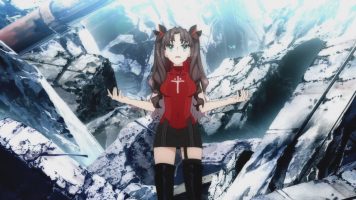 Also, I was totally wrong about Rider being her Servant. Bummer that.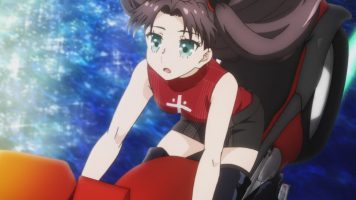 Shinji: Trying to Do Right?
The Shinji in Fate/EXTRA Last Encore 03 may be the most sympathetic Shinji of all the versions I've come to know over the years. During the flashback when Shinji and Rider won the Holy Grail War for the first level, Shinji hated this system that had forced him to kill Hakuno and now this final Master. So I understand Shinji's desire to turn the first floor into a paradise where Masters no longer had to battle each other, even though this meant that the humans here stopped doing anything.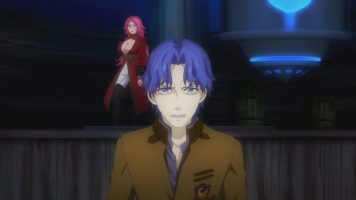 This desire of Shinji's makes Nero's desire for battle come off as bloodthirsty. Yes, there's a wish to be won by winning the Holy Grail War, but at what cost? And yes, the humans on the first floor stagnated into nothing, but still. Shinji may have gone about things wrong, but I like his idea.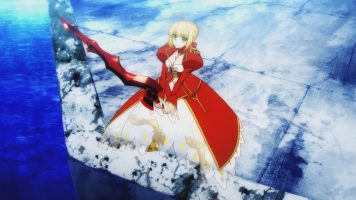 Finally, Shinji chose to die and not abandon Rider rather than follow her suggestion to break their contract so he could live. That was a nice touch.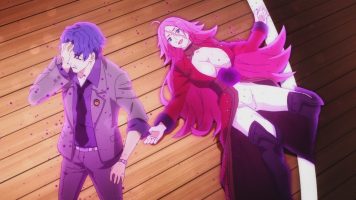 Final Thoughts and Conclusion
As always, I'm massively behind (but I'm getting my work done for my two jobs, so that's cool), so let me wrap up my review of Fate/EXTRA Last Encore 03.
I guess it isn't a Fate title without a mana transfer scene.
I'm not sure I get how Rider-Drake, who used bloody flintlock pistols in rapid fire mode, can be "out of ammo."
As someone who has Rider-Drake as a Servant in Fate/Grand Order, I loved seeing the full affect of her Noble Phantasm when it attacked.
If Shinji wasn't responsible for Chakravartin, who is? Could it have something to do with the series introduction when we saw Saber-Nero fighting an unknown entity with her Master fatally injured?
What awaits our merry trio on level 2?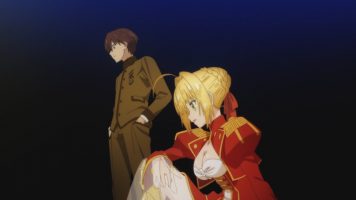 In the end, Fate/EXTRA Last Encore 03 continues to be odd, but my attachment to the Fate franchise won't let me go. So, let's see what weirdness awaits.