Fate/EXTRA Last Encore 07
SPOILER Summary/Synopsis: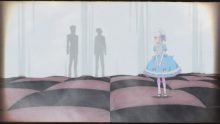 Alice hears other Masters talking about problems with the Holy Grail War, but no one seems to hear her. And no one knows what this new thing in the sky is. Sometime later, Alice sees a calm Rin talking to an angry Amari, where Rin refuses to fight her. However, the two are unaware of Alice's presence even when she speaks. Alice is missing "Oniichan" (Hakuno) and recognizes that her time is short as she's starting to glitch. She absorbs objects for their energy to sustain her.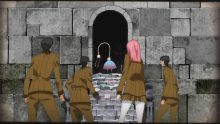 Alice is suffering greatly, but when she absorbs a tree, her arm becomes a tree branch. As she wanders, her neck becomes stretched out so her head snakes around. She encounters a group of Masters who panic and attack her despite her pleas, causing her body to slaughter them. Alice becomes more depressed waiting for Hakuno to return, more so since her body is now that of a monster, meaning he won't recognize her any longer.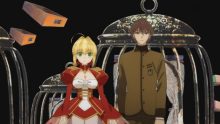 The day now having repeated, Hakuno, Rin, and Saber-Nero return to confront the monster they'd previously faced. As they walk, Rin chats about ghosts and Dead Faces, whom she equates to zombies. She gives Hakuno a knowing look as she talks. Hakuno has a vision where he's spending time with Alice in her doll form. When he returns, he asks Saber if it is possible to win a floor without killing the Master. Saber confirms this, but before she can say more, the monster attacks. Rin puts up a barrier, but it fails and she's killed. Hakuno activates a Command Spell, causing the day to reset.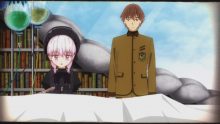 Nursery Rhyme takes the form of Amari, since the Servant realizes Hakuno is trying to save Alice. She reveals Alice's true form, a bloody, bandaged corpse in a bed. Nursery Rhyme takes Alice's form and explains that the real Alice is watching events as if in a dream. Meanwhile, the day has reset, so after cleaning up, the trio return to the castle. Hakuno seems to be accepting the notion he is a Dead Face. Saber tells a tale of her former Master and their final battle on the 7th Tier.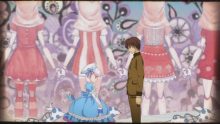 In a flashback, Hakuno sees Alice, letting her know he'd won because Alice refused to participate. Alice realizes that because she was already dead, Moon Cell couldn't purge her. Hakuno says his farewell to Alice, vowing to return for her after he wins the Holy Grail War. She promises to wait for him, desperately hoping to see him again. Back in the present, Saber realizes that Hakuno is spacing out due to things that happened in his past.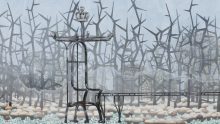 The trio arrive at the table where Hakuno and Alice had tea together. Now, there's nothing left but an empty frame with the book form of Nursery Rhyme on the shell of Alice's chair. Hakuno takes the book and remembers Alice with the book. Rin tells Hakuno that she now remembers there's no one left in this castle, thus no one to save. They go to the top of the castle, where the monster pleads in Alice's voice for them not to leave. Alice is the monster, broken by the pain, fear, and loneliness she's experienced over countless years. As such, she attacks without thought, forcing Rin to reveal she is a Demi-Servant of the Lancer class (Cú Chulainn).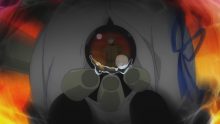 Using Lancer's Gáe Bolg Noble Phantasm, Rin is able to critically stab Monster Alice, who cries in pain. However, Jabberwocky-Alice finally sees Hakuno holding the Nursery Rhyme book and she remembers and sees that Hakuno kept his promise to return. As such, she stops fighting and allows Saber to behead her. The book dissolves, leaving only a bookmark behind with what appears to be Alice's image on it.  The trio ascends as Alice partially reappears in humanoid form, wishing them a safe journey.
Thoughts/Review:
Fate/EXTRA Last Encore 07 showcases the one element about the entire Fate franchise that I despise more than anything, including the stupid, surreal, bizarre, massively confusing narrative format chosen by SHAFT. Nasu apparently loves to abuse lolis just to evoke emotions in the viewers.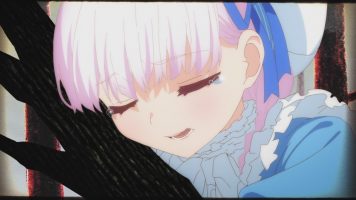 A Confusing Narrative is NOT Brilliant Writing!
I hate it when writers and producers get too clever by half. For Fate/EXTRA Last Encore 07, the writers really decided to make things VERY confused, so much so that it was all but impossible to wrap one's head around the events that were going on. That's because for episode 6, SHAFT hid what they were doing, though it was confusing. When episode 7 rolled around, SHAFT doubled down on this.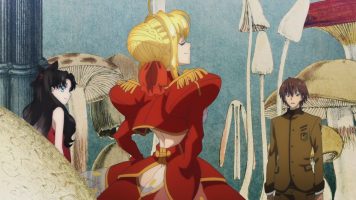 So what was SHAFT doing? Flashbacks without letting the audience know they were flashbacks. (Update: They faded the image around the edges during flashbacks.) As such, there is no straight forward narrative. At any moment, what you see might be something from an unspecified number of years in the past, or it might be from the present. And to further confuse things, sometimes a character presented is the actual character, but maybe it is the Servant named Nursery Rhyme in disguise.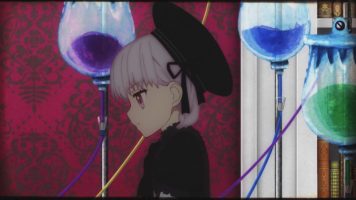 What irks me is that I know the production team at SHAFT probably thought keeping the viewers completely off-balance was brilliant writing. It is not brilliant writing if I have to go, "What the <censored> did I just watch?" For me, brilliant writing is not a confusing mess just to keep an audience spinning. Brilliant writing has me contemplating other things like character motivations or the impact events will have on characters. Surprises hidden in plain sight are brilliant. Putting the viewer on a merry-go-round until they are so dizzy, they can't see straight isn't.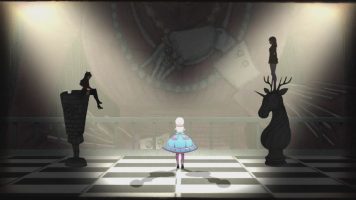 So What Happened In Episodes 6 and 7?
Before I start, I want to thank Reddit user Deadeye117 for clearing this mess up. Also, thanks to blog reader Aki.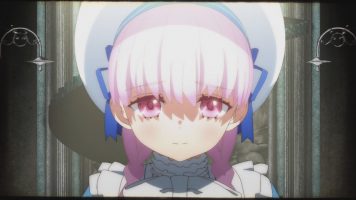 At the start of episode 6, what we are actually witnessing is a previous version of Hakuno with another Servant (not Saber-Nero), saying farewell to to Alice and promising to return. Then, within episodes 6 and 7, every scene with Hakuno and Alice is actually a flashback to Hakuno's previous visit to this Tier.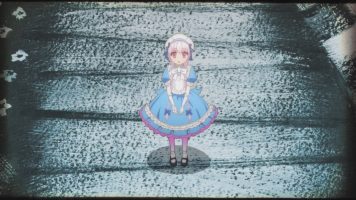 Apparently, this is also true for Amari. Except for the time she meets with Hakuno at the dinning table, all scenes with Amari are flashbacks. (Correction: this is also a flashback.) So Rin has also been here before, though I'll chat more about that in a bit.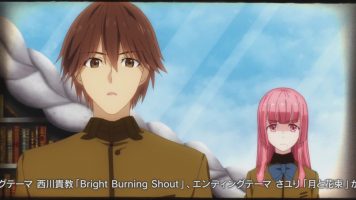 When Hakuno came through previously, he was apparently the real Hakuno. This time, Hakuno is a Dead Face, which Rin equated to a zombie. This Hakuno is a false construct built on massive hatred. However, there's a part of this Hakuno that seems to know there's a little girl that needs to be saved. How much he actually remembers is more of a mystery.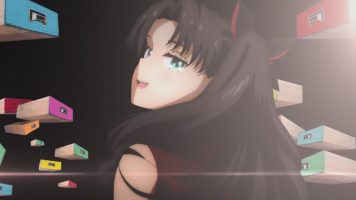 Alice is dead in the real world, so her presence in Moon Cell is that of a cyber ghost. Despite that, she still ended up as a Master in the Holy Grail War, though she didn't understand it and had no desire to really participate. Her Servant, a Caster class named Nursery Rhyme, who knows Alice is dead, but provides a dreamscape for Alice to be in on Tier 3.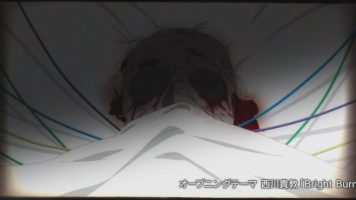 During Hakuno's first time through, Alice forfeited the fight, thus allowing Hakuno to win by default and ascend to the next level. Because Hakuno vowed to return, Alice has been waiting for who knows how many years. The Chakravartin appears in the sky over Tier 3. Alice begins to glitch and has to absorb material on the floor to maintain herself. However, this somehow causes her to eventually (and painfully) transform into the Jabberwocky.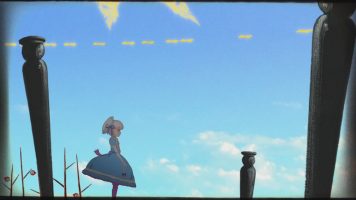 After she is attacked by panicked Masters, Alice appears to slaughter them all (not out of malice or evil). She then wanders around for countless more years until she forgets Hakuno (whom she had called "Oniichan"), as she's consumed by fear, pain, and extreme loneliness.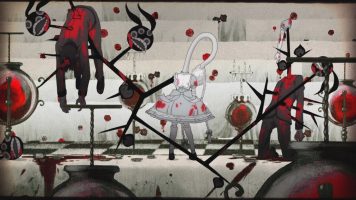 When current Hakuno arrives with Rin and Saber-Nero, they eventually encounter Alice in her Jabberwocky form, but Nursery Rhyme resets the day when they defeat her. Ditto their second encounter, where Hakuno uses a Command Spell to help defeat the Jabberwocky, thus saving Rin's life. But on the third time loop, Hakuno seeks out Nursery Rhyme's book form. Because of this, when Alice sees Hakuno with the book (which they'd read together in his previous visit), Alice remembers and allows herself to be beheaded by Saber.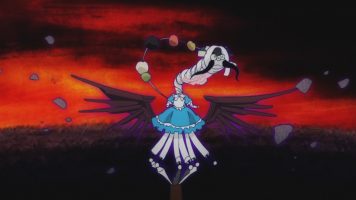 Apparently, Alice's ghost is still on Tier 3, but Caster (Nursery Rhyme) is gone. Not sure how this is, but there you go.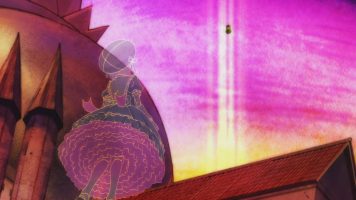 Apparently, Abusing Lolis is Fun
The folks at TYPE-MOON apparently love to abuse lolis. We saw this to gruesome effect in Fate/stay night: Unlimited Blade Works. Thankfully, we didn't get to see the loli slaughter in Fate/Zero (that I recall), though it was there. We got to see more loli abuse in Fate/Apocrypha, though the loli death there was an act of mercy. I despise TYPE-MOON for doing this. Seriously, seeing lolis getting viciously abused is horrible and makes me want to "Dr. Gill" some fools.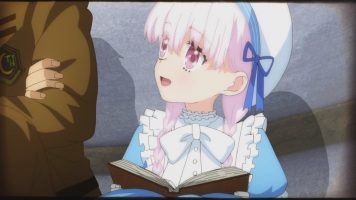 It is unfortunate that Alice's death wasn't done like an act of mercy. While the audience could clearly hear Alice's spoken word screams of torment and pain, especially after Rin stabbed her Jabberwocky, Rin and Saber seemed to take some delight in trying to kill Jabberwocky-Alice. And SHAFT wanted to really drive the despair home to viewers by having Jabberwocky-Alice's shadow actually be that of Alice. Click to enlarge the image below and see what I mean.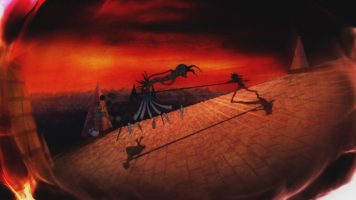 This whole story with Alice and Tier 3 really has me in a foul mood. I'm ticked that SHAFT sucker-punched me with this stuff by making it seem like the start of episode 6 was how the Tier 3 story was going to end. It makes me angry because I don't know why Alice had to suffer so much. I'm pissed because Alice had to be slaughtered. My only hope is that somehow, Alice can be saved in the end.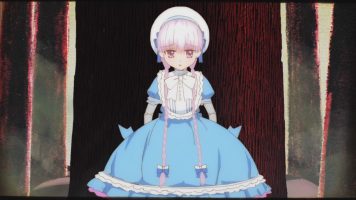 Rin the Demi-Servant
To add to the already confusing narrative, Rin is suddenly revealed to be a Demi-Servant in this episode. Because I take a few minutes a day to play Fate/Grand Order, I am familiar with the concept, though I don't understand it 'cause I don't think the game has explained much, other than the Demi-Servant character now has the abilities of a Servant. Had I not been familiar with that game, this would have caused me to go, "What the actual <censored> is going on here?!"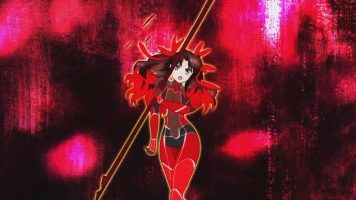 Still, it does explain how Rin was able to defeat three Berserker class Servants earlier in the series. But what we don't know is how Rin suddenly has Cú Chulainn's Lancer powers. Also, we don't know how Rin apparently knows Hakuno is a Dead Face. And though it appears that Rin has also gone through this once, we don't know what happened that caused her to lose her Servant, then hang out on Tier 1 apparently waiting for Hakuno.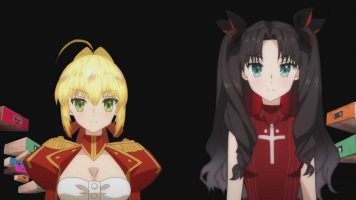 Final Thoughts and Conclusion
Writing my review of Fate/EXTRA Last Encore 07 has been a struggle for me, since I despise what was done with Alice in these last two episode, to say nothing of the confusing narrative. Yeah, I know Alice is still there as a ghost, but she's still alone despite her remarks on the happy ending and the bookmark left to Hakuno. Hopefully by the end of the series, Hakuno can save Alice. But if Nasu-sensei thinks I'm going to start playing the Fate/Extra game because of this anime series, he's got another thing coming.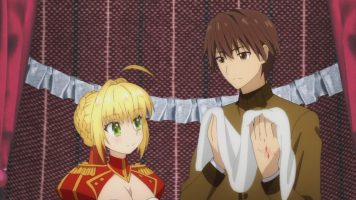 By the way, I apologize for blathering so much. Gah! The "feels" are too much.