ユーキューホルダー! 魔法先生 ネギま!2 Manga Review
UQ Holder! Mahou Sensei Negima 2
UQ Holder!: Magister Negi Magi! 2 Chapter 169
UQ Holder Chapter 169
SPOILER Summary/Synopsis: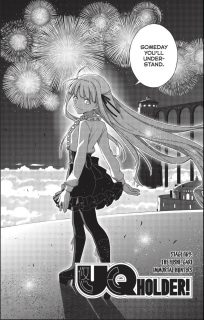 Eva concludes her date with Touta by assuring him that she'll be OK. Touta lets Eva know that his 72 "brothers and sisters" are his problem and not Eva's fault. Eva encourages Touta to look into getting closer with one of his many admirers.
The following day, Karin, Kuroumaru, and Kirie spot Touta and speculate about what transpired. When they approach him, he lets them know that he was turned down, but also kissed. And he mentions Eva's advice on going after his admirers. For Karin, he gets her to agree to help him save the world. For Kirie, he vows to protect her until she says otherwise.
He then invites Kuroumaru on a date. Touta buys Kuroumaru a dress, and the two go out. Although she initially strongly rejects the idea of being treated like a girl, Kuroumaru isn't so strong about the idea in the end.
Elsewhere, Kuroumaru's clan get news of Kuroumaru's return to Inverse Mars. Plans are initiated to bring Kuroumaru in. Kuroumaru's brother Kiroumaru warns the others not to underestimate the Dark Evangel, nor UQ Holder. He dispatches Nagumo and Tsukuyomi to capture Kuroumaru.
Meanwhile, Kuroumaru begins to open up to Touta about the Shinmeiryuu. Honoka and Isana join them. These two help Kuroumaru explain things to Touta, including there are two Shinmeiryuu branches–Earth and Inverse Mars, the later being immortal hunters.
Before Kuroumaru can explain why she's an immortal, her brother appears. Kiroumaru, Nagumo, and Tsukuyomi attack them, causing major injury.
Thoughts/Review:
I have to say, UQ Holder Chapter 169 was another really interesting chapter, thanks to Akamatsu-sensei granting my wish. I'm actually hyped about the series again.
Battle Harem
I think it is fair to say that the Eva x Touta ship has now been put to rest. That's fine with me 'cause I want Eva to end up with a rescued Negi. After all, it would be fitting for them to be together again. And both of their experiences would make them very right for each other.
That aside, that leaves Touta and his battle harem. I noted that the adaptation used the term "admirers" when describing Touta's team. Eva's visual referenced Karin, Kuroumaru, Kirie, Santa, and Nikitis. So Nikitis and Santa can be his bros. But I do want Touta to have Karin, Kuroumaru, Kirie, Shinobu, and Mizore (and throw in Isana and Honoka for the fun of it) as his harem babes.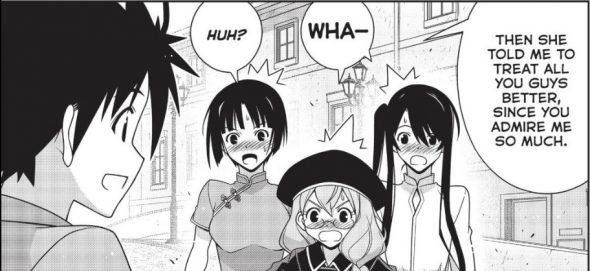 Kuroumaru
Long time readers of my blog know that I've REALLY been wanting a story about Kuroumaru. To be honest, I wasn't sure if Akamatsu-sensei would give me my story or not. After all, Sensei is heading into the manga's end-story. That said, UQ Holder Chapter 169 provided me that wish.
Since we'd already witnessed Kuroumaru dressed as a girl, I guess it was fine that we only got a brief look at her (yeah, I'm using "her" 'cause she'll be a lovely girl). Kuroumaru quickly wore a dress, despite making some form of protest over being considered a girl. But then she ditched the dress as well for unknown reasons.
It seems that we'll get more of Kuroumaru's backstory as this current arc continues. I'm looking forward to that.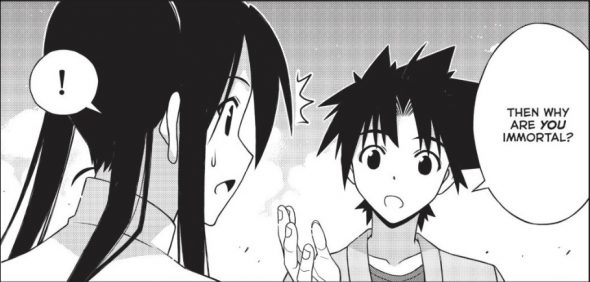 Fushi-Gari Clan
In addition to getting Kuroumaru front and center, we also get her clan in UQ Holder Chapter 169. We were introduced to Kuroumaru's brother, Kiroumaru, the head of the TOKISAKA family. He wears the crow tengu mask. But we had two more family heads introduced. The first was HINOKIDA Zankurou, who wears a kitsune mask and seems to be female. The other is BURYOU Genshin, who wears an oni mask and made me think of EMIYA Archer for some reason. 😂
This clan seems to be pretty arrogant though. Kiroumaru was the only one who seemed to have his head on when it came to dealing with Eva. But he seemed off his rocker when considering Kuroumaru.
Nevertheless, I'm looking forward to to learning more about these immortal hunters.
Honoka and Isana
It was surprising to see Honoka and Isana show up in UQ Holder Chapter 169. I have a fondness for them since they are apparently clones of Konoka and Setsuna respectively. I got a kick out of their reaction to Touta noticing how much the pair look like their grandmas.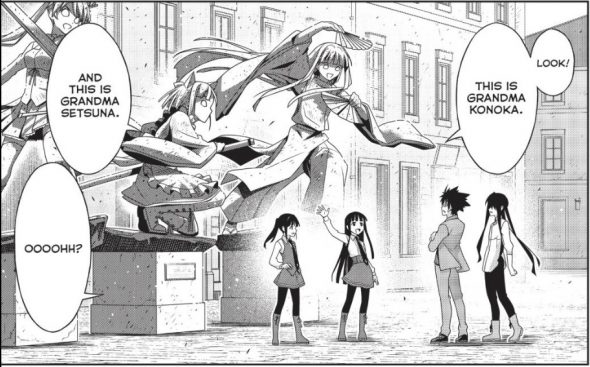 Still, I am happy to see this pair of lolis. As such, I look forward to seeing them in the current arc.
Nagumo and Tsukuyomi
I was also surprised to see Nagumo and Tsukuyomi appear in UQ Holder Chapter 169. That said, I'm glad they showed up. It allows our UQ Holder folks to have to deal with powerful, interesting foes again.
Tsukuyomi seems younger though than she did when we first encountered her in UQ Holder. Since she originates from Negima!, I really hope we learn more about her.
Final Thoughts and Conclusion
Let me get this review wrapped up so I can get to bed. 😅
We got a nod to Cutless and the other clone-siblings of Touta. I'm hoping we learn more about that before the series end.
I wonder why Kuroumaru's clan all wear youkai masks.
It was really nice to see the AOYAMA sisters Motoko and Tsuruko from Love Hina! 😍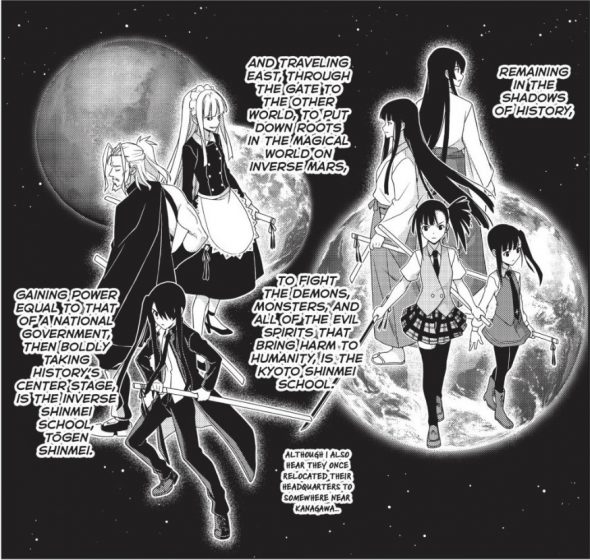 In the end, UQ Holder Chapter 169 was a rather enjoyable chapter. I'm actually rather hyped for the next chapter.