ユーキューホルダー! 魔法先生 ネギま!2 Manga Review
UQ Holder! Mahou Sensei Negima 2
UQ Holder!: Magister Negi Magi! 2 Chapter 172
UQ Holder Chapter 172
SPOILER Summary/Synopsis: 
Touta attacks and instantly defeats Genshin. Zankurou is stunned and frightened by Touta's jump in power. However, she quickly recovers and challenges Touta to come at her. Touta accepts and gives her a massive beating. She compares his new power levels to that of a High Daylight Walker. Touta used Kurobo to launch the same finishing blow on Zankurou, but she's able to use Hinamori to fend it off.
Touta calls out for Kuroumaru. Within Hinamori, Kuroumaru recalls the moments before the ritual was completed to turn Kuroumaru into Hinamori. Kuroumaru emerges from Hinamori with multiple wings and white (?) hair. Upon seeing Touta, Kuroumaru attacks him. Kiroumaru intercedes to a stalemate. Something catches Kuroumaru's eye, so Kuroumaru flies in the direction of the castle town.
Kiroumaru and Touta chat a bit about Touta's time with Kuroumaru. After receiving Kiroumaru's blessing, Touta flies off in pursuit of Kuroumaru. This causes Kuroumaru to stop. Since Kuroumaru doesn't recognize Touta, the two fight again. Touta realizes he's losing the fight on a skill level and loses an arm. As such he surrenders and allows a surprised Kuroumaru to stab him with Hinamori.
Touta grabs Kuroumaru and kisses her. She now recognizes Touta despite his change of appearance. He hugs her and she apologizes to him.
Thoughts/Review:
Well, I may be running massively behind thanks to work and a serious lack of sleep, but I'm finally getting my blog post for UQ Holder Chapter 172 up.

Pretty Much As Expected
Based on the spoiler info I received on the chapter, things in UQ Holder Chapter 172 played out pretty much as expected. That said, I didn't really expect Touta to "insta-kill" Genshin. (I don't think he's dead, merely out for a while.) And I didn't expect him to so easily defeat Zankurou either. That gave the chapter a sense of urgency, as if trying to speed along to the end. And indeed, that may be Akamatsu-sensei's goal, especially considering all of his distractions of late.
That said, I won't deny a sense of enjoyment seeing Genshin and Zankurou getting theirs. Plus, since Touta looks like an EMIYA Servant in the Fate franchise, it doesn't feel Mary Sue to me. I don't know if that makes sense or not. But somehow, Touta seems like an Avenger Servant.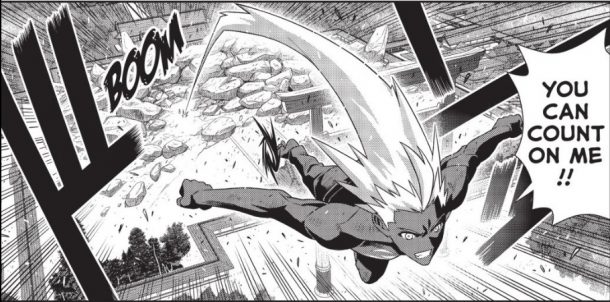 I did expect Touta to have to battle Kuroumaru. That went down pretty much as expected. However, I didn't expect Kuroumaru to now have six sets of wings and light (I assume white) hair. And I thought that Kuroumaru would have the power to be humanoid or sword. However, since Kuroumaru was wielding Hinamori, that doesn't seem to be the case.
Final Thoughts and Conclusion
I need to get this published and get back to work. As such, let me wrap up my review of UQ Holder Chapter 172.
I'm hoping we see Kuroumaru continue to use her six-winged form.
Also, I hope Kuroumaru makes an official declaration of womanhood. Akamatsu-sensei made sure to draw her with distinct cleavage during her Barbie Doll naked fights.
It is not a hard call, but I predict that the Immortal Hunters will ally with UQ Holder to battle Mage of the Beginning at manga's end.
In the end, UQ Holder Chapter 172 was a fun chapter, even if by the numbers.

Self Promotion Time! I try to do some game streaming on Twitch every Monday (6pm MT) and Friday night (7pm MT). We talk about anime and manga in addition to whatever else. So feel free to stop by.
Twitch Link: https://www.twitch.tv/astronerdboy