ユーキューホルダー! 魔法先生 ネギま!2 Manga Review
UQ Holder! Mahou Sensei Negima 2
UQ Holder!: Magister Negi Magi! 2 Chapter 173
UQ Holder Chapter 173
SPOILER Summary/Synopsis: 
Touta wakes up in the Senkyoukan infirmary. Karin briefs him on what happened at the end of their trip to Kuroumaru's clan area. Yukihime joins them and announces that the Mage of the Beginning is on Pluto. They have six months to get there and eliminate her. As such, they have to depart in one week to start the long journey. Touta is worried that they don't have time to prepare. However, Kirie arrives and reminds him that they have infinite time, thanks to her power. As such,  Yukihime announces they will do serious training.
Touta trains hard, but the girls of the crew relax and have fun. Kirie throws a pajama party for Karin, Kuroumaru, Sept (as the female Sepuko), and herself. Sepuko notes that Kuroumaru is now rooming with Kirie. She feels that all three girls should make their move on Touta. They make weak protestation against this. However, Touta arrives in a filthy state and collapses unconscious. Sepuko strips him and tells the girls this is their opportunity.
Karin, Kuroumaru, and Kirie scrub Touta clean, sans for his extreme naughty bits. However, they clean this too and get him dressed and put to bed. Karin decides that they have to follow Yukihime's orders and increase their bond level with Touta. The trio plant kisses on Touta. Although still asleep, Touta grabs the three of them and vows that they'll always be together. The girls laugh and decide to return to this once they've finished their mission.
The next day, Touta wakes and finds the girls in bed with him.
Thoughts/Review:
Well, I guess UQ Holder Chapter 173 was the final "fun" but rushed chapter before the push to the end of the series.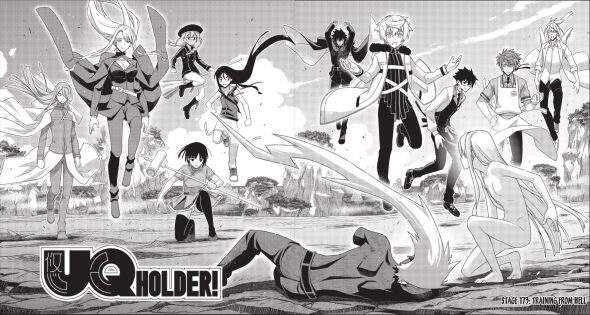 Move Along! Move Along!
The way Akamatsu-sensei rapidly wrapped up the arc with Kuroumaru's clan, it is clear that he wants to move things along to get to an end. Its not that I want a long, drug out story. But this one just felt rushed. And that was really evident with the wrap up pages in UQ Holder Chapter 173.
Still, I am glad we did get to see a bit more about Kuroumaru's past. But because things were rushed, we didn't get all of the information I would have liked. For example, I would have liked to have known more about the entity that possessed Kuroumaru. And I would have liked to have known more about the "curse" of Kuroumaru.
Also, I would have liked to have known more of the history between Eva and Kiroumaru. Yeah, this partnership of theirs is a retcon, but it would have been nice to have seen this fleshed out.
Harem Time!
Akamatsu-sensei had his 4P fantasy fun with UQ Holder Chapter 173. But that aside, I loved seeing Karin now officially accept that she's part of Touta's battle harem. I know some didn't think this would happen. And indeed, Akamatsu-sensei seemed to be pushing hard for Kirie to be the sole girl for Touta. That was the one scenario I didn't want at all.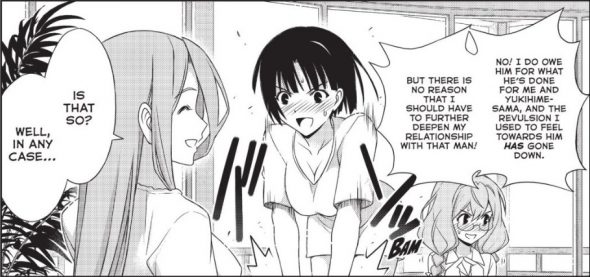 Frankly, I like the idea of a harem ending for Touta and the girls. In terms of story, it works 'cause as a battle harem, I think they would work better as a fluid team. I've no doubt this is what Yukihime is thinking when she "ordered" Karin, Kuroumaru, and Kirie to deepen their bonds with Touta.
Plus, since they are all immortal, it works on that level. And that may be why Shinobu, Mizore, Honoka, and Isana weren't part of the bonding with Karin, Kuroumaru, and Kirie.
Final Thoughts and Conclusion
While I still have some Internet access, let me wrap up my review of UQ Holder Chapter 173. In the end, the chapter felt like it rushed the ending of the Kuroumaru arc. However, I did enjoy the harem fun with Karin, Kuroumaru, Kirie, and the sleeping Touta.