Tenchi Muyo! Ryo-ohki OVA 5 Episode 03
天地無用! 魎皇鬼 OVA 5 Ep. 3

SPOILER Summary/Synopsis:
Tenchi is with Washu in space, dealing with pirate ships coming to Earth. Sometime later, Fuku, in humanoid form, comes to the Tenchi household. Rea and Tenchi observe Fuku, Kenshi, and Ryo-ohki play from within the house, along with Jovia and Miron Pham, a teacher and doctor for Banjo Island (Tabletop Island). Since the battle contests on the island are all but over, Tenchi expresses an interest in visiting.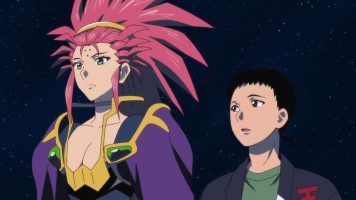 The four have tea and are joined by Sasami, Noike, and Washu. They discuss the situation on the island as well as Kenshi's training. That evening, Washu, Tenchi, Miron, and Rea continue to chat in Washu's lab (?). Plans are finalized for Tenchi and his household to take a trip to Banjo Island.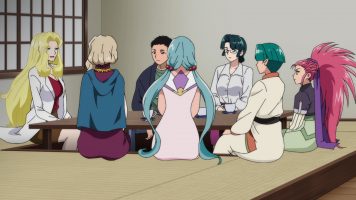 Someday later, Tenchi's household take a ferry to Banjo Island. Also joining them is Kenshi. The boat captain is Minamida, who's actually Seina in disguise. Tenchi and Seina discuss things until the boat arrives. The ferry is greeted by island residents KUKOMA Shou (human), Dird Shank (pirate), Alea Balta (pirate), Apusesa Daluma (pirate), Paltry Jurai (Jurai), and eventually Miron and Fuku. Washu arranges for Kenshi's continued training while the others find ways to relax and amuse themselves.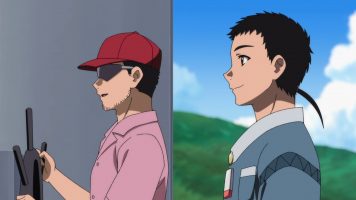 That night, they have a feast outdoors. Kenshi decides he wants to sleep in a tent rather than a room, so that is arranged. He's joined by cabbits Ryo-ohki, Fuku, Miki, Kirche, and "D". The next day, Kenshi's training continues while the others continue their relaxation and fun. That night, Tenchi spots Ryoko on the beach. They have a chat where Ryoko opens up about how she enjoys life in Tenchi's household. The other girls show up, so Tenchi decides to say something to them.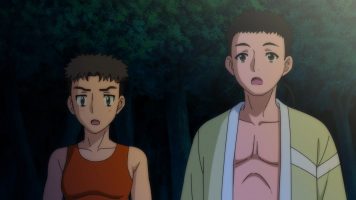 Thoughts/Review:
While this episode did require some knowledge of Paradise War to get the context of things, Tenchi Muyo! Ryo-ohki OVA 5 Episode 03 also had a very lovely ending.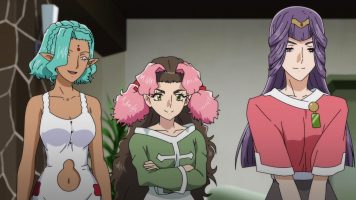 Banjo Island and Paradise War
In many ways, Tenchi Muyo! Ryo-ohki OVA 5 Episode 03 is an advertisement for Kajishima-sensei's series Paradise War. From what little I know, a Royal Tree was used to create the island, hence why we see Washu and Miki head there during one montage. I believe that because of how Tenchi handles pirate ships without breaking a sweat, each of the major pirate guilds agreed to send a representative to Banjo Island on Earth. There, they can "duke it out" as it were.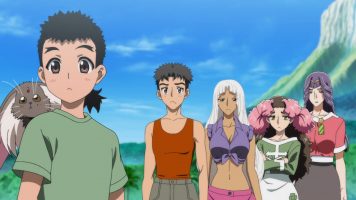 Jurai also sent one, though we don't know which house Palty belongs to. The fact that her last name is Jurai suggests she has a Royal Tree partner. Shou, who's human and the only male participant on the island, arrived there by a mistake, similar to how Seina ended up in GXP. Miron is the island's doctor, but she's also a teacher for the kids on the island. She's also the official Earth observer. And Seina, as Minamida, is also on the island with his cabbits Fuku, Miki, Kirche, and "D" as observers for the Galactic Alliance.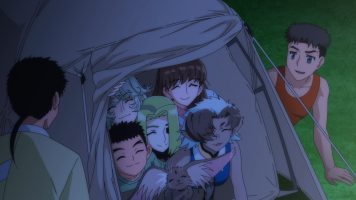 I don't understand why Crunchyroll decided to call Banjo Island "Tabletop Island". I'm trying to find that out now, but it makes no sense to me. After all, we don't translate the names of other islands on Earth to English, do we?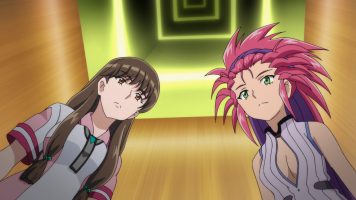 Heavy Ties to Other Series
The biggest weakness of Tenchi Muyo! Ryo-ohki OVA 5 Episode 03 is its heavy ties to other series in the Kajishima Universe, specifically Paradise War in this case. War on Geminar is also tied to as the episode lightly shows Kenshi being trained for his eventual mission to Geminar. After OVA 5 completes, I plan to go back and rewatch War on Geminar to see how things fit together.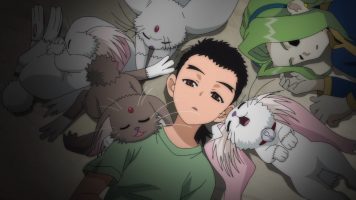 That aside, we in the West who can't read Japanese are screwed as we have no context to the Paradise War discussions. And it is doubtful that Seven Seas will touch the series, which is currently on hiatus. (Buy the True Tenchi Muyo! novels and send a message to Seven Seas!) For Japanese fans of Kajishima-sensei, this crossover stuff is awesome. They get to see Paradise War characters show up and be given voice and animation. And more casual Japanese fans are now encouraged to go buy the three Paradise War novels and get that aspect of the story.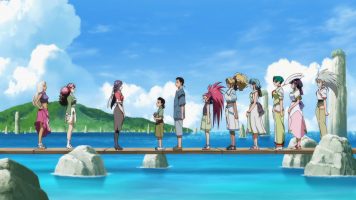 Still, it is a shame that we in the West are left in the cold with OVA 5 (and OVA 4 as well). I know AIC's only money maker is the Tenchi franchise, so they only have limited budgets to do stuff. Plus, I've long believed that Kajishima-sensei isn't a big fan of recovering old ground he's done elsewhere, sans doujinshi works.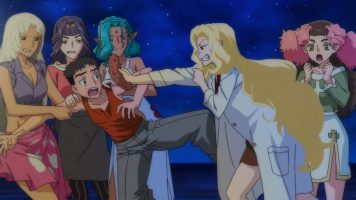 A Lovely Episode Ending
I don't think folks will disagree, but the best part of Tenchi Muyo! Ryo-ohki OVA 5 Episode 03 was the final segment. When Tenchi saw Ryoko alone on the beach at night, I thought, "PLEASE let them have a conversation that isn't rooted in GXP, War on Geminar, or Paradise War!" And thankfully, my wish came true.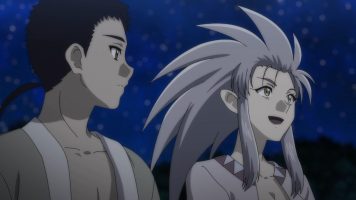 Back in the day, before I accepted the truth of a harem ending for TM!R, I was a Tenchi x Ryoko shipper. On a personal level, Ryoko isn't my kind of girl. But within story, I love Ryoko and thought that if Tenchi picked a single girl, Ryoko was the best match for him.I think in part, it is because he's the most casual with Ryoko. After all, he addresses all the other girls in his harem with either "-chan" (Ryo-Ohki, Washu and Sasami), or "-san" (Noike, Aeka, Mihoshi). But for Ryoko, its just her name sans an honorific, signalling a closer relationship.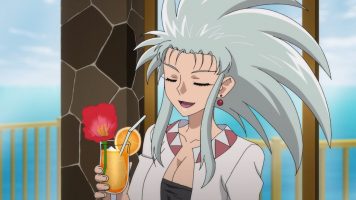 As such, I loved hearing Ryoko and Tenchi talk about the stars and such on the beach. And this moment allowed us to see how far Ryoko has come from those early days. She may have been sealed away for over 700 years, but she understands that her life as it is now is a good thing that came about from that imprisonment. And that even includes living with Aeka.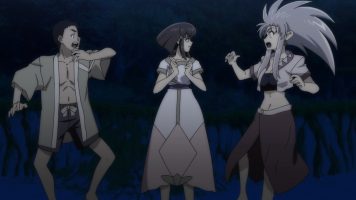 The ending of the episode all but confirms a harem ending. While Tenchi asking if he can make a selfish wish was nice, I wish we'd actually heard him say what we know he's going to say. And based on how Kajishima-sensei does things, I suspect that we won't hear the question. It will just be Tenchi with his harem where some of the girls are pregnant or have given birth (Aeka and Ryoko getting that ball rolling).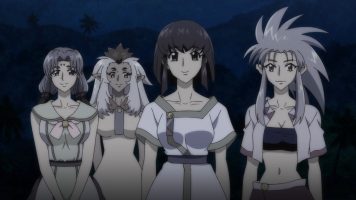 Final Thoughts and Conclusion
It is already 2am as I write this, so I desperately need to wrap up my review for posting today with some final thoughts.
This may seem weird, but I'm glad OVA 5 has the characters in different outfits. I think this series may rival OVA 2 in terms of making the characters seem like their outfits are actual clothing rather than costumes.
It is a shame that AIC is so poor. You can really tell at times that they didn't have a high budget for this episode. It isn't hideously bad like some series, but you can tell.
Outside of the Banjo Island rename, Cruchyroll's subtitles are ANB-approved and continue to make full usage of Japanese honorifics.
I wonder why D didn't revert to cabbit form, unlike Fuku and the others.
I loved how the episode gave a nod to the Aeka and Ryoko fights without doing them. Both characters have grown beyond that and it is lovely to see.
When it came time for Tenchi to face the Borg, they didn't stand a chance. 🤣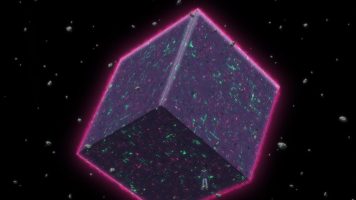 In the end, Tenchi Muyo! Ryo-ohki OVA 5 Episode 03 still has a lot of high hurdles to cross for us Western fans who cannot read the Paradise War novels. However, the final few minutes of the episode are pure Tenchi goodness, making this the best episode of the lot so far.