ユーキューホルダー! 魔法先生 ネギま!2 Manga Review
UQ Holder! Mahou Sensei Negima 2
UQ Holder!: Magister Negi Magi! 2 Chapter 183
UQ Holder Chapter 183
SPOILER Summary/Synopsis: 
Eva finds herself back in Mahora in 2004 with her 3-A classmates. As they chat, Konoka realizes Eva must have loved a lot of people in  the past. Eva lies and admits to this even though Nagi and Touta were her only loves. This brings the rest of the class around to try to learn more. The girls are unable to defeat Eva in a tickling match, so they opt for a karaoke session
They rent a large room large enough to handle them all where anyone not scoring 90 or above has to speak of their first love. Of note, we learn Sayo-chan's first love was the current headmaster, and Mana's first love died in front of her when she was young. Eva scores 100, meaning her secret is safe.
The following morning, Eva heads out to catch the sunrise. Negi gives her a canned coffee, then asks her what she thinks of Fate's plan to make everyone immortal. As they talk, a new female teacher named Yoda-sensei shows up. She goes to shake Eva's hand, but Asuna stops it. She's joined by Setsuna, Konoka, Nodoka, Yue, and Chisame. Eva realizes where they are in reality.
Ialda is annoyed that Eva has survived so many decades thanks to her classmates. The girls plus Negi encourage Eva to hang tough. Outside of this phantasmagoria, Yukihime-Ialda receives word that Karin has been rescued. To her, this signals the final battle is at hand.
Thoughts/Review:
Work has me insanely behind again, but I've finally read UQ Holder Chapter 183. And it didn't go where I thought it would.
More Negima! Love
Since the previous two chapters had dealt with Touta hooking up with Kuroumaru and Karin, I think most of us were expecting UQ Holder Chapter 183 to be centered around Touta and Kirie. But instead, Akamatsu-sensei throws us a Negima! flashback story to explain how Eva, as Yukihime, has survived these many decades while possessed by the Mage of the Beginning.
While we've had other Negima! flashback chapters, for some reason, this one hit me harder than the others. I think part of the reason it had more impact on me was Akamatsu-sensei's own acknowledgement of stories teased in Negima! but never done. One such story was Sayoko's tale. UQ Holder may have told a version of what Akamatsu-sensei planed with Santa's story. But in this current chapter, we did learn that Sayo-chan's first love was the 2004 headmaster.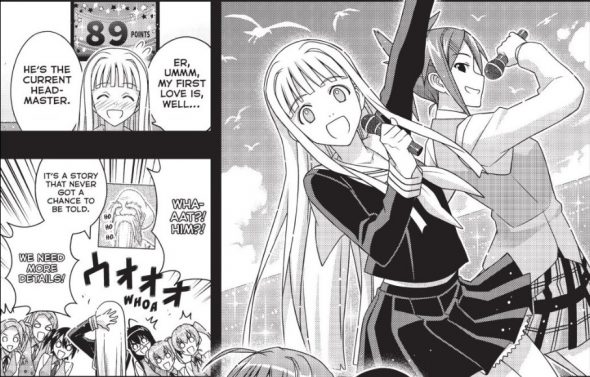 Further, we got another mention from Mana about her first love dying in front of her when she was nine. We had a tease of this in Negima! but the story never was told.
When UQ Holder finishes, I think Akamatsu-sensei should do a "Tales of Negima" series and flesh out these and other stories that were not touched in Negima!
The End is Nigh?
The way UQ Holder Chapter 183 ended, I suspect the manga ends this year some time. After all, we were given five pages of advertisement for the ultimate clash between UQ Holder and Yukihime-Ialda's forces.
That said, having seen Mana in the flashback, I do hope she shows up for whatever final battle is at hand. Likewise, Zazie. Both should still be alive, thanks to their mazoku blood.
Final Thoughts and Conclusion
In the end, UQ Holder Chapter 183 was a nice tribute chapter to Negima, allowing us another look at most of the old cast. (I don't think Zazie showed up.) It really made me miss the old manga series and lament what might have been. But I suppose there's nothing to do but gear up for the end of UQ Holder.