Tenchi Muyo! Ryo-ohki OVA 5 Review
天地無用! 魎皇鬼 OVA 5 Review

Ever since I watched Tenchi Muyo! Ryo-ohki OVA 1 and OVA 2 (labeled by then Pioneer for Western audiences as Tenchi Muyo!), I have been a huge fan of the franchise, though primarily the canon side of it. When OVA 3 released, I never thought we'd get more of the main story. But then AIC released OVA 4, which was short and required DEEP lore knowledge that could only come from being a Japanese fan.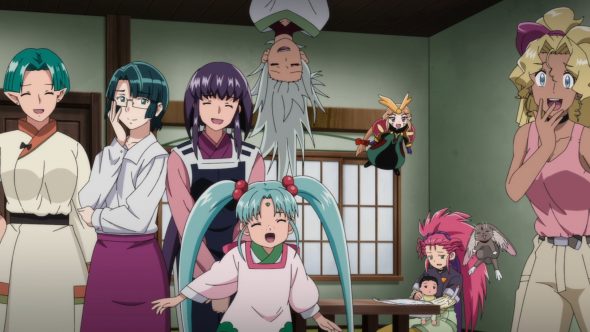 Nevertheless, OVA 4 was a big success in Japan. And although AIC didn't have much money, they did go ahead and green light the creation of Tenchi Muyo! Ryo-ohki OVA 5. And while OVA 5 doesn't have as high of an entry bar as OVA 4 had, it still has a fairly high bar for Western fans.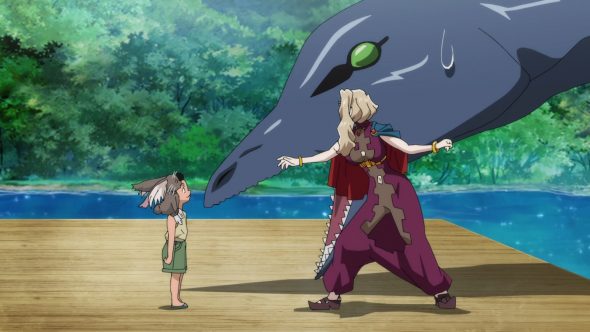 * * * S P O I L E R S ! * * *
The Story, in Brief
The story of Tenchi Muyo! Ryo-ohki OVA 5 begins after the birth of Rea and Nobuyuki's son, Kenshi, Tenchi's half-brother. Tennyo is working on the research her mother Kiyone had done regarding Rea and Geminar. Seina is given permission to build a home for his harem on the Masaki shrine grounds, near Tenchi's residence.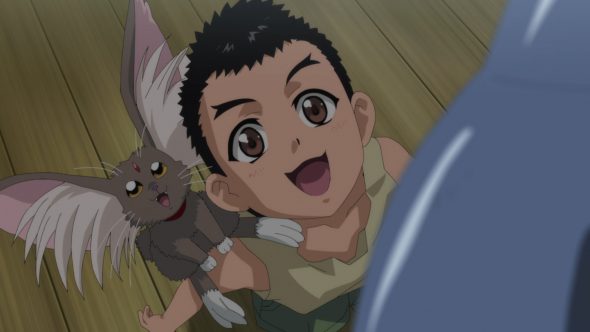 Meanwhile, Seina and his cabbits Fuka, Miki, Kirche, and D set up the development of Banjo Island, a neutral site on Earth were the reps from Earth, Jurai, and the various pirate guilds will settle who will lead a new federation of pirate guilds as a proper nation. Tenchi prevents rogue pirates armadas from interfering.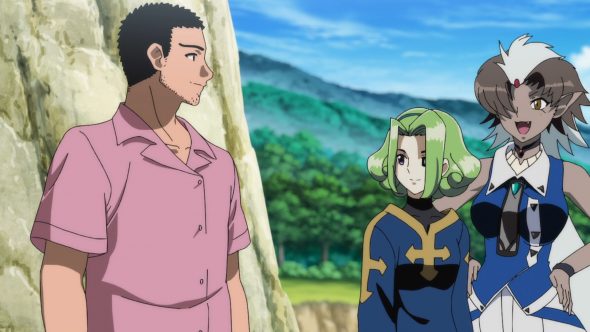 Some years later, Kenshi, who has been training to be sent to Geminar, is sent to Banjo Island to train with the faction leaders. Tenchi and harem go to observe and take a vacation. While there, Tenchi proposes to his harem on the beach and they accept.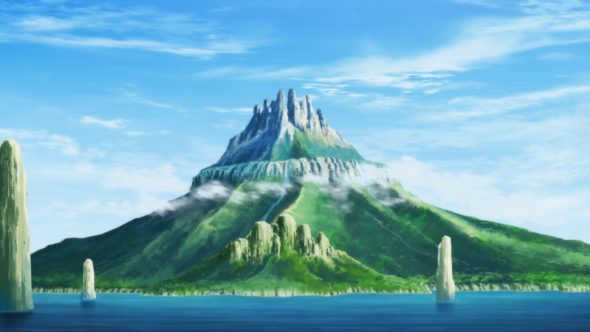 Kenshi's training continues, causing members of the Juraian royal family to test him on Earth. And while there, these very powerful Juraians, Seina and his harem, as well as Mihoshi's family, have a ceremony to unofficially accept Tenchi's engagement/marriage to his harem. As such, Ryoko and Aeka become pregnant and bear Tenchi daughters.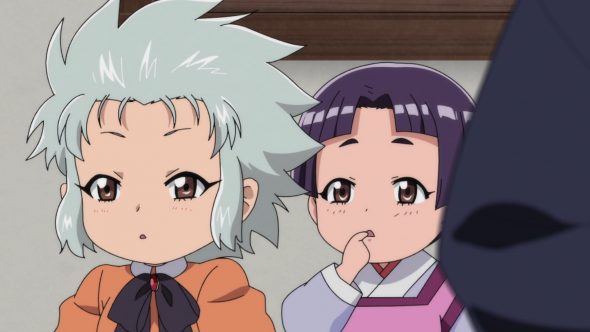 Meanwhile, Kenshi's training concludes and a big party is held. Afterward, Kenshi is sent to Geminar while he sleeps. With this, Rea's bonds are cut and she breaks down over having sent Kenshi away. However, Tokimi has arranged for everyone to observe Kenshi.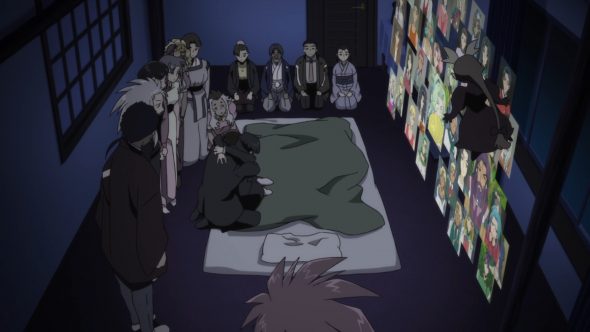 War on Geminar
While Tenchi Muyo! Ryo-ohki OVA 4 certainly demanded one have some familiarity with War on Geminar, Tenchi Muyo! Ryo-ohki OVA 5 basically acts as a prequel to War on Geminar. The majority of the series is dedicated to showing Kenshi training so that he's prepared for whatever awaits him on Geminar. While War on Geminar did state that Kenshi had been trained, OVA 5 shows it in great detail. No Mary Sue issues for Kenshi. 😅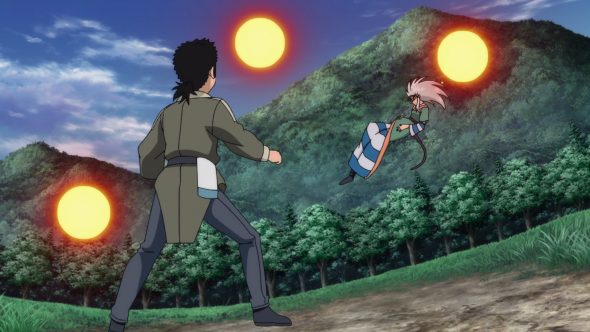 Another thing OVA 5 touches on is Rea's seeming laid back attitude when it came to the thought of sending her son to Geminar. Some fans reached out to me for my thoughts on this. However, Rea had almost mystic binds upon her, compelling her to do this. We see those bonds break in the final episode once she's fulfilled her compelled orders. And at that time, she weeps over what has happened with Kenshi.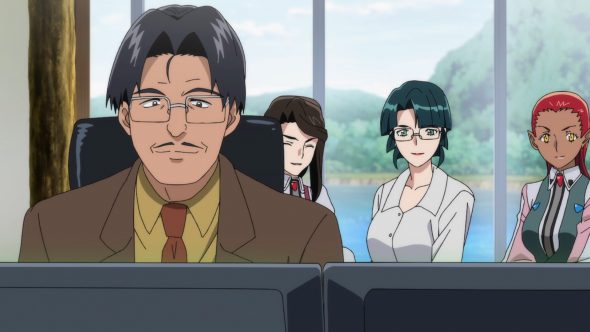 I will say that OVA 5 has really made me want to rewatch War on Geminar.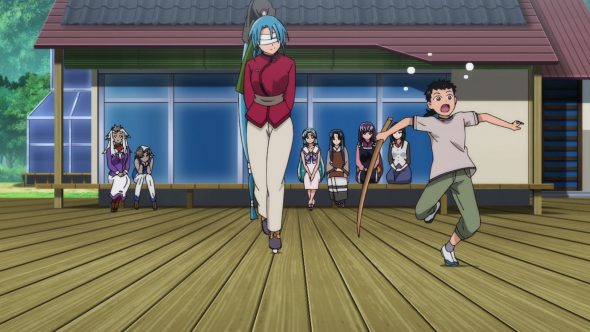 Paradise War
Kajishima-sensei decided to use Tenchi Muyo! Ryo-ohki OVA 5 to introduce the main cast of his Paradise War novels into anime form. As such, we get some brief information on why Seina was assigned to Banjo Island and the purpose of the island. And the girls representing the pirate guilds and Jurai are great training partners for Kenshi.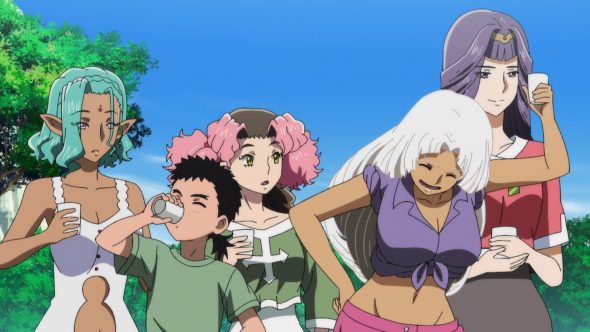 Further, Kajishima-sensei uses this shows why the Tenchi story can no longer feature him as an action hero. He's the most powerful entity in the 3rd dimension. So whole pirate armadas are effortlessly dispatched by Tenchi as he protects Earth. And these pirates are the reason for Banjo Island's existence.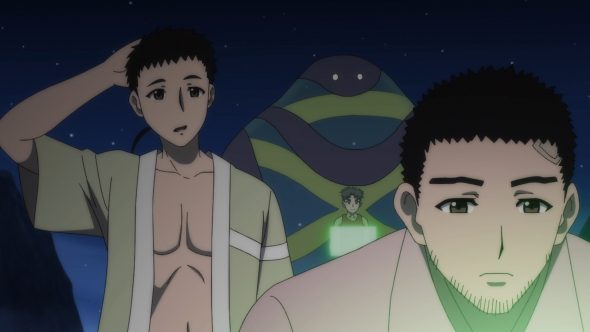 I'd love to see Paradise War novels adapted as a proper anime series. Now that AIC and Toei are partners, maybe that could happen.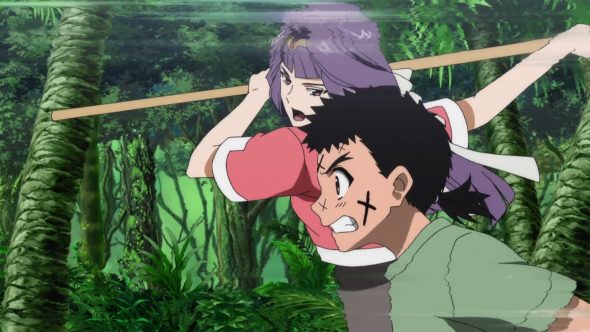 GXP
Speaking of Seina, Tenchi Muyo! Ryo-ohki OVA 5 brings in the crew from GXP. As with OVA 4, one needs knowledge of the GXP novels to fully understand some of the stuff Seina's harem discuss. Seina's core crew don't get as much screen time as Shou's harem (Paradise War). And when it comes to training Kenshi, the core girls do play a role, but not a great role.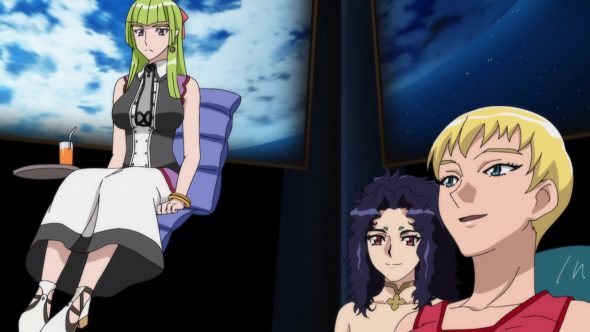 Still, with the advancement of time that takes place in OVA 5, we get to see Seina and his harem starting to have children. And they expand their home on the Masaki grounds as Tenchi's neighbors. And it makes sense that two large, space harem families would live as neighbors.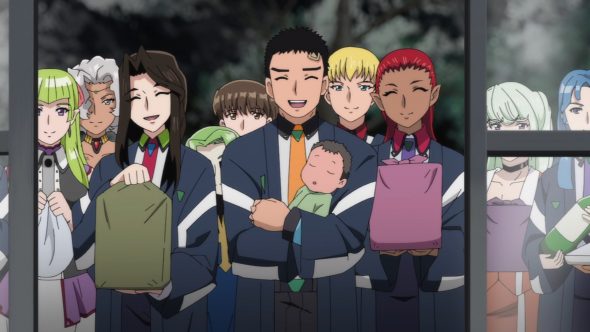 While we have had a GXP anime, I would love to get a PROPER GXP anime remake, this time basing things of of the light novels.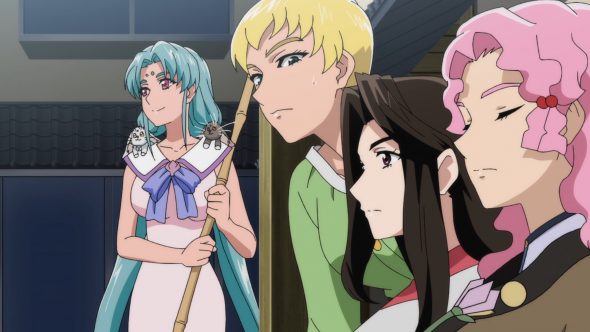 Dual! Parallel Trouble Adventures
Kajishima-sensei has stated that all of his creations were linked at the corner. As such, when Zinv from Dual! Parallel Trouble Adventures showed up in Tenchi Muyo! GXP, the thought was that this giant mecha had simply crossed dimensions from the world of Dual! to the Tenchi Muyo! Ryo-ohki world, of which GXP is a major part of. But, that turned out not to be the case.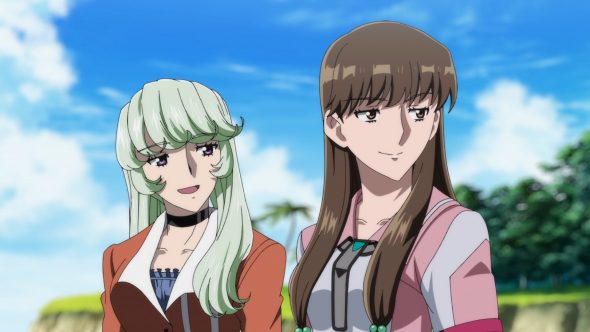 Unfortunately, Tenchi Muyo! Ryo-ohki OVA 5 doesn't take the time to really explain that the characters and situations depicted in Dual! Parallel Trouble Adventures are in fact set in the world of Tenchi Muyo! Ryo-ohki, howbeit from millions of years ago. They are the ancient, "precursor" race that Kajishima-sensei has long talked about.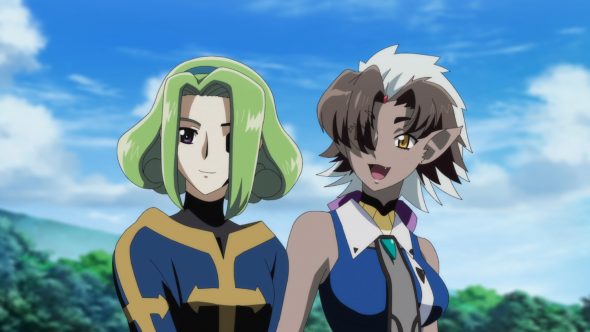 Because there's no explanation in the anime (there is one in the GXP novels), non-Japanese fans are going to be confused as to why D, SANADA Mitsuki (as Miki Steinbeck), and RARA Mitsuki (with a slightly different character design as Kirche) from Dual! are in OVA 5. And folks may be confused as to why the cabbit clones of Fuku have taken on their appearances.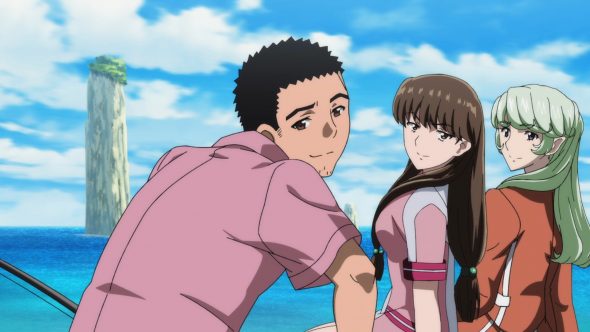 Still, I did get a kick out of seeing these girls again. And Zinv makes a cameo appearance, which was pretty cool. It made me kinda want to rewatch Dual! now that I know its full connection to the history of the Tenchi Muyo! Ryo-ohki universe Kajishima-sensei has created.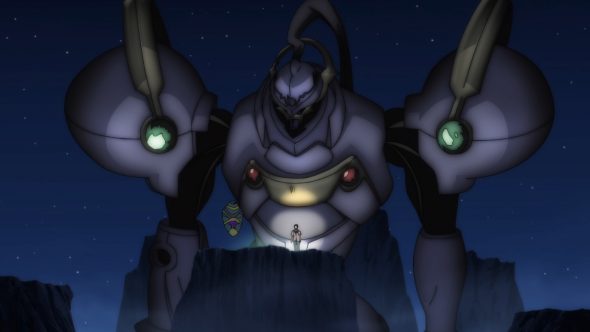 -If- Brought to Life
When Kajishima-sensei isn't bringing in his other, major creations and tying them to Tenchi Muyo! Ryo-ohki OVA 5, he actually does take some time to bring story elements from his -If- doujin series and animate them. Sadly, it isn't the more in depth story I wanted, focusing on Tenchi and his harem having their life together. But we did get some neat moments, starting when Tenchi apparently "connected" with all of the girls on the beach.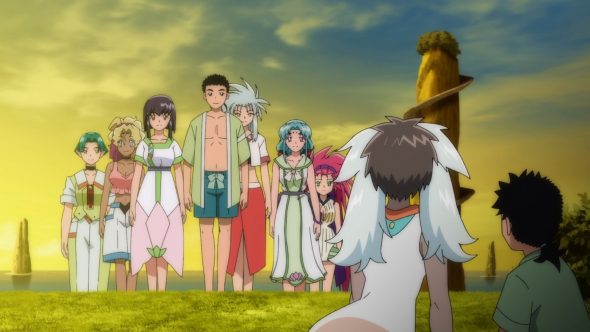 I have to say that I rejoiced when Sasami was finally allowed to grow up. I was kinda annoyed at the start of OVA 5 when Sasami actually appeared YOUNGER than she'd ever appeared. However, by episode 2, Sasami was a proper teenager and by the end of the series, she's an adult. I guess everyone was reluctant to let a loli character go, but it was long past time. And, we got to see her in a moment where she's her mom's daughter (Misaki).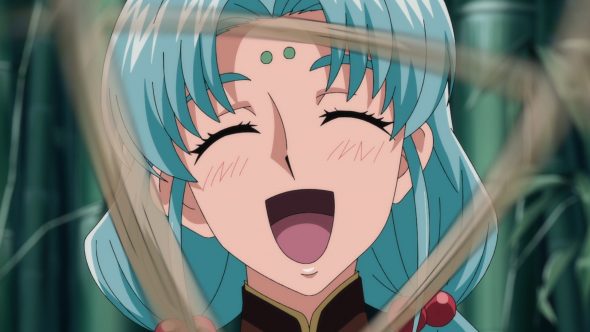 While I was happy to see Tenchi finally get (unofficially) married to his entire harem, I was a bit bothered by Ryo-ohki. It wasn't that she's a furry (or a computer unit). That aspect was already hinted at in Spaceship Agga Ruter. Rather it was the fact that Ryo-ohki does not speak. Fuku and the other cabbits in Seina's harem all speak. But Ryo-ohki just does her trademark noises, and that makes things feel wrong to me.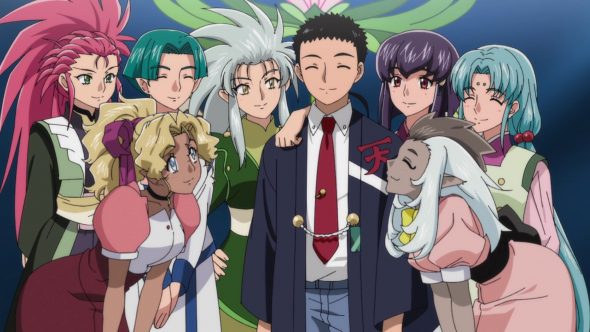 Ryoko is Best Girl
One thing that amused me in Tenchi Muyo! Ryo-ohki OVA 5 is that Kajishima-sensei still seems to favor Ryoko. Back in the day, I wrote an article on why I thought Ryoko was the best girl for Tenchi. She's the only girl Tenchi doesn't address with an honorific. She's the only one who doesn't address him with an honorific. And Tenchi always felt the most comfortable with Ryoko, even to the point of expressing his anger at her at times.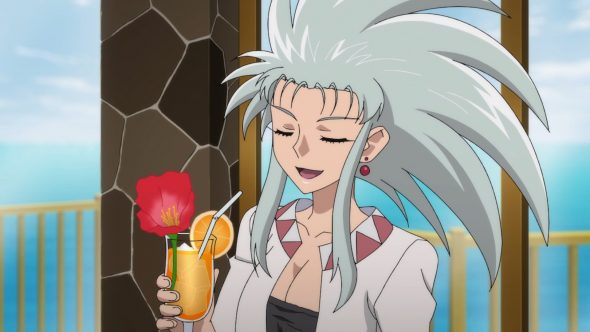 In episode 3, Kajishima-sensei had Ryoko and Tenchi have a chat on the beach at night. And it was a lovely moment before the rest of the harem showed up. Then after Tenchi has a night with his harem, Ryoko is there at his side. At the unofficial engagement/wedding ceremony, Ryoko is again at his side (with Aeka on the other).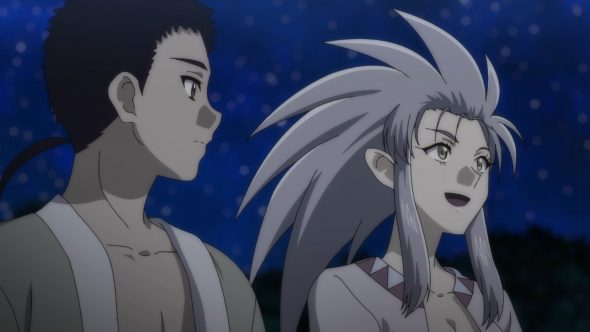 When Tenchi's harem, plus his dad and step-mom, are eating dinner, Ryoko sits with Tenchi at what appears to be the head of the table.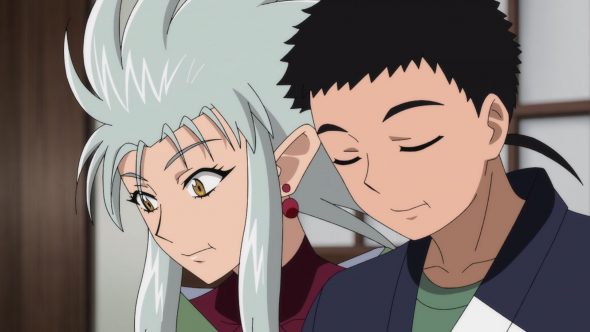 The icing on the cake could be that Ryoko was the first to get pregnant and thus the first to give birth. So yeah, I think Kajishima-sensei favors Ryoko. And while she's not my personal type, I do say she's best girl for Tenchi. 😜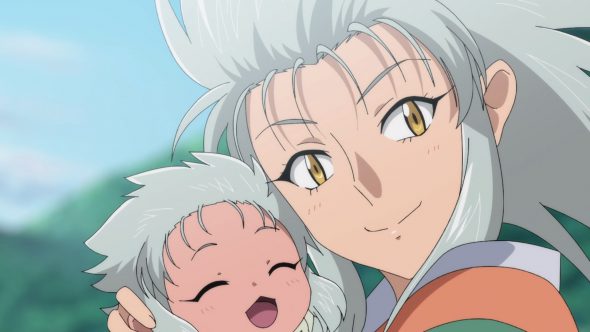 AIC Lack of Budget
As some of you may already know, AIC is not the powerhouse animation studio it once was. In fact, recently, Toei bought a major stake in AIC, which may help them in the future. But at the time of Tenchi Muyo! Ryo-ohki OVA 5, AIC was still flying solo. Sadly, the lack of a decent budget comes through at times in the series.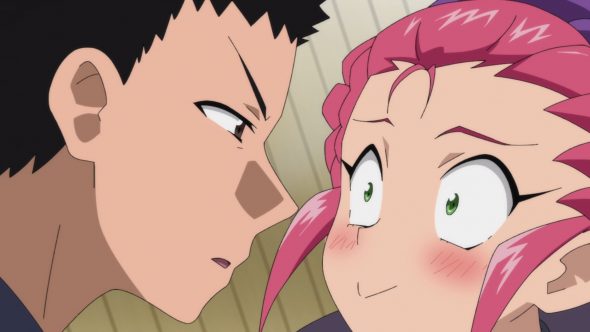 Episode 1 really exemplifies this. AIC tries to save a lot of money by limiting the amount of animation needed. But at times, some of the artwork looked pretty bad to me. And this was a somewhat reoccuring thing that happened throughout the series. Should there be an OVA 6, I hope AIC has a bigger budget for things.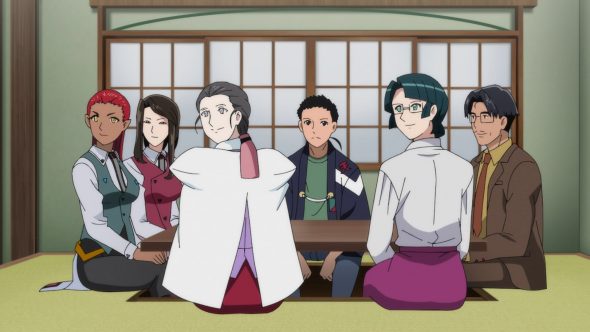 Final Thoughts and Conclusion
In the end, Tenchi Muyo! Ryo-ohki OVA 5 doesn't have as high an entry bar as OVA 4, but casual Western fans will be confused about a great many things. However,  for a more hardcore fan like myself, I loved seeing Tenchi and his harem become the family Tenchi has always longed for. Further, it was nice seeing the GXP, War on Geminar, Paradise War, and Dual! elements in the story. Now I need to rewatch War on Geminar and Dual!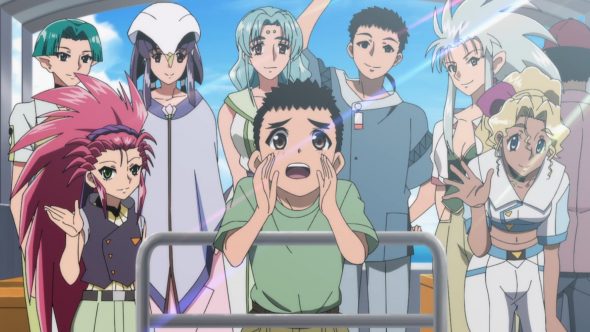 One final thing…the Crunchyroll subtitles were pretty good. They made full use of the Japanese honorifics, which you all know I highly approve of!
Personal Ad: If you want to see me yammering about games, check out my YouTube channel: https://www.youtube.com/c/AstroNerdBoy/