Miss Shachiku and the Little Baby Ghost 02
社畜さんは幼女幽霊に癒されたい 02
Shachiku-san wa Yо̄jo Yuurei ni Iyasaretai Episode 02
Shachiku-san Wants to be Healed by a Little Girl Ghost
SPOILER Summary/Synopsis:
Fushihara's coworker checks on Fushihara before leaving. That night, Fushihara's illness is getting to her. As such, she goes to have a lie down, but sleeps longer than she wanted. When she wakes, a tape player is playing a message from Yuurei-chan for her to go home. Yuurei-chan is asleep at Fushihara's feet. She wakes and is distressed when Fushihara won't go home. However, when Yuurei-chan offers to go to Fushihara's home, Fushihara decides to go home immediately.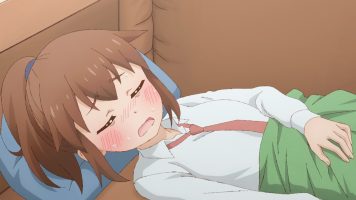 At home, Fushihara struggles to work. Yuurei-chan cleans her small apartment. Eventually, Fushihara finishes and falls asleep. Yuurei-chan finishes cleaning and makes onigiri. She recalls when she was alive (pre-war Japan) and worried about her mom overworking. Yuurei-chan finds that Fushihara's scent is similar to her mom's, though Fushihara is not her mom.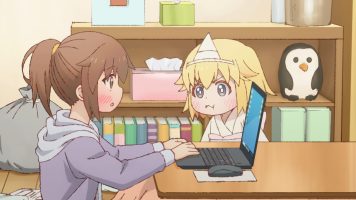 The next day, Fushihara's kohai, Shino-chan, is working late. Shino-chan admires her senpai and wants to be of assistance. Yuurei-chan notices this and does stuff to help her. Shino-chan cannot see Yuurei-chan and gets a little freaked out since there are rumors of a ghost haunting the office. When Shino-chan falls asleep at her desk, Yuurei-chan leaves her a note. Shino-chan thinks it is from Fushihara and gives her a crying hug of thanks.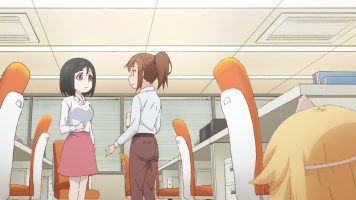 Thoughts/Review:
We get more adorable Yuurei-chan in Miss Shachiku and the Little Baby Ghost 02.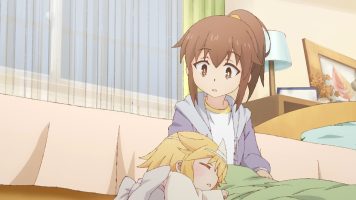 Adorable but Uneven
As will be the case for this series, Yuurei-chan is as adorable as ever in Miss Shachiku and the Little Baby Ghost 02. The episode gives us some backstory for Yuurei-chan, explaining why she's so keen on Fushihara. While the episode (and source manga) have Yuurei-chan state that Fushihara isn't her "Kaka-sama", I think it is possible that Fushihara is Yuurei-chan's reincarnated mother. But we'll see.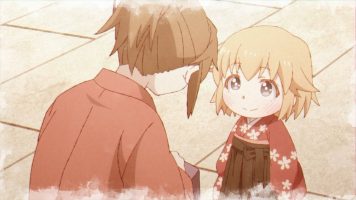 I loved that Yuurei-chan went home with Fushihara. Generally speaking, Japanese ghosts usually are bound to an area. So I'm glad that the story isn't following that trope. But alas, Yuurei-chan did return to the office building. Well, it is technically her home, so I suppose that makes sense. But now that's she's become somewhat attached to Fushihara, it would make sense for Yuurei-chan to just live with Fushihara.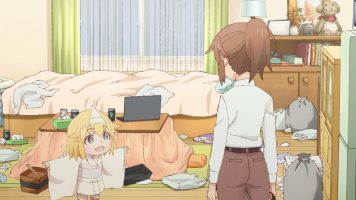 The introduction on Shino-chan didn't work for me in the episode. It didn't feel right. She cannot see Yuurei-chan. And Yuurei-chan treats Shino-chan kindly, but doesn't do the normal "Get out!" routine. That aside, Shino-chan feels like an intrusion. I mean, the PROPER English translation of the title is Shachiku-san Wants to be Healed by a Little Girl Ghost. So the story should be about Fushihara and Yuurei-chan.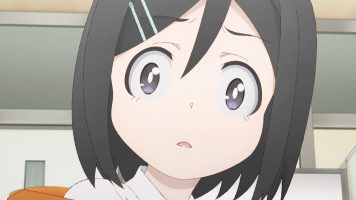 I decided to check the source manga and sure enough, Shino-chan is an addition to the anime. But whereas Fushihara's other female coworker fits in fine, Shino-chan intrudes due to her "interactions" with Yuurei-chan. It might be different if she saw the little ghost girl, but since she cannot see Yuurei-chan, it is out of place to me.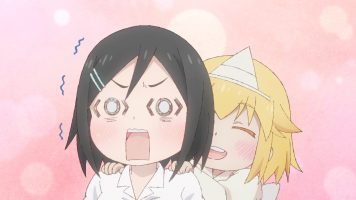 Crunchyroll
As expected, Crunchyroll isn't meeting the ANB translation/adaptation standard in Miss Shachiku and the Little Baby Ghost 02. Honorifics are trashed, sans "Senpai" for some reason. Kohai-san became "Miss Coworker". Yeah, a kohai is a coworker, but it is an underling. So we get a "lost in translation" moment.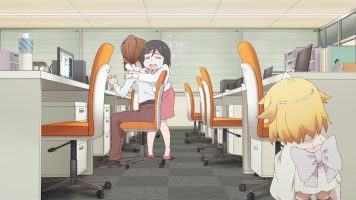 I still cringe at the "Little Baby Ghost" when it is "Little Girl Ghost". It literally makes no sense to change "girl" to "baby" when Yuurei-chan is not a bloody baby. Considering the pollution of the woke religion, my mind does wonder if this change was made 'cause "how dare you assume it is a girl, even though the Japanese have identified the ghost as a girl?"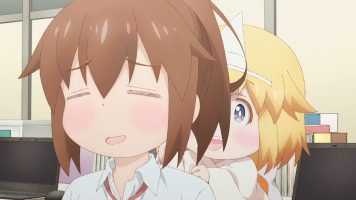 Some might say, "Well if that's the case, then why "Miss Shachiku" and "Miss Coworker"? That is a good question, considering the butch attire of Fushihara. But considering how a previous work got "Miss" put into the title because FUNimation wanted credit for having an anime with a female lead, I suspect that was the reason for the "Miss" here. But then, I'm rather jaded by the world at the moment, so you'll have to forgive my cynical thoughts.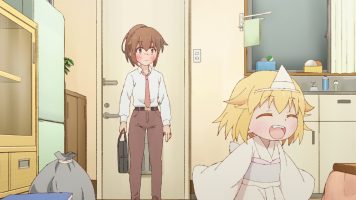 Hopefully, if the source manga ever gets licensed, it will use proper Japanese honorifics and such.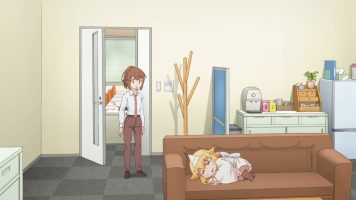 Final Thoughts and Conclusion
In the end, Miss Shachiku and the Little Baby Ghost 02 provides more heart-stopping adorableness from Yuurei-chan.