Spy×Family 02
SPOILER Summary/Synopsis
Twilight dresses informant Fanky in drag to see if he'll pass as a wife. He does not. As such, Franky provides Twilight with a ton of papers on single women. Elsewhere, office lady Yor deals with some very petty, female coworkers who invite her to a party. Party organizer, Camilla, insists she bring a boyfriend. That evening, Yor gets called by her little brother, who's worried since Yor is still single at 27.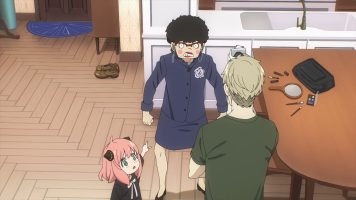 Yor gets a second call. This time it is for her real job as the assassin, Thorn Princess. She's to assassinate Vice Minister Brennan. As such, she dresses up and gets to the hotel where the minister is staying. She kills him and his bodyguards, but tears her lone, expensive dress in the process.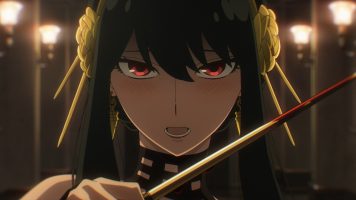 The next day, Twilight takes Anya to a tailor's shop to get fitted for some nice clothing. Yor manages to enter without Twilight noticing. He recalls her paperwork from the list of suitable women. However, he's stunned when she notices his interest in her. Anya appears, causing Yor to think she was about to ask a married man out.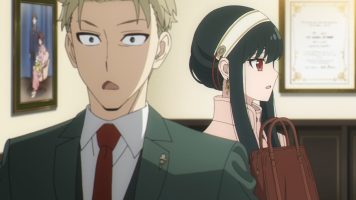 Anya uses her telepathy on Twilight and Yor to stage things so that Yor and Twilight come to an agreement. He'll be her date for the party and she'll be Anya's mother for the school interview. However, Twilight gets a mission that causes him to be very late to the party. Reading the room, Twilight makes Yor look good.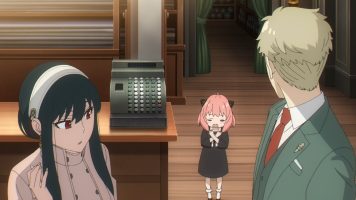 The two leave, whereupon the folks from his earlier mission attempt to kill him. Twilight is impressed with Yor's self-defensive skills. She proposes that they marry, as it will give her cover. He agrees, at it will give him cover.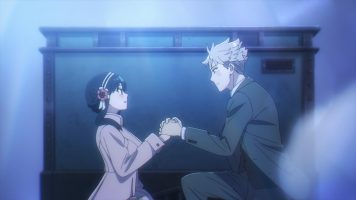 Thoughts/Review
KYAAA! Spy×Family 02 just raised the series to "really good stuff" territory for me.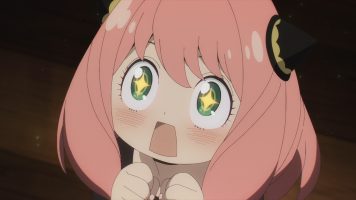 Enter the Mama-Assassin
We get introduced to the Mama character Yor in Spy×Family 02. I like that she's an assassin and not from Twilight's agency. (And it was cool that the episode provided a reason for Twilight not to use someone from his agency.) On the surface, she's kind of a typical, mousy, female character. And for some reason, she's the target of petty, jealous, female coworkers. That part didn't make sense to me beyond having a trope.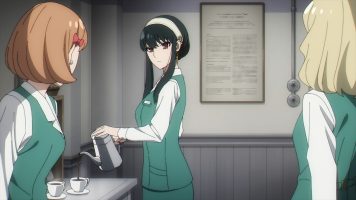 Based on the previews, I knew Yor'd be the Mama character in the series. Sure, it is coincidence that Yor came to the same tailor shop at Twilight. However, I loved how Anya read both of their minds during their encounter and made sure the two got together. Anya's my favorite daughter character now. 😍 She's just such awesomeness.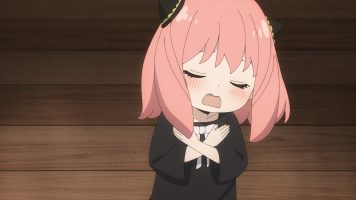 That aside, Yor being an assassin means she's a good fit for Twilight. We caught a glimpse of that in the episode. There's no doubt Twilight is good at killing, but Yor is a master of killing. Who better to what a spy's back than an assassin? I really hope the two find out about each other and come to work together on missions. I do wonder if their agencies will put them at odds before the series is over.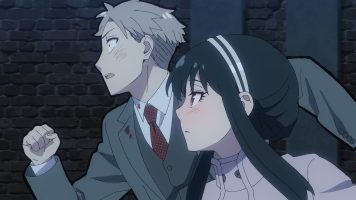 Finally, I call BS on Yor sending grown men through closed doors. And I also call BS on her kicking some grown man down an ally. But that later scene was pretty humorous. And the writers needed a quick way for Twilight to respect Yor and push forward with the plan. So I'll let it slide.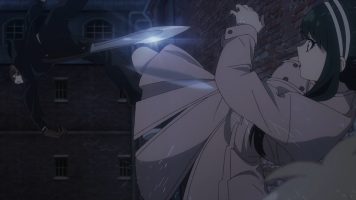 Final Thoughts and Conclusion
In the end, Spy×Family 02 was a very fun, very enjoyable, and even a bit humorous episode. We get introduced to our final main character, Yor. And I look forward to seeing Anya manipulate things to make the three of them a real family.