Keroro Gunsou Episode 121
ケロロ軍曹/Sgt. Frog Anime Review
SPOILER Summary/Synopsis:
Viper, now a cyborg, returns to Earth to get revenge on Dororo. At Dororo's remote hut in a bamboo forest, Viper is unable to find him. About that time, Dororo's "fiancee" Karara and her friend Chiroro arrive to show off their ninja training. Viper is able to disguise himself as Dororo. Do his chagrin, Viper discovers that the girl's ninja routine is actually dumb puns and slapstick humor.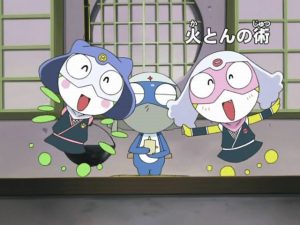 Viper drops his disguise, but the Keronian girls assume it is Dororo in disguise and lead him on a merry chase. Koyuki sees this and rushes to Dororo's abode, where she meets up with him for a briefing. Dororo briefs Keroro and the platoon, before going out to rescue the girls. Keroro decides to help, as Karara is a rich, ojousama. Karara finds Dororo, who surprises her with the truth. Elsewhere, Viper cannot elude Chiroro, who wants ninja training, and decides to turn and give her ninja homework to do.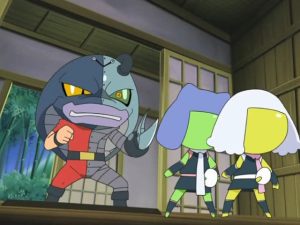 Dororo and Karara race to find Chiroro and Viper. Meanwhile, Viper is at a bar when Chiroro shows up and completes her homework for him. He concedes to help her as he thinks of his son. However, he finds the alien news broadcasting that he kidnapped Karara. As such, he disguises himself as a ramen street vendor. Keroro and company find him, so he flees. Dororo arrives with Karara, meaning no money. As such, Keroro excuses himself to go to the bathroom.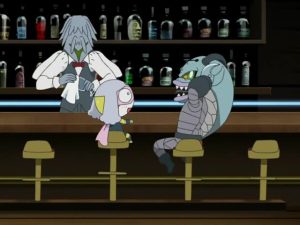 Meanwhile, a Viper shows up to kidnap Karara. Chiroro convinces the disguised, real Viper to save Karara. Real viper destroys the fake Viper, with Keroro driving it. Giroro catches the flung Karara, who pledges her love for him. Dororo apologizes to Viper. Chiroro requests Viper train her some day, and he seems to agree. Keroro is arrested for his part in this.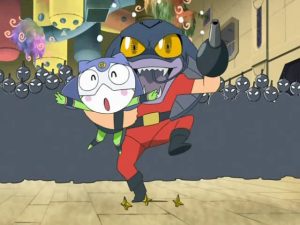 Thoughts/Review:
With Keroro Gunsou Episode 121, the series broke form and did a single story. And it worked pretty well.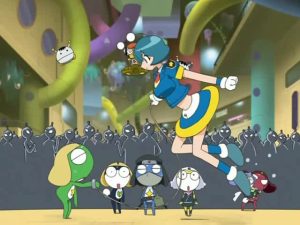 Return of Viper and More
It has been way too many years since I saw whatever episode Viper last appeared in. However, he's back for Keroro Gunsou Episode 121. Likewise, Karara makes a return. I vaguely remembered her…I think. I'm pretty sure Chiroro is a new character, and I don't see where I've previously reviewed an episode with her in it.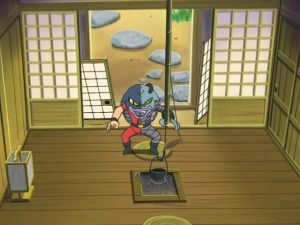 Nevertheless, Chiroro paired up with Viper worked pretty well for me. Normally, I don't laugh at the antics in Keroro Gunsou, but in this instance, I did. Viper is supposed to be a mortal enemy of Keronians. The fact that he's now a cyborg makes him more fearsome. Yet after disguising himself as Dororo, and putting up with the comedic antics of Karara and Chiroro, he's running away. The absurdity of this made me laugh.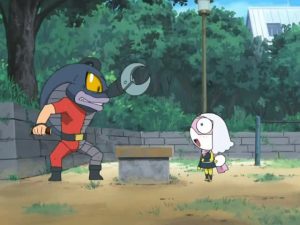 However, when he could never elude Chiroro, that struck me as funny as well. Sure, it is an old joke, but as I said, Viper and Chiroro worked well together to elicit laughs. So kudos to the writers for making that happen.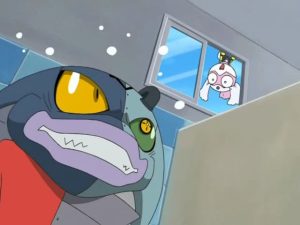 Finally, they did give Viper some additional character work, which was cliched but nice.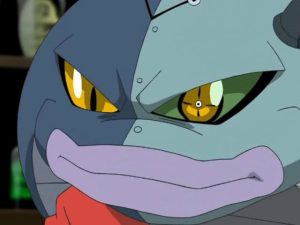 Final Thoughts and Conclusion
Let me wrap up my review of Keroro Gunsou Episode 121 with some final thoughts.
Fuyuki and Natsumi only get cameos in this episode.
Koyuki also gets a cameo. Her involvement with Dororo was natural, but then after she meets up with him about the Viper threat, she's forgotten in favor of Karara.
I'm not sure if Viper's ramen cart owner's disguise is supposed to be a stereotype of Chinese folks or not. I've seen jokes in Japan portraying Chinese with buck teeth.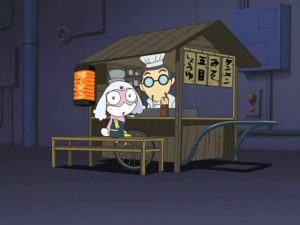 In the end, Keroro Gunsou Episode 121 was surprisingly funny and enjoyable.