Tonikaku Cawaii Chapter 187
Tonikaku Kawaii Fly Me to the Moon 187
トニカクカワイイ 187
Spoiler Summary/Synopsis:
Kaguya returns to her futon while Tsukasa considers the mask fragment. She burns the fragment and says a prayer and an apology. Nasa joins her as he noticed she wasn't there. Nasa asks about what she's burning. She responds it is a fragment of a wish she'd made long ago. She gives him some vague information, but promises to tell him everything, should he desire. He does desire this, stating he'll listen to her tale, even if it takes so long, he's an old man. She finds this to be a problem since she wants him to learn as much about her as soon as possible.
When the first goes out, the two return to the house. She wishes eternal rest for whatever mysterious people. The next morning, Tsukasa checks the ashes and sees the mask fragment is no more. Aurora and Charlotte arrive with breakfast. Aurora goes to fetch Chitose, finding her uncomfortably sleeping in the nude with a nude Kaguya next to her. Chitose wakes up and goes off on Kaguya for hugging her naked.
Hakase and Hotaru wake up and are amazed to find maids in the place. Nasa and Tsukassa are amused by all of the energetic things going on that morning.
Elsewhere, someone has the rest of the mask, which has been repaired and is only missing the piece Tsukasa burned.
Thoughts/Review:
We get more plot teasing, and a bit of comedy in Tonikaku Cawaii Chapter 187.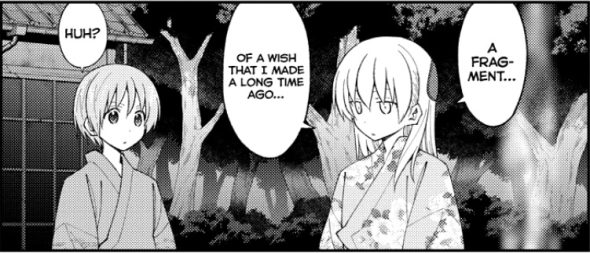 Mask Mystery
Based on the previous chapter, I'm guessing that Tsukasa once wore a mask to be some kind of crime fighter, or more likely, some avenger of crime. And I'm guessing Tsukasa regrets a lot of what she did back then. Thus, she had her negative reaction to Kaguya revealing the mask fragment. And this resulted in her burning the mask fragment in Tonikaku Cawaii Chapter 187.
So while Tsukasa puts this behind her, clearly someone else hasn't. Obviously, at some point, Tsukasa's mask was broken. Tsukasa kept a fragment in the cemetery for some reason. But someone else has the rest of the mask and has even done repair work on it. The question is, "Who is this and why do they have have the mask?"
That aside, Tsukasa mentions wanting to tell Nasa the tale. I really hope this means we get flashback chapters. I thought Hata-sensei handled the Tokiko flashback stuff quite well.
Final Thoughts and Conclusion
As always, I'm behind so let me wrap up with some final thoughts.
I guess the rest of the girls in Nasa's class are dead? It is kinda whacked that no one even mentioned them after Hakase, Hotaru, and Kaguya went their own way.
I have to admit, I laughed at the uncomfortable Chitose, naked in the futon with the naked Kaguya. This was done for comedy purposes and there's no way I actually believe they were doing the scissor-scissor. Still not sure how Kaguya talked Chitose into sleeping au naturel.
In the end, Tonikaku Cawaii Chapter 187 was an interesting chapter, hoping setting us on the road to learn more about Tsukasa's past.