Miss Shachiku and the Little Baby Ghost 08
社畜さんは幼女幽霊に癒されたい 08
Shachiku-san wa Yо̄jo Yuurei ni Iyasaretai Episode 08
Shachiku-san Wants to be Healed by a Little Girl Ghost
SPOILER Summary/Synopsis:
Fushihara meets her neighbor, KURAHASHI Satsuki, and discovers she has a young, ghost maid named Lily. Satsuki works from home, but tends to be a lazy slob. Lily gets frustrated with Satsuki. However, both do care about each other, even if they can get a bit tsundere about it. Satsuki manages to get her work done and Lily does her part to make that happen.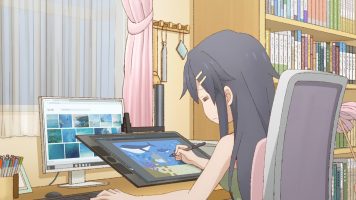 Fushihara tells Yuurei-chan and Myaako that she has a new friend for them. They don't care for Lily addressing Fushihara as "Oneesama". However, Fushihara leaves them to get acquainted. Satsuki decides to spy on the three ghosts. Lily regales Yuurei-chan and Myaako with tales of Satsuki's terrible ways. However, Lily reveals she does care greatly about her master. Yuurei-chan and Myaako have similar stories, and a similar attitude of loving Fushihara.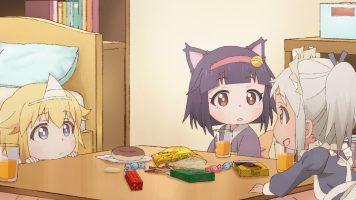 Sometime later, Lily discovers Yuurei-chan and Myaako in custom t-shirts. As such, Lily asks Satsuki for new clothes, but gets rejected. Lily pouts, so Satsuki secretly buys her a box full of new clothing. This makes Lily super happy, so much so that she sneaks out that night to relish her new clothes.
Sometime later, Satsuki wants Lily to cheer her on for work. Lily doesn't want to and refused to be enthused about it. Satsuki asks Lily for true feelings. As such, Lily goes off on how lazy and whiny Satsuki is. Satsuki is devastated, so Lily is forced to concede it was a joke. In tsundere fashion, Lily tells Satsuki the good things about Satsuki, starting with how she took in a ghost.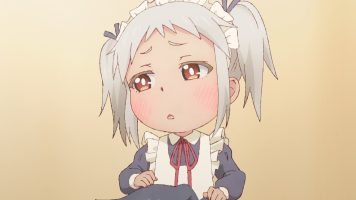 Thoughts/Review:
This series is supposed to be adorable and cute. And in that vein, I want to be left with a smile. But Miss Shachiku and the Little Baby Ghost 08 continues the trend of just making me feel sad, even though nothing bad happens.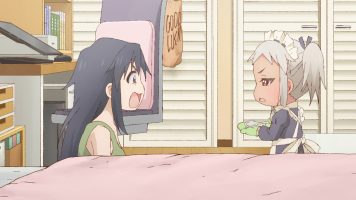 A New Ghost Girl
Lily and her master (mistress) Satsuki join the fun in Miss Shachiku and the Little Baby Ghost 08. Lily is a stereotypical young woman who works at home and thus tends to be a bit of a slob and lazy when it comes to housework. She does care a great deal about her little ghost maid, but often takes advantage of the situation.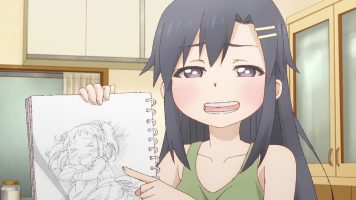 Lily is a tsundere character. She's often very strict with Satsuki, even getting angry with her. However, at the end of the day, she does care a great deal about Satsuki. After all, Satsuki took her in.
Still, I couldn't help but feel sad throughout this. Lily is a ghost, meaning she died at some point. So why is she a maid, working for Satsuki? The way the episode plays out, it really makes Satsuki seem like some terrible person. And in many ways, she is. But when push comes to shove, she does something nice for Lily, like buying her a lot of clothes.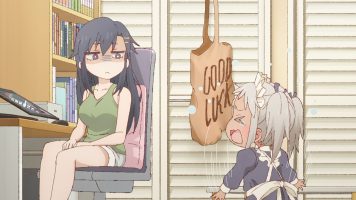 I do like how Yuurei-chan, Myaako, and Lily get along. Initially, it seemed like there might be conflict since Fushihara's wards didn't like Lily using the term "Oneesama" to address Fushihara. I suppose there's a bit of jealousy there. 😂 Still, that quickly went away. Now I want to see these three have some little adventure together.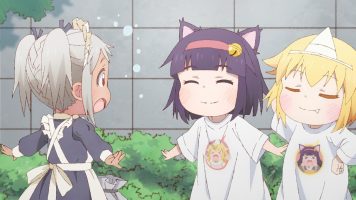 Final Thoughts and Conclusion
In the end, Miss Shachiku and the Little Baby Ghost 08 continues to have adorable, cute elements in it. However, it also has elements that make me sad, even when nothing bad is happening. And the pacing is slow, which can be fine at times, and at other times, not so much.