Lupin the 3rd: Part 1 02
ルパン三世
Lupin III Episode 02
SPOILER Summary/Synopsis
At a remote mansion hideout, Lupin fishes while Jigen practices his trick shots. When they return to the mansion, they hear Fujiko singing. Jigen is suspicious of her being there, since they found her nearby the night before, on fire. Lupin cooks breakfast, then goes to see Fujiko. A man enters the mansion and shoots flame at Jigen. Lupin rushed back down and learns the man's name is Pycal. The two quickly discover Pycal is bullet proof.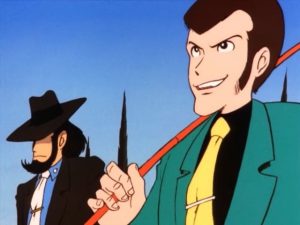 Pycal goes to Fujiko's room, where she's waiting with a submachine gun. The bullets bounce off him. He takes Fujiko, forcing Lupin and Jigen to retreat before his flames.  At his cabin hideout, Pycal wants the film Fujiko stole. She tries to seduce him, but fails. As a result, Pycal tortures her for the information.
Meanwhile, Lupin and Jigen look for clues to Pycal's whereabouts. They find the slides Fujiko stole in Lupin's car. Pycal arrives to get the slides, but Lupin opens up with a heavy machine gun. Again, Pycal proves impervious to bullets and grenades. Thus, Lupin and Jigen are forced to flee again, and are amazed that Pycal can hover.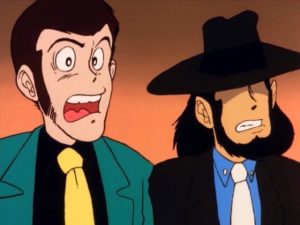 Fujiko escapes while Lupin figures out Pycal's levitation and flame tricks. When Fujiko shows up, Lupin refuses to give her what she wants. As such, she puts Pycal back onto Lupin. Jigen and Lupin make Pycal think he's killed Lupin. When Pycal returns to his cabin, Lupin is waiting with Pycal's bag of tricks. Lupin sets Pycal on fire, forcing him to go out an escape hatch, where he falls into the river below. Afterward, Fujiko tries to seduce info out of Lupin.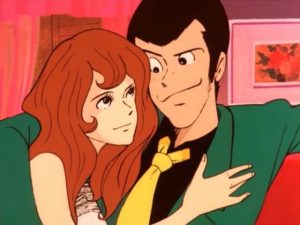 Thoughts/Review
There was a bit of weirdness in Lupin the 3rd: Part 1 02, but there was also things established here that would come up again in future series.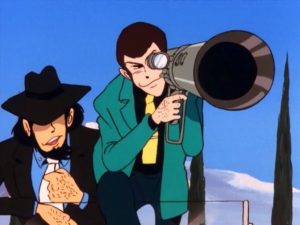 Pycal's Tricks
After setting up Pycal to apparently be a mage of some kind, the writers of Lupin the 3rd: Part 1 02 set out to explain everything. I'm not sure how you get a mini flame thrower that attaches to your finger and not have anyone notice. To me, it felt like the writers (based off a Lupin III manga chapter written by Monkey Punch) were trying too hard. But whatever, right?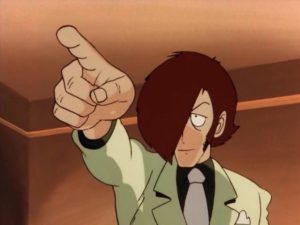 The high density glass to make folks appear to float was complete and utter rubbish. We are expected to believe that Pycal just happens to carry around some heavy, large, thick pane of glass, which he manages to quickly and quietly set up? Maybe it was set up in advance, but again, this explanation smacked of coming up with a cool, supernatural idea, then attempting to deconstruct it with reality. I just rolled my eyes.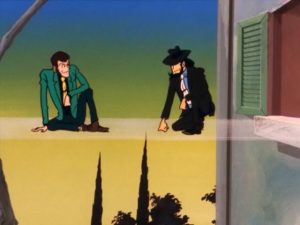 Finally, there's Pycal's substance that made him impervious to everything. He did bounce around a bit when hit with an RPG, but that's about it. In my mind, even with the substance, it would seem that the impact of a rain of bullets would still hurt like heck.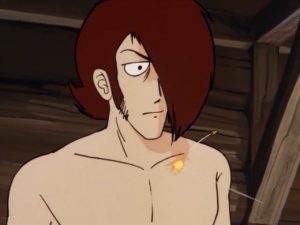 Ultimately, it would have been more interesting to me if Pycal had supernatural abilities. The franchise does go into the supernatural from time to time, but not here.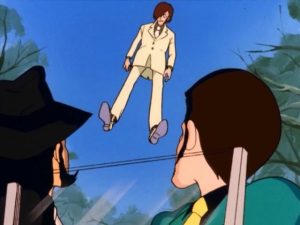 Final Thoughts and Conclusion
Let me wrap up Lupin the 3rd: Part 1 02 with some final thoughts.
No Zenigata or Goemon in this episode. I can't remember how Goemon is introduced. As such, I'll have to wait until I get there to remember.
I appreciated the moment when Fujiko tries her seduction on Pycal, then fails on the bait and switch when he's impervious to her gun.
Not sure why the episode shows a couple of gangsters emptying their weapons at Pycal while he's in bed. Not sure what purpose that served.
The mansion hideout seen in the episode is the same one used in Lupin the Third Part 6. I didn't recognize it as such, but doing some research on the episode pointed that out to me. And when compared, it is clear the places are very similar, with the more modern take giving it a few more details and obvious repairs.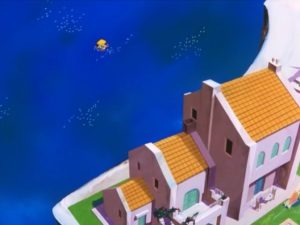 In the end, Lupin the 3rd: Part 1 02 features Lupin as a detective, not a thief. There's a certain humor about the world's greatest thief not doing any thieving. Still, the episode was interesting enough. I just wish Pycal had really been a true magician with supernatural powers.