うる星やつら episode 07 (2002)
Urusei Yatsura 07 (2022) review
SPOILER Summary/Synopsis:
At a Mendo resort, Ataru visually replaces the men with vegetables, thus allowing him to only see the girls. When Ataru spots Sakura-sensei nearby, he grabs her. As a result, she punches him so hard, he sinks to the bottom of the pool. There, he finds a small, blue youkai has set up a home. Further, the lonely youkai is happy to have a visitor and keeps Ataru down there. Meanwhile, Lum gets concerned about Ataru not coming up for air. She goes to the bottom, allowing Ataru to get to the surface.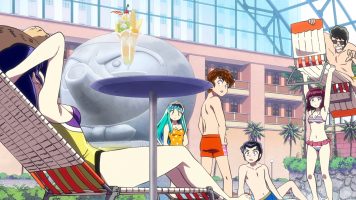 Ataru goes off on Shuutarou for having a youkai in the pool. Eventually, Ataru, Cherry, Shuutarou, and Sakura-sensei head to the bottom. Lum goes up for air, while Shuutarou attempts to evict the youkai. Saddened, the youkai gives into Shuutarou's demands and leaves with his things. Lum and Ataru return home to find the youkai has set up residence in the bathroom.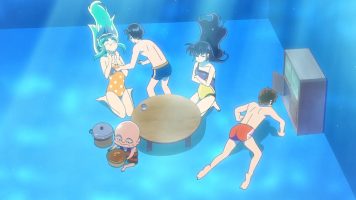 A month later, Ataru's mom hands the netted youkai to Ataru to dispose of when he and Lum go to the beach. She promises the youkai to send his belongings when he gets a new home. At the beach, Ataru and the youkai find a quiet spot. Ataru is about to leave when he spots Sakura-sensei with her fiance, Tsubame. As such, Ataru and the youkai spy on the couple. Nearby, Shuutarou, Shinobu, and Lum do the same until they are busted.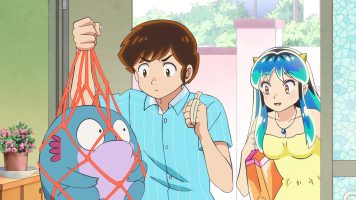 Meanwhile, a boy attempts to find a place to abandon his boxed up pet, Pochi, since his parents won't let him keep it. Ataru decides to put the youkai in a box to see if someone adopts it. After the boy abandons his box, he has second thoughts and takes Ataru's box. Thus the youkai gets a new home and the old Pochi turns out to be Cherry.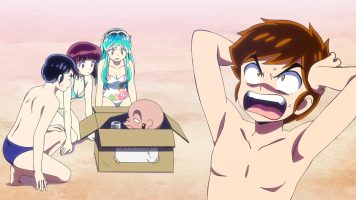 Thoughts/Review:
I'm massively behind schedule, but I finally managed to watch Urusei Yatsura 07. And I gotta say, I'm really enjoying this 2022 remake way more than I did the OG anime adaptation.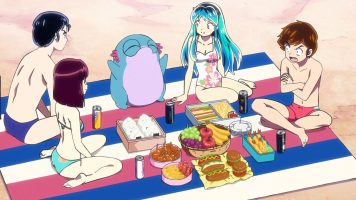 Pool Youkai
While there were two separate stories in the 2022 Urusei Yatsura 07, both were done to include the so called pool youkai in them. As before, I currently don't have access to my OG anime, but I do seem to vaguely remember this critter. One really can't help but feel sorry for the little youkai. After all, he's just lonely and wants a home. And thankfully, he gets just that in the end.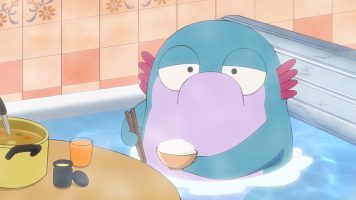 Still, as a basis for some sitcom action, the blue youkai works well. By setting up its initial home at the bottom of the pool, you get the comedic "I'm trying to be polite, but I need air" elements. Add to this folks trying to speak underwater, resulting in air bubbles in the form of hiragana. I honestly didn't expect to laugh as I did.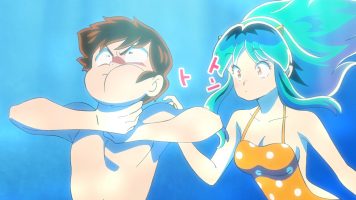 Then using the youkai as an element to spy on Sakura-sensei attempting to make out with her boyfriend was pretty humorous.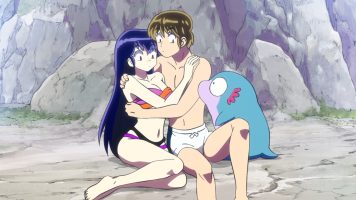 Final Thoughts and Conclusion
Let me wrap up my review of the 2022 Urusei Yatsura 07 with some final thoughts.
Recently, I got into a British, food challenge person on YouTube named Beard Meats Food. As such, seeing Sakura-sensei do the food challenge at the beach made me laugh.
I have to say, I kind of enjoyed Ataru and Lum just being together. Sure, we saw the typical moment when Ataru goes for Sakura-sensei. But he didn't fawn over Shinobu, and he didn't treat Lum badly.
While Cherry is still Cherry, so far I haven't found him as annoying as I did in the OG anime.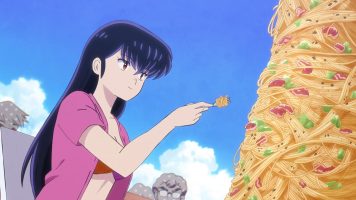 In the end, the 2022 Urusei Yatsura 07 was quite enjoyable and pretty funny at times. So far, I'm really enjoying this modern remake of the classic series.