SPY×FAMILY Volume 09 Manga Review
スパイファミリー
–> Buy SPY×FAMILY Volume 09 from Amazon.com!
Work keeps me insanely busy these days, so much so that I've little free time. Even when I get some free time, I often just want to be a zombie. However, when Amazon sent me a notification that SPY×FAMILY Volume 09 had been delivered, I just had to lose a bit more sleep for some awesome goodness.
* * * S P O I L E R S ! * * *
The Story, in Brief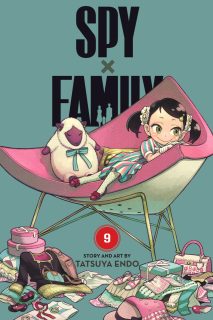 Twilight discovers there's a bomb planted on the cruise ship. Anya gives him cover to leave and do his this while she goes off to find Yor. Twilight disguises himself and takes care of the bomb. Meanwhile, Anya finds one of Yor's "stabby things" and covertly flings it to her. As a result, Yor is able to defeat her enemy. As a result, Yor and her boss are able to see Olka Gretcher, her infant son, and her bodyguard to safety.
The boss Matthew rewards Yor by allowing her a day with her adoptive family. As such, Twilight, Yor, and Anya spend the day on shore. When they return home, Anya brags about her trip. However, her classmates are dismissive of her adventures, causing her to exaggerate greatly. This leads to Anya getting mocked.
Sometime later, Twilight and Franky take Bond for special dog training. Bond's precognition allows him to do positive things that Twilight sees as negatives. However, when bond senses a little dog in trouble at a major fire and saves it, Twilight starts changing his mind about Bond. The dog further impresses Twilight by catching the arsonist.
Becky pays Anya a visit to make her move on Twilight. Anya decides to help since Becky's wealth will improve Anya's life. However, Becky finds that she cannot defeat Yor and decides to train with her.
Nightfall gets a mission and has to use Franky. Initially, Franky uses this as an opportunity to pretend to have a girlfriend. They do the mission, but Franky vows never to do another one with Nightfall.
Finally, a large, older teacher named Schlag starts handing out demerits galore. Anya saves Damian from getting one at the cost of earning one herself.
Cruise Adventure Completion
The previous manga volume was dedicated to Yor's job as an assassin, who's tasked with also providing bodyguard services. To that end, her story wraps up in SPY×FAMILY Volume 09. I like how Twilight got involved via lip reading, so he could disarm a bomb. Anya lucks out when she finds one of Yor's "stabby things" (that just makes me laugh) and manages to fling it up to her adoptive mother. Of course, there's a lot of convenience things that happen, but its fun, so I'm okay with it.
This story also pushes the family aspect forward. Yor became sentimental about saving the client's infant son. Her boss (Matthew McMahon) seems to see that Yor has a growing attachment to her fake family. I think that's why he let her have a day off to spend with Anya and Twilight. And for me, the aftermath chapter of their day on the island was the best. There were extremely funny moments, but also lovely moments. And this is where that family bond element grew a bit for all three.
I couldn't help but feel a bit sorry for Anya when she attempted to tell her adventure tale. For her, a cruise is a big deal, but for the rich kids in her class, it is nothing. And the fact Anya had to go third class on the cruise made her the target of ridicule. Even telepathy could not save Anya from flailing as she attempted to make her grand adventure seem grand to her privileged classmates.
Becky's Move
I've never been too keen with Becky's adult-like crush on Twilight. But, we get a big chapter of that in SPY×FAMILY Volume 09. Despite being a bit weird to me, I found I mostly enjoyed the chapter. Part of this had to do with Anya. Despite Becky's crush having a similar feel to Nightfall's, I laughed when Anya decided to root for Becky. I guess getting meals from a master chef if Becky becomes Anya's mom trumps all.
Yor is the other fun element of this story. Young Becky only sees her as a rival. Yor is naive and such, but despite her insane, assassin skills, she's still a very loving, caring person. Becky got to witness that first hand when she pretended to be drunk. All Yor can think about is how she jacked up and must do whatever it takes to save Becky's life. Yet when Becky confesses it was a lie, Yor doesn't get angry. That was a lovely moment.
Of course, there were plenty of laughs her, mostly due to Anya's rooting for Becky and Yor going nuts to get Becky to the hospital. Then Yor breaks the strength test machine, shocking everyone, which made me laugh. Good stuff.
Other Tales
Bond and Twilight get a nice little adventure in SPY×FAMILY Volume 09. Again, Twilight is shifting away from the practical and more into the family area when dealing with the dog.
I loved seeing Franky forced to team up with Nightfall. Initially, going undercover to an underground nightclub allowed him to pretend to have a girlfriend. Though Nightfall had to set Franky straight, the two worked well together. I liked that Endo-sensei took the time to explain why Franky works with the West. That was cool. I hope Endo-sensei puts these two together again, 'cause that would be a lot of fun.
Finally, Anya gets another demerit while saving Damian. One of the things I want to see as the manga progresses is Anya becoming more clever. I know, her fantasy on how things should go is part of the humor. But I do want her to learn from failures and overcome. That aside, I do hope there's a story for Damian to pay back Anya for saving him.
Omake
Because SPY×FAMILY Volume 09 was stuffed to the gills, there wasn't a lot of omake stuff. On the credits page, Becky complains about a lack of stuff dedicated to her, where we learn from Franky about the stuffed problem. And then there was the alternate cover with Becky and her female butler. Also, there was the usual note from Endo-sensei.
Final Thoughts and Conclusion
In the end, SPY×FAMILY Volume 09 is just a great chapter. There are lots of belly laughs (for me, at least), lovely moments, and the pick up of certain story threads. Highly entertaining and another home run for Endo-sensei.