Lupin the Third 50th Anniversary Special: Is Lupin Still Burning?
Lupin III: Is Lupin Still Burning? OVA
ルパンはまだ燃えていますか
SPOILER Summary/Synopsis:
Lupin has his car in a race, sponsored by the supposedly deceased Mr. X. As happened years earlier, Zenigata is also in the race. Fujiko decides to steal the gold statue in the vault, only to be captured and tickle-tortured by the very much alive Mr. X. To make matters worse, Mr. X is joined by the time traveling MAMOU Kyousuke. Mamou causes Lupin to disappear from the current timeline. Further, he causes Lupin go travel back in time to inhabit his body at those times. Zenigata pursues Lupin through time, apparently unaware of the time shifts.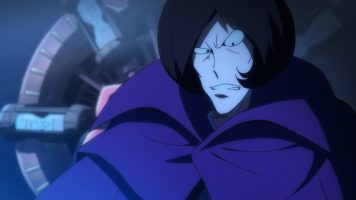 Lupin's first encounter in the original green jacket is Pycal. After dealing with him, Lupin transports in time again. Now in a red jacket, Lupin encounters Jigen, who has yet to meet Lupin. Jigen ends up getting shot in the arm by a rival. This causes present day Jigen to disappear.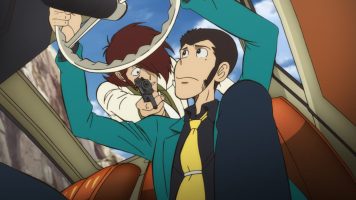 Next, Lupin transports again, back in the green jacket. He encounters Goemon, and tries to tell him the truth about his former master. Goemon rejects this and disappears from the present. Still in the green jacket, Lupin transports again and kills Fujiko's former partner, Poon. Fujiko shoots Lupin in response, causing her to disappear from the present. Lupin wakes a year later, his injury healed.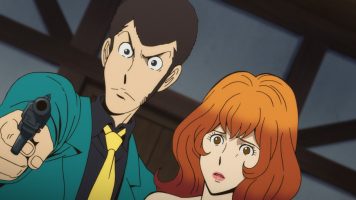 In this now blue jacket timeline, Jigen is a homeless bum. Goemon is an assassin, and Fujiko is his partner. However, when Lupin encounters them and Zenigata, they all feel a strange connection to him. Lupin manages to get one over on Mamou. As such, he causes Mamou and Mr. X to be transported back to the age of dinosaurs, where he, Jigen, and Goemon abandon them in Mamou's time machine.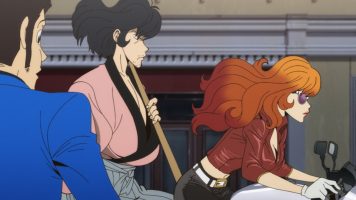 In the present, Lupin and company flee from Zenigata.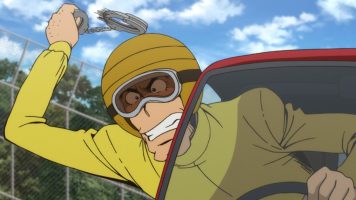 Thoughts/Review:
I had totally forgotten about Is Lupin Still Burning? OVA special that was part of the Lupin the Third Part 5 series. That probably was fortuitous, as a great deal of this episode came from the Lupin the 3rd: Part 1 series that I recently finished.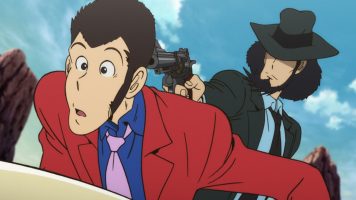 Reliving Past Adventures!
Time travel can be a tricky thing. However, I felt that Lupin III: Is Lupin Still Burning? did things in a good way. For a start, the writers had Lupin do a "Quantum Leap" thing and jump into his previous bodies at whatever point in the past. Thus Lupin could wear his red or green jacket (no pink one, I noticed) and have stuff he would have had at that time. However, his mind would be present day Lupin, so he'd have foreknowledge.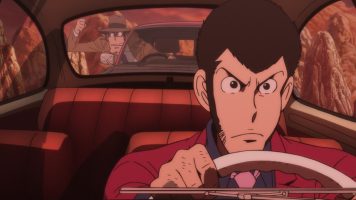 Despite this, Mamou's plan proceeded as Lupin continued to change the timeline. I liked how Lupin attempted to change things for the better to save his friends and comrades. And yet, no matter what Lupin did, he ended up making things worse. Jigen turning into a bum was pretty shocking, but I believed it. Likewise, I could see how the assassin Goemon would continue to have a relationship with Fujiko, had he not come to terms with Lupin in the first TV series.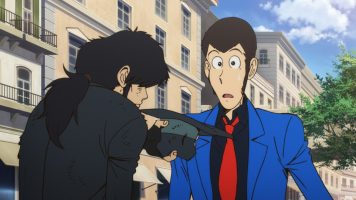 Initially, Zenigata seemed like a waste, blindly going through time pursuing Lupin. However, in the new timeline, I rather liked the notion that his passion pursuit was Goemon. He didn't even know Lupin, even though like Lupin's former partners of that timeline, he felt a connection to Lupin.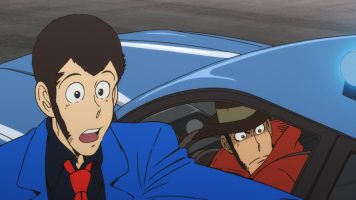 In all honesty, I enjoyed this OVA WAY more than I enjoyed the Lupin III Part 1 episodes it referenced. The stuff it referenced from Lupin III Part II and other stuff can be found here.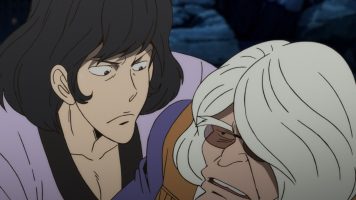 Final Thoughts and Conclusion
Let me wrap up my review of Lupin the Third 50th Anniversary Special: Is Lupin Still Burning? with some final thoughts.
I half expected Fujiko to be stripped in this OVA. After all, Mr. X is quite the pervert. But, the production team tried to replicate what happened in the first Lupin III TV episode, and that worked.
I'm giving the OVA a pass on how Mr. X is still alive. I'm told that this isn't the first time he's come back from a supposed death.
It would have been fun if the OVA had made some kind of reference to Lupin III: Castle of Cagliostro. Oh well.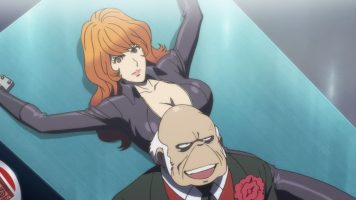 In the end, Lupin III: Is Lupin Still Burning? manages to not only provide an entertaining story, but it also improves on what came before. And to top it all off, it does a really fun time traveling story quite well.