Oh smeg yes! This is the scoop from Anime News Service (link removed as they are defunct–01-Apr-2020):
1-27-07 (7:52PM EST)—- New Slayers Movie To Become DVD BOX Exclusive
According to the March issue of Dragon Magazine, buyers of all 3 Japanese R2 Slayers TV series DVD-BOX sets will get a disc containing a completely new Slayers feature with theatrical quality animation. The story will focus on a love romance in the southern islands between Lina and Gourry. Megumi Hayashibara's song 'MEET AGAIN' will be the theme.
When the writers injected a bit of romance into the Slayers Next series between Gourry and Lina, I was hoping for more when Slayers Try came out. Sadly, the writers went for a more kiddy anime there and so the romance angle was really dropped (among other things).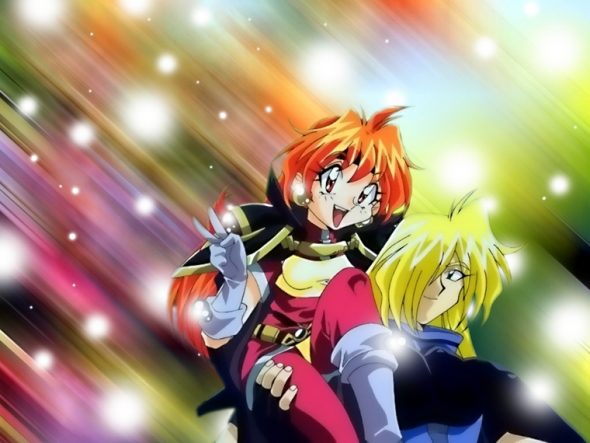 Still, in Slayers Premium, the anime writers did at least touch on it by having Gourry say, "I love you" in English to Lina (he was speaking in Japanese, she didn't understand it, but seemed to get the gist of it). Granted it ended in a comedy moment and that may be how the anime writers deal with the romance in the new movie. I hope not, but we'll see.
As to the new "movie," I suspect it won't be very long. I'll be surprised if it makes 30-minutes, but as I already said, we'll see.
As for my purchasing it, well I'm going to be buying FUNimation's re-release and I just don't have the budget to buy the R2 DVD release as well (I already splurged earlier with a purchase from Japan). BUT, I suspect that eventually we'll see this show up somewhere down the road once it is released in Japan. I'll be keeping my eyes open for sure!
Additional (17 April 2007): No sign of the new movie having been released yet. I know a recent issue of "Dragon" magazine talked about it but beyond that, I've seen nothing to suggest when it might be released. The Japanese aren't "sharing the love" if it has been released.
Additional (1 June 2007): I found some scans. I've no idea how I got them (I suppose I was e-mailed them based on where I found them).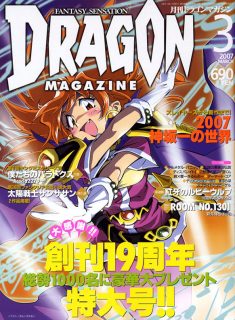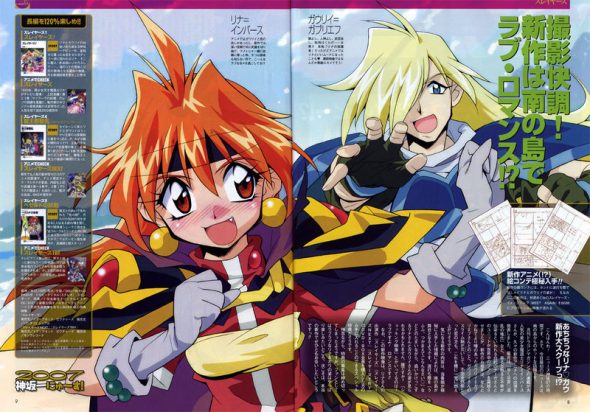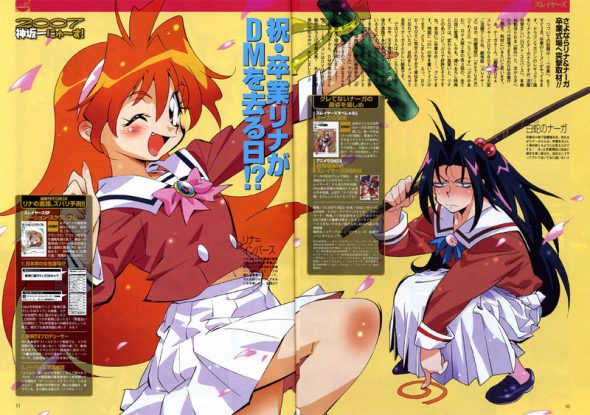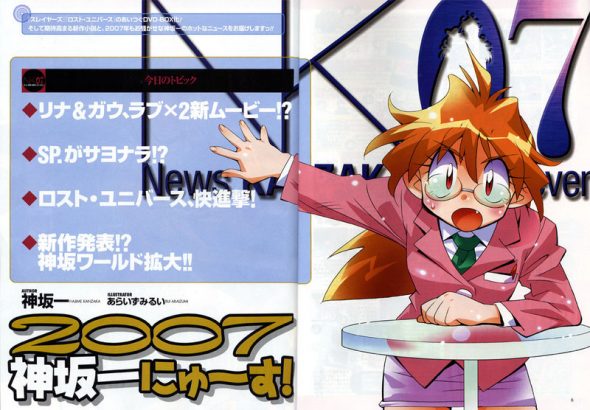 I don't know who scanned these or who sent them to me, but I wanted to say "Thanks" just the same. I'm not sure if there's any information here that isn't already known.
Additional (08 June 2007): There's no doubt that HAYASHIBARA Megumi did a song called "Meet Again." As I mentioned in the comments, the news about this movie doesn't appear to be good and yet there appears to have been a movie an animation created. SO, let me continue to do some research (if any of you have something, post a comment and let me know).
Additional (10 June 2007): Thanks to Shansito for this information. Each boxed set for the different Slayers TV series, in addition to getting the DVD's for the series as well as some audio drama stuff, you also got a gift ticket. Once you sent in all three gift tickets, you were then send the "Memorial DVD." The Memorial DVD contained the following:
The 2-minute "Meet Again" video (which looks like an OP sequence) which is all new animation featuring HAYASHIBARA Megumi singing the song. The animation starts with Gourry and Lina, but later Zelgadis and Amelia are added and Xellos pops in at the end.
This is a roughly 30-minute clip video. I haven't seen this yet (I hope to soon) but my understanding is that the clips are taken from the three TV series and feature the romance between Gourry and Lina. I'm lead to believe that Megumi narrates this (as Lina).
For me, this is very disappointing, but I suppose, not unexpected. I had hoped that they were doing something totally new — an OVA with movie-quality animation. Alas, this was not to be. I wonder what Japanese fans who literally spent over $400 to buy all three sets felt when they got their reward for spending so much money.
For those interested, here are the sets from Amazon's Japanese site (at least, this is my understanding–I'm not affiliated with them):
. . .
One related item for those interested in learning more about the world of Slayers (and Lost Universe). There's a great wiki dedicated to Hajime-sensei's creations called KanakaDex which has a ton of information (and still has more to gather for those of you who have said information, especially if you have the original Japanese novels) for you guys to check out. Unlike Wikipedia, this wiki actually likes having information and doesn't appear to have wiki-gods only interested in restricting things to what some stupid "official" English publication says (whether that publication is right or wrong).
Update (27 Feb 2008): A new TV series has just been announced.