Ah! My Goddess: Fighting Wings 02
Aa Megami-sama: Tatakau Tsubasa Ep. 02
ああっ女神さまっ 闘う翼 Episode 02
SPOILER Summary:
Lind does the unthinkable and discards her angel Spear Mint, who's already held captive by the Angel Eater. She breaks the seal on the bathroom to get to Skuld, followed by Hild, who discovers that Mara has been captured by Keiichi and Skuld, using her weaknesses against rock music and good luck charms against her. The Angel Eater attacks, but Lind gets the three of them out to safety, allowing Hild to free Mara and to start the other part of her mission. She takes a Tsukaima egg and implants it within Belldandy.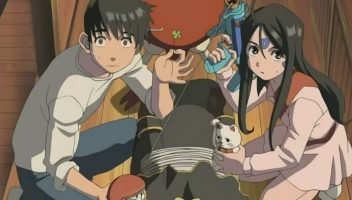 Outside on the grounds, Skuld is upset with Lind for leaving Belldandy behind. Lind has her reasons and explains her plan to Keiichi and Skuld. Keiichi agrees to the plan which leads Skuld to chastise him as being an idiot. Skuld doesn't believe Keiichi has it in him to pull off Lind's plan. Keiichi counters that he can't do anything, then why is he even here. Skuld is unconvinced since this kind of thing has never been done, but Lind feels sure that if anyone can do it, "Keiichi-kun" can do it.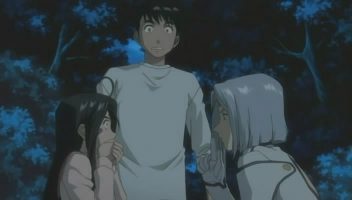 As the Angel Eater moves to find them, Lind does something to Keiichi. She tells him to be strong as he'll feel power flowing into him. The event has left him staggering and Lind somewhat weakened when Hild finds them. She tells them their is no escaping her. Lind tells Skuld that nows the time to summon her angel. Skuld recalls the advice Peorth, Urd, and Belldandy gave her about summoning her angel and so she does so, causing Nobel Scarlet to come forth from her egg again. The Angel Eater immediately sends out its call which causes Nobel Scarlet to come, leading Lind to understand how it is able to grab angels without their partner's permission. It sends out a distress call that they cannot ignore.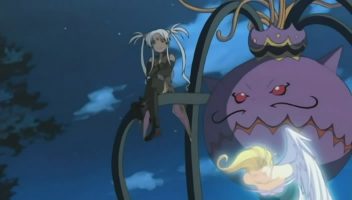 Before Nobel Scarlet reaches the Angel Eater, Lind brings Keiichi in, and he summons an angel, Cool mint, who's also one-winged like Spear Mint, only on the opposite side. Since angels receive power from a megami's love, then Keiichi who's received a lot of megami love can host an angel. Because there are two angels now, the Angel Eater is unable to focus on only one, thus is unable to "call" either of them. This move surprises Hild a lot, who's impressed but has a trump card of her own to play.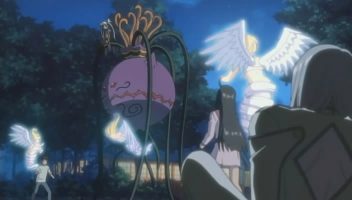 With that, Belldandy, dressed in Mazoku attire, arrives and the aura from her Tsukaima is intense. As Hild asks if they can beat her, the Tsukaima comes forth from Belldandy. Lind races to erect a barrier around Belldandy, activating one of her power boosters to assist. Skuld and Keiichi also come to assist by lending the power they have. Lind tells Keiichi and Skuld that she can contain Belldandy as they need to rescue the other angels from within the Angel Eater. Hild asks if that's a smart move considering how powerful Belldandy is, but it is Belldandy who ends up foiling Hild by purifying the Tsukaima, and turning it into an angel of sorts (still looks devilish, only with white wings and a cheerful disposition).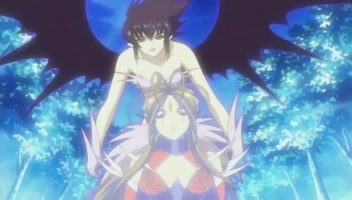 This turn of events surprises Hild but also excites her. However, before she can do anything, Keiichi has Cool Mint attack. Hild avoids it, surprised again that Keiichi could even use that power. However, the attack missed her, but it was the Angel Eater that was Keiichi's true target. Now encased in magical ice, Skuld uses Nobel Scarlet to rescue Holy Bell, World of Elegance, and Glorious Rose. The angels return to their partners, which means that now Belldandy has two angels. All that's left is Spear Mint, so as the Angel Eater attacks, she retrieves Cool Mint from Keiichi.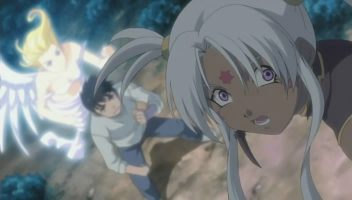 Hild is still unconcerned even with Lind having Cool Mint back as she feels that Lind can't risk harming Spear Mint. Lind has no intention of harming her other angel and increases the level of her attack to the point that Hild is also forced to raise her power level to 50%. Before Hild can do anything, Mara comes in and takes her out of the combat zone. Hild is very angry about this but when Mara points out that the Angel Eater has gone berserk with energy beams shooting from it all over, Hild decides that the situation has become a bit too dangerous for them and the two of them leave.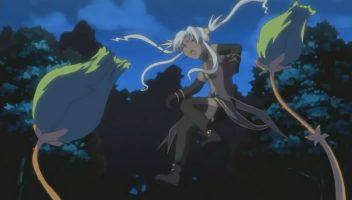 Lind is unable to overcome the Angel Eater, so Belldandy moves in to assist, telling her that they'll send it back by opening a gateway. Lind is strongly opposed to this considering the danger the creature poses to them. As such, it must be destroyed to ensure the safety of the angels. Belldandy appreciates Lind's perspective since Lind doesn't want to fight or kill it out of blood lust but out of a strong sense of duty. Belldandy convinces Lind to do it her way and so they attempt to open an earth gate to send the Angel Eater through. It isn't enough so the now recovered Peorth and Urd lend their power as does Skuld.
The Angel Eater has been forced to release Spear Mint and so Lind is able to recall her where now both her angels are now able to come out at the same time. Lind launches herself into space, then comes down with a powerful boot attack. However, the Angel Eater still won't go through the earth gate. As such, Peorth brings out a rose whip, Urd a huge mallet, and Skuld her normal mallet to beat the thing into submission. Seeing this, the Angel Eater decides to go through the gate, leaving the three megami to bicker about the situation, which Lind decides is part of their recreation.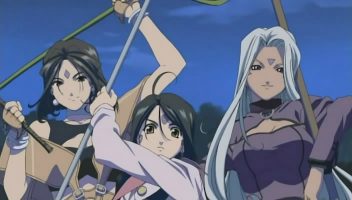 Keiichi comes conscious to find Belldandy over him. He accidentally plants his face between her breasts when he tries to sit up, leading Urd to remark that this is their recreation. With the residence destroyed, Lind and Belldandy begin using magic to repair the place. Peorth, Urd, and Skuld join in, causing the place to no longer look like a temple, but an amalgam of structures, leading those three to beat a hasty retreat. This causes Lind to smile in amusement to Belldandy's delight. As Lind prepares to leave, she thanks Keiichi for his part in allowing her to now summon both her angels. As the gate to the heavens opens, she asks Keiichi if she can call him "friend" which he agrees to. She promises to return on her next time off and is gone. Belldandy tells Keiichi that they are sure to see her again since she always keeps her promises.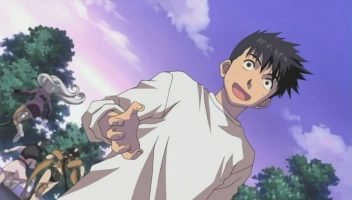 Thoughts:
The Angel Eater design still stank, but oh well. Really, that was my only real complaint for this 2-episode special (though the final fight between the creature and Lind wasn't animated, which is sure to draw some remarks from the animation crowd). The writers effectively followed the manga story, which is one of Fujishima-sensei's better ones without changing things and making them worse. They did remove Lind kissing Keiichi, which was a bit of a bummer but not something that made me cry, "FOUL!"